Liverpool on wheels: from horses to horsepower press release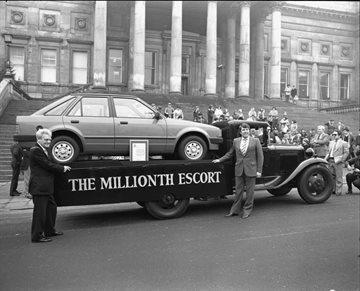 National Museums Liverpool's vehicle collection will go on display at the Museum of Liverpool
For the first time in 20 years, highlights from National Museums Liverpool's vehicle collection will go on display at the Museum of Liverpool. Liverpool on Wheels: from horses to horsepower (14 February 2020 – 1 November 2020) will offer a unique insight into the fabulous array of vehicles built in and around Liverpool. 
National Museums Liverpool has a much-loved collection of vehicles, ranging from bicycles to horse-drawn carriages. The exhibition will showcase those built by local companies such as Pickering Brothers, Harry Quinn and Fords.
Visitors to this fascinating exhibition can expect to see bicycles, carts and cars. From a Rushton Velocipede (1870) to a Range Rover Evoque (2012), each object is used as a gateway to tell the story of Liverpool's impressive transport history. Also, on display are a bright yellow Ford Escort MK1 complete with fluffy dice, a horse-drawn milk cart, and a rare AER motorcycle. 
Sharon Brown, Curator of Land Transport & Industry said, "I'm excited we are having a transport exhibition at the Museum of Liverpool. Many of these vehicles have never been on display or have not been seen for a long time.  It's a great opportunity to showcase the vehicles that have been made in Liverpool and the remarkable manufacturing history of the city.
"I love the contrast between the Vulcan Motorcar of 1910 and the Range Rover Evoque, with one hundred years between them, both have the same basic principle but are so different in design and technology."
Liverpool on wheels: from horses to horsepower willexplore the city's remarkable history of transport innovation and manufacturing - which continues today.
Following the Museum of Liverpool's recent success, when it won a public vote in the Kids in Museums' Family Friendly Awards in the large Museum category, Liverpool on Wheels promises to be a hit with transport-enthusiasts of all ages.
Notes to editors
Museum of Liverpool 
The Museum of Liverpool is the first national museum devoted to the history of a regional city, it showcases popular culture while tackling social, historical and contemporary issues and demonstrating Liverpool's unique contribution to the world.  It has attracted more than four million visitors since it opened in July 2011. The prestigious Council of Europe Museum Prize for 2013 was awarded to the Museum for its commitment to human rights as well as its work with children and families from all backgrounds. In 2019 the Museum of Liverpool won a public vote in the Kids in Museums' Family Friendly Awards in the large Museum category.
The Museum has received generous support from several major funders, and grants from trusts and foundations, corporate support and individual donations. Major funders include the Northwest Regional Development Agency (NWDA), The European Regional Development Fund (ERDF), the Heritage Lottery Fund (HLF), the Department for Culture Media and Sport (DCMS),Garfield Weston Foundation and the Clore Duffield Foundation.
About National Museums Liverpool
National Museums Liverpool comprises eight venues, including some of the most visited museums in England outside of London. Our collections are among the most important and varied in Europe and contain everything from Impressionist paintings and rare beetles to a lifejacket from the Titanic. We attracted more than 4m visitors in 2018. Our venues are the Museum of Liverpool, World Museum, the Walker Art Gallery, Merseyside Maritime Museum, International Slavery Museum, Seized! (UK Border Force National Museum), Sudley House and the Lady Lever Art Gallery.