Longlist announced for John Moores Painting Prize 2018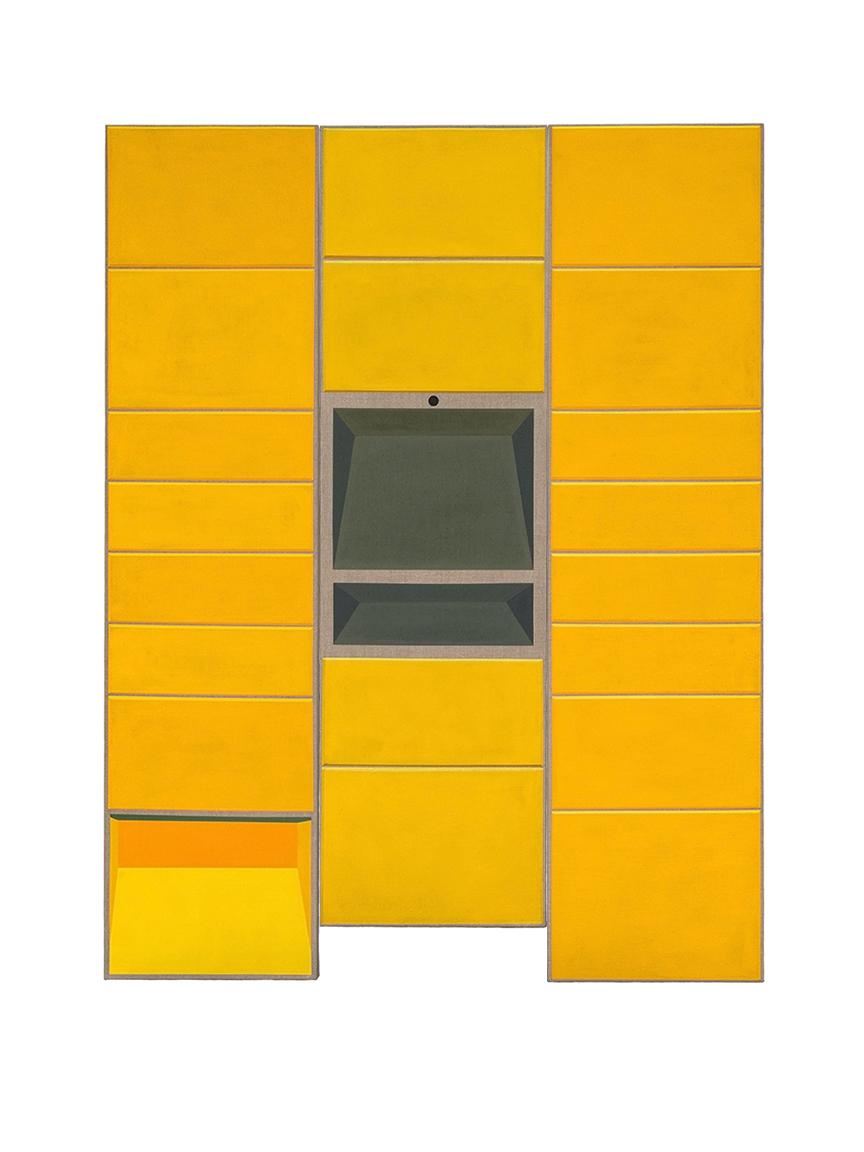 60 artworks to be exhibited as the Prize celebrates its 60th year
The Walker Art Gallery has announced the 60 artists whose paintings will feature in the John Moores Painting Prize 2018 exhibition, marking 60 years of the UK's longest-established painting prize. The free exhibition will be held at the Walker from 14 July to 18 November, showing as part of Liverpool Biennial 2018.
Paintings were selected from more than 2,700 entries by an esteemed panel of jurors. This year's jurors include artists Marvin Gaye Chetwynd, Lubaina Himid MBE, Bruce McLean and Liu Xiaodong, and curator Jenni Lomax. The names of the artists remain anonymous throughout the judging process.
From Amazon parcel collection lockers to Leonardo da Vinci's The Last Supper, subjects depicted within the selected paintings are wide-ranging. Vibrant abstracts will be exhibited alongside highly finished, meticulously detailed works; united in their mutual use of paint as a medium.
Some of this year's artists have experimented with an inventive range of materials. Aluminium, silk, cardboard and even compostable food recycling bags are utilised in place of conventional canvases. Meanwhile, found objects, coins and felt pen are among the materials used in addition to paint.
Sandra Penketh, Director of Art Galleries at National Museums Liverpool, said:
"The 2018 exhibition will be a particularly significant one. For 60 years, the Prize has enabled the Walker to showcase and acquire work by a truly remarkable selection of contemporary artists, and this year will be no exception.

"Self taught artists, art tutors, recent graduates and established artists are all represented, together providing a fascinating insight into what's inspiring artists in the UK right now. Visitors will no doubt recognise the names of some talented past exhibitors, as well as discovering a host of exciting new names."
Reflecting on the judging process, juror Jenni Lomax said:
"After the nerve-wracking process of making the first cut from hundreds of digital images comes the surprise of seeing the paintings in their reality. Scale, texture, mark and material, all elusive on-screen, become evident in the next stage of selection.

"Our lively and sometimes heated discussions while judging led to a final group of works that show dexterity, humour, passion and a strong physical sense of having been made."
The jury will select a final shortlist of five paintings, from which the £25,000 first prizewinning work will be chosen and four additional prizes of £2,500 will be awarded. Visitors to the exhibition will also be invited to vote for their favourite painting to win the popular Visitors' Choice Award, sponsored by Rathbones. The winning artist will receive £2,018.
In celebration of the Prize's 60th anniversary year, an additional award will be offered to the first prize winner – a three month fellowship at Liverpool John Moores University together with an in-focus solo display at the Walker Art Gallery in 2019.
The artists selected to exhibit paintings in the John Moore Painting Prize 2018 are:
Ahmed, Miraj Smile
Bailey, Liz No Ball Games
Baker, Richard Cupboard 2
Bakst, Marta I Still See You on the Horizon
Barker, Andy Nowhere to Go
Bingham, James Shere
Blane, Frances Aviva Mother
Bruton, Jo Tassel Talk
Busuttil, Carla Trophy for a Dull Man
Cadwallader, Gareth Milk
Clark, Jake Circus
Clarke, Pete doubt and distance…of lost content
Crosby, Billy Quilt
Davies, Lara Me Reading 'Philip Guston Retrospective' in the Studio
Down, Tom 'hollow'
Elton, Liz One Hundred Harvests
Fears, Alan My Favourite Chair
Fineman, Emma Questions of Silence
Franklin, Charlie Flatland
Gasson, Clare Note-taking September 2016
Gerrard, Jahan Aerial
Hain, Alex #consumer
Hallum, Jacqui King and Queen of Wands
Hogarth, Delphine French Summer
Holloway, Leo Untitled
Homerston, Ian Untitled
Howse, Tom The Thunderous Silence of Your Presence
Jeong, Seungjo Interface L3
Johnson, Ben The Space Between Revisited
Johnson, Nicholas William The Intolerable Strangeness of Vegetable Consciousness (Sunspilt II)
Kiki, John Bud Girl
Krishanu, Matthew Mission School
Kulkarni, Nicholas Misdirection
Lancaster, Laura Untitled
Lawrence, Gary Kos Town Paradise Hotel Front Terrace
Lock, David El Muniria
Maple, Kathryn Alone in the Desert
Martin, Graham Red Road
Matsuzaki, Tomoya Untitled (Willow)
Matthews, Peter Suspended Aura
Nahaul, Cara Inches of Dust
Ní Mhaonaigh, Sinéad Monument
Noga, Laurence Deep Blue Filtered Silver
Norris, Olivia Loose sugar, fade to black, bread makes you fat
O'Rourke, Joseph GIANTS
Osborne, Mark Untitled Pink
Oshilaja, Damilola Landscape Redux; No-nVOID/26: IDARIKA, The Land & The Sky
Panchal,
Shanti The Divide, Beyond Reasoning
Payne, Alistair (D)welling
Payne, Steve Unnamable
Pearce, David Greenhouse
Rejmer-Canovas, Gracjana Electric Landscape
Robertson, Joanne Raining on Shoebox Cove
Soni, Lucy Untitled Bunting
Talbot, Emma Intense and Remote Connectivity
Stewart, Bill TreeAirplaneTrap
Thatcher, Clare Feature of Landscape
Verran, Virginia Black Star
Whittle, Joanna Rain Tent
Wills, Morgan Leadlight Silhouette
Past prize winners include David Hockney (1967), Mary Martin (1969), Lisa Milroy (1989), Peter Doig (1993), Keith Coventry (2010) and Rose Wylie (2014). Sir Peter Blake, winner of the junior prize in 1961, is Patron of the Prize. The winner of the prestigious first prize in 2016 was Michael Simpson with his painting, Squint (19).
Five prizewinning paintings from the John Moores Painting Prize China will also be displayed in the 2018 exhibition. Organised by the College of Fine Arts at Shanghai University, the China Prize was launched in 2010 to support the development of painting in China.
The John Moores Painting Prize is organised in partnership with the John Moores Liverpool Exhibition Trust and is supported by its exhibition partner Weightmans. The exhibition is showing as part of Liverpool Biennial 2018, the largest festival of contemporary art in the UK taking place across the city's public spaces, galleries and museums from 14 July to 28 October.
Visitors to the John Moores Painting Prize 2018 exhibition will also be able to see work by past prize winner Sean Scully in Sean Scully: 1970, a free exhibition that also opens on 14 July (until 18 October). Widely regarded as the master of post-minimalist abstraction, Scully was a prize winner in 1972 and again in 1974.
www.liverpoolmuseums.org.uk/johnmoores
@JMPaintingPrize / #JM2018
www.facebook.com/johnmoorespaintingprize
Free entry
Open daily 10am-5pm
William Brown Street, Liverpool, L3 8EL
Telephone 0151 478 4199
www.liverpoolmuseums.org.uk/walker
Follow the Walker Art Gallery online:
Twitter: www.twitter.com/walkergallery
Facebook: www.facebook.com/walkerartgallery
Instagram: www.instagram.com/walkerartgallery
Notes to Editors
About the John Moores Painting Prize
The John Moores Painting Prize is the UK's longest-established painting prize. The competition is entered and judged anonymously and open to all UK-based artists working with paint.
The prize is organised in partnership with the John Moores Liverpool Exhibition Trust and is supported by its exhibition partner Weightmans.
The winner of the John Moores Painting Prize 2016 was Michael Simpson. The four prize winners were Talar Aghbashian, Gabriella Boyd, Benjamin Jamie and Selma Parlour.
The 2016 judges were Richard Davey, writer and freelance curator, and artists Gillian Carnegie, Ansel Krut, Phoebe Unwin and Ding Yi.
About the 2018 jurors
Marvin Gaye Chetwynd, an artist whose practice intertwines performance, sculpture, painting, installation and video. Her work incorporates elements of folk plays, street spectacles, popular culture and Surrealist cinema. Her performances and videos often employ troupes of performers – friends and relatives of the artist. She has performed and exhibited internationally, and was shortlisted for the Turner Prize in 2012. Recent solo projects include The Green Room & Science Lab and The Panther Ejaculates, Art Basel Parcours, Basel; Uptight upright, upside down, CCA Glasgow; JABBA, I'M BACK! and Cocaine and Caviar, Bergen Assembly, Norway and Dogsy Ma Bone, Liverpool Biennial, UK.
Lubaina Himid MBE, an artist and professor of Contemporary Art at the University of Central Lancashire. She won the Turner Prize in 2017. In her artistic, academic and curatorial work, Himid brings forth and celebrates the lives and histories of people of the Black diaspora. Himid has exhibited work in a number of major institutions such as Badischer Kunstverein, Karlsruhe; South London Gallery; Spike Island, Bristol; Modern Art Oxford and Nottingham Contemporary. A selection of her work, including part of the celebrated Naming the Money, can be seen at the Walker Art Gallery unril 18 March 2018. Her work is held in several public collections, including National Museums Liverpool, Tate and the V&A.
Jenni Lomax, an independent curator, was Director of Camden Arts Centre, London, from 1990 to September 2017, where she established an influential programme of international exhibitions, artist residencies and education projects. Before this, she developed and led the Community Education and Public Programmes at the Whitechapel Art Gallery. Lomax has been involved in an advisory capacity with many arts, education and charitable organisations and has been a member of selection and judging panels for numerous awards and exhibitions including the Freelands Award, the Turner Prize, Arts Foundation Award, Jerwood Drawing Prize and the Nissan Art Prize.
Bruce McLean, a sculptor who has investigated the possibilities of sculpture over the last 50 years using a variety of mediums, including photography, impersonation, video and drawing. McLean has exhibited in many major shows including When Attitudes become Form, A New Spirit in Painting, Zeitgeist and Documenta 6, 7 and 8. He continues to question the nature of sculpture and will showcase a new body of ceramic work in the exhibition Garden Ware, opening at the V&A in September 2017. McLean's painting Oriental Garden, Kyoto won the John Moores Painting Prize in 1985.
Liu Xiaodong is a graduate of and currently professor at the Central Academy of Fine Arts in Beijing. His first solo exhibition, held in 1990, marked the beginning of a new generation of art in China, for which he is considered to be a key figure. During the same period, Xiaodong was heavily influential in China's emerging independent film scene. From 2004, he has presented his large-scale, outdoor painting projects widely at an international level.
About the Walker Art Gallery
The Walker Art Gallery houses an internationally-renowned collection of paintings, sculpture and decorative art. It is one of Europe's finest galleries, with a collection that ranges from outstanding modern and contemporary works to Medieval and Renaissance masterpieces. Some of the greatest British artists of the last century are represented in the contemporary galleries, from Lucian Freud to David Hockney, while the Gallery's Impressionist collection is not to be missed. Visitors can also see paintings by 17th and 18th-century masters including Poussin, Rembrandt and Gainsborough, before taking in the Walker's famed Pre-Raphaelite collection. Younger visitors will love Big Art for Little Artists, a gallery designed to introduce children to art in a fun and interactive way. The Walker Art Gallery is an Arts Council Collection National Partner. Between April 2016 and March 2019, the Gallery will curate and host an exciting and innovative series of contemporary art exhibitions, drawn from the Arts Council Collection. www.liverpoolmuseums.org.uk/walker
About Liverpool Biennial 2018
Beautiful world, where are you?
14 July – 28 October
Free, various venues
Liverpool Biennial is the UK biennial of contemporary art. Taking place across the city in public spaces, galleries, museums and online, the Biennial commissions artists from around the world to make and present work in the context of Liverpool. The 10th edition Beautiful world, where are you? invites artists and audiences to reflect on a world of social, political and economic turmoil. Also showing as part of Liverpool Biennial 2018 are the John Moores Painting Prize, Bloomberg New Contemporaries, and the Biennial Fringe. Founded in 1998, Liverpool Biennial has commissioned over 300 new artworks and presented work by over 450 artists from around the world. www.biennial.com
About National Museums Liverpool
National Museums Liverpool comprises eight venues, including some of the most visited museums in England outside of London. Our collections are among the most important and varied in Europe and contain everything from Impressionist paintings and rare beetles to a lifejacket from the Titanic. We attract around 3 million visitors every year. Our venues are the Museum of Liverpool, World Museum, the Walker Art Gallery, Merseyside Maritime Museum, International Slavery Museum, Border Force National Museum, Sudley House and the Lady Lever Art Gallery. National Museums Liverpool is regulated by the Department of Digital, Culture, Media and Sport (DCMS). Museums and galleries regulated by DCMS are exempt charities under Schedule 3 of the Charities Act 2011. Registered Office: World Museum, William Brown Street, Liverpool L3 8EN. www.liverpoolmuseums.org.uk
About Weightmans
Weightmans is a top 45 law firm with over 1,400 people across offices in Liverpool, Manchester, Leeds, Birmingham, Edinburgh, Glasgow, Leicester and London. Weightmans is dedicated to providing results for its clients and success for its people.
About Rathbones
Established in 1742, Rathbones Brothers PLC is one of the UK's largest and longest established wealth management firms. Rathbones is renowned for offering each of its clients a bespoke, personal service and for providing high-quality, personalised investment and wealth management services for private clients, charities and trustees. Its services include discretionary investment management, unit trusts, financial planning, unitised portfolio services, and UK trust, legal, estate and tax advice.