LUSITANIA: her people remembered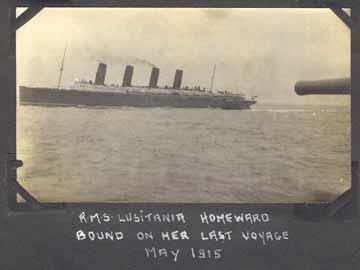 New exhibition opens this month, ahead of centenary of tragic sinking
A letter written by Lusitania First Class waiter Fred Russell to his brother, Harry, describing his experiences during the ship's tragic sinking, is one of the amazing items on display for the first time in the Merseyside Maritime Museum's exhibition, Lusitania: life, loss, legacy.
The exhibition opens on 27 March 2015 in Liverpool, as the city prepares to commemorate the centenary of Lusitania's sinking (7 May).
The sea-faring brothers, Fred and Harry, were both from Liverpool. Harry took one of the last known photographs of the Lusitania as she departed New York on her final voyage to Liverpool from aboard Caronia, where he was a chef. He took the picture of his brother Fred's departing ship, unaware that he would never see Lusitania again.
A never-before-seen letter which Fred wrote to his brother, letting him know he was alive and describing his experiences during the sinking will be exhibited for the first time. Harry's image of Lusitania will also feature in the exhibition.
As many as 600 people aboard Lusitania had connections with Liverpool. The Cunard line was headquartered in the city. In 1915 Lusitania was the world's most famous ship and the jewel in Liverpool's crown.
The Cunard luxury liner was torpedoed with the loss of 1,191 lives in one of the most horrific incidents at sea during the First World War. Only 771 people survived.
Ellie Moffat, Curator of Maritime Community History at the Merseyside Maritime Museum, said:
"Lusitania wasn't just Liverpool's most-loved ship, she had worldwide fame, and was a familiar sight on both sides of the Atlantic. The loss was one of the most infamous events of the First World War.

"We are very excited to be preparing for this exhibition and have been working with dozens of Merseyside families to develop content. It is especially poignant to be opening this exhibition as we approach the centenary of the sinking."


Sheila Williams, great niece of Fred, and Harry's granddaughter, said:
"It's absolutely wonderful to see history coming to life. I was only seven when Fred died and the fact he had survived the sinking and had this experience was never talked about then. Later in my life, I became absolutely fascinated by it all. I am touched that other people are interested in our family through its connection with the Lusitania. I am very proud of that link and I am looking forward to seeing the exhibition now".
As well as the exhibition, on the anniversary of the sinking (7 May) a service will take place at 12.30pm at Liverpool Parish Church, Our Lady and St Nicholas near Pier Head. Following the service, a walk of remembrance will also take place from the church to Lusitania's propeller at 2pm which is located on the quayside between Merseyside Maritime Museum and Museum of Liverpool.
For more information about Lusitania: life, loss, legacy exhibition: www.liverpoolmuseums.org.uk/lusitania