LUSITANIA: life, loss, legacy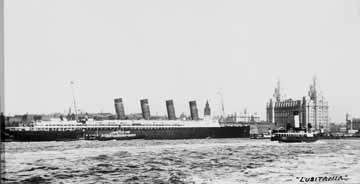 New exhibition marks centenary of tragedy which shocked the world
A lifejacket, a shoe belonging to a small child, and letters from survivors are some of the amazing items on show as Merseyside Maritime Museum remembers the loss of the Lusitania.
Lusitania: life, loss, legacy is the brand new exhibition whichopens at Merseyside Maritime Museum on 27 March 2015.
The Cunard luxury liner was torpedoed with the loss of 1,191 lives in one of the most horrific incidents at sea during the First World War. Only 771 people survived.
Commemorating the 100th anniversary of the sinking of "Lusi" this exhibition tells the story of the city's most loved ship, its passengers and crew.
It will feature many items from the ship which have never been on display before, as well as stories from Merseyside families devastated by the loss of loved ones. As many as 600 people aboard Lusitania had connections with Liverpool, Wirral and the wider region.
Ellie Moffat, Curator of Maritime Collections, said:
"Lusitania wasn't just Liverpool's most loved ship, it had worldwide fame, and was a familiar sight on both sides of the Atlantic. The loss was one of the most infamous events of the First World War.

"We are very excited to be preparing for this exhibition and have been working with dozens of Merseyside families to develop content. It is especially poignant to be opening this exhibition as we approach the centenary of the sinking."
In 1915 Lusitania was the world's most famous ship and the jewel in Liverpool's crown. Her sinking sent shock waves around the globe and was said to have influenced America's entry to the war.
As well as the exhibition, a service will take place at Liverpool Parish Church, Our Lady and St Nicholas near Pier Head on the anniversary of the sinking (7 May).
A walk of remembrance will take place from the church to Lusitania's propeller which is located on the quayside between Merseyside Maritime Museum and Museum of Liverpool.
Ian Murphy, Deputy Director, Merseyside Maritime Museum, said:
"We are working with Liverpool Parish Church and Liverpool City Council to ensure we remember those lost in a dignified way. There are so many families living in Merseyside whose descendants were aboard Lusitania when it was lost."
It was a calm sunny day on 7 May 1915 when the 31,550-ton linerwas torpedoed off the Old Head of Kinsale, Ireland, and sank in just 18 minutes.
Germany had issued a warning that all Allied shipping, including Lusitania, would be valid targets. The action by U-20 submarine sparked revulsion, particularly in Liverpool and New York, where Lusitania had been a regular visitor.
For more information about Lusitania: life, loss, legacyexhibition: www.liverpoolmuseums.org.uk/lusitania