Maggi Hambling's art in Liverpool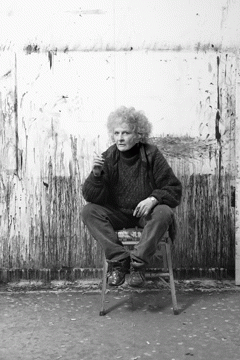 Walker Art Gallery is given important portrait
The Walker Art Gallery has been given Good Time George, an important painting by contemporary artist, Maggi Hambling.
The portrait celebrates George Melly, the most colourful son of Liverpool: jazz performer, surrealist, comic, raconteur, critic and author, often referred to fondly as 'Good Time George'.
It will go on display from 8 November 2017.
George came from a well-known Liverpool family. He grew up in South Liverpool and remained a frequent visitor to the city throughout his life, actively supporting the arts. In 1997 he sat on the jury for the John Moores Painting Prize, which culminates in an exhibition of contemporary painting at the Walker every two years. 2018 will mark 60 years of the competition.
About Good Time George
Maggi Hambling and George Melly were close friends. She painted and drew him from life, and posthumously. He said she would go down in art history as "Maggi (Coffin) Hambling", referring to her practice of drawing and painting people on their deathbeds and afterwards. Hambling and Melly met while lying on the path at a garden party and at once became friends. They then worked together in the early 1980s when he chaired the cult Channel 4 arts quiz, 'Gallery', in which Hambling was one of the two team captains. In 1998, Hambling was commissioned by the Trustees of the National Portrait Gallery to paint Melly's portrait.
Maggi Hambling said:
"George often makes a grand appearance in my dreams. I still hear him laugh, tell jokes and sing. From wherever he may be…"
This is an important return to the Walker Art Gallery for the painting, which was first displayed at the Liverpool venue in 2009 in an exhibition of more than 20 paintings and drawings titled George Always: Portraits of George Melly by Maggi Hambling.
Hambling's work is held in many public collections, including Tate, British Museum and the National Portrait Gallery. Good Time George is the first of the artist's paintings to be added to the Walker Art Gallery's permanent collection.
Maggi Hambling is one of Britain's foremost and well known contemporary artists. In 2014 she made her return to the National Gallery, where she was their first Artist in Residence in 1980, with the exhibition 'Walls of Water'. Earlier this year, Touch at the British Museum was an important retrospective of her works on paper and its accompanying book includes drawings of George Melly. Her latest series of paintings and sculpture, Edge, was shown at Marlborough Fine Art earlier this year, and her painting of Michael Jackson will be included in the National Portrait Gallery's On the Wall exhibition next year.
Her sculpture for Benjamin Britten, Scallop, on Aldeburgh beach in Suffolk, was recently voted one of the nation's favourite works of art.
Maggi Hambling will be talking about her life and her work at Tate Liverpool on the evening of 8 November as part of the Homotopia festival.
George, who was born in 1926 and educated at Stowe, could entertain, fascinate and outrage – often all at the same time.
He had a strong personal attachment to Sudley House, an art gallery run by National Museums Liverpool in the south of the city, which he helped to publicise. As a child, he and his family would visit the wealthy occupant Emma Holt who later gave the house and its important art collection to the people of Liverpool.
Sandra Penketh, Director of Art Galleries at National Museums Liverpool, said:
We are incredibly grateful to Maggi for giving the painting to the Walker Art Gallery and to the City: Liverpool feels like its natural home. This gift marks a long relationship between artist, Gallery, George and Liverpool, and her work will be a significant addition to the Walker's important collection of contemporary painting. I'm sure it will be hugely popular with our visitors."
For further information, visit www.liverpoolmuseums.org.uk/maggi-hambling
#maggihambling
Free entry
Open daily 10am-5pm
Walker Art Gallery
William Brown Street, Liverpool, L3 8EL
Telephone 0151 478 4199
www.liverpoolmuseums.org.uk/walker
Follow the Walker Art Gallery online:
Twitter: www.twitter.com/walkergallery
Facebook: www.facebook.com/walkerartgallery
Instagram: www.instagram.com/walkerartgallery
Notes to Editors
About Maggi Hambling
Maggi Hambling (born 1945, Suffolk). Studied with Lett Haines and Cedric Morris, and then Ipswich, Camberwell and the Slade Schools of Art. In 1980 she was the First Artist in Residence at the National Gallery, London, and in 1995 she won the Jerwood Painting Prize (with Patrick Caulfield). In 1998 her sculpture A conversation with Oscar Wilde was unveiled at Adelaide Street, London, facing Charing Cross Station. In 2003 Scallop, a sculpture to celebrate Benjamin Britten was unveiled in Aldeburgh, Suffolk and in 2005 Hambling was awarded the Marsh Award for Excellence in Public Sculpture for Scallop. Museum exhibitions include Maggi Hambling, Serpentine Gallery, London, 1987, An Eye Through a Decade, Yale Center for British Art, Newhaven, Connecticut, 1991, A Matter of Life and Death, Yorkshire Sculpture Park, 1997, George Always, The Walker Art Gallery, Liverpool, 2009, Maggi Hambling - The Wave, the Fitzwilliam, Cambridge, 2010 War Requiem, Installation, SNAP 2013 purchased for Aldeburgh Music by the Monument Trust, Wall of Water, The Hermitage, St Petersburg, Russia, 2013, Walls of Water, National Gallery, London 2014, War Requiem & Aftermath, Somerset House, London 2015, Touch, British Museum 2016 / 17. Hambling's latest exhibition at Marlborough Fine Art, Edge, was on view earlier in 2017.
About the Walker Art Gallery
The Walker Art Gallery houses an internationally-renowned collection of paintings, sculpture and decorative art. It is one of Europe's finest galleries, with a collection that ranges from outstanding modern and contemporary works to Medieval and Renaissance masterpieces. Some of the greatest British artists of the last century are represented in the contemporary galleries, from Lucian Freud to David Hockney, while the Gallery's Impressionist collection is not to be missed. Visitors can also see paintings by 17th and 18th century masters including Poussin, Rembrandt and Gainsborough, before taking in the Walker's famed Pre-Raphaelite collection. Younger visitors will love Big Art for Little Artists, a gallery designed to introduce children to art in a fun and interactive way. The Walker Art Gallery is an Arts Council Collection National Partner. Between April 2016 and March 2019, the Gallery will curate and host an exciting and innovative series of contemporary art exhibitions, drawn from the Arts Council Collection.
www.liverpoolmuseums.org.uk/walker
About National Museums Liverpool
National Museums Liverpool comprises eight venues, including some of the most visited museums in England outside of London. Our collections are among the most important and varied in Europe and contain everything from Impressionist paintings and rare beetles to a lifejacket from the Titanic. We attract around 3 million visitors every year. Our venues are the Museum of Liverpool, World Museum, the Walker Art Gallery, Merseyside Maritime Museum, International Slavery Museum, Border Force National Museum, Sudley House and the Lady Lever Art Gallery.
National Museums Liverpool is regulated by the Department of Digital, Culture, Media and Sport (DCMS). Museums and galleries regulated by DCMS are exempt charities under Schedule 3 of the Charities Act 2011. Registered Office: World Museum, William Brown Street, Liverpool L3 8EN.