Making a difference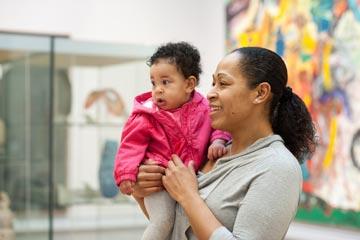 National Museums Liverpool's social and economic impact
National Museums Liverpool contributes £53m* to the local economy, it was announced today.
The figures were revealed as part of the launch of the organisation's social and economic impact report, demonstrating National Museums Liverpool's contribution to the local visitor economy and the vital role it plays socially across the wider North West region.
While a number of national museums have reported drops in their visitor figures, National Museums Liverpool has quadrupled its visitor numbers by 360% since 2000, and is bucking the trend with an 11% increase in 2016, as 3 million people passed through the doors of the group's eight museums and galleries.
Liverpool is currently the fifth most visited city in the UK and last year, 1.5 million people made visits to National Museums Liverpool's museums and galleries from outside the City Region, with 400,000 of these visitors coming from overseas.
The report also revealed that the organisation contributes more than 1,200 jobs locally, and supported the local economy further in 2015/16 by spending £5m on suppliers in the North West and £2m in the Liverpool City Region.  
Dr David Fleming, Director of National Museums Liverpool, said:
"The report is titled Making a Difference, and while National Museums Liverpool is widely recognised as making a huge difference socially, its economic successes are often overlooked.
"We are the largest cultural organisation in the North West and operate on a national and international level, and this report does a great job at highlighting exactly how much we contribute to the local economy and wider region."
In 2015/16, more than a third of visitors came from within the Liverpool City Region, and 67% of local visitors made repeat visits. The report also highlighted that 77% more schoolchildren are visiting Liverpool's museums and galleries than in 2004, and the 163,000 that visited in 2015/16, came from 75% of all Liverpool City Region schools.
David Fleming continued:
"At a time when other national museums are reporting drops in visitor figures and a decline in educational visits, it's very heartening to see that we're moving in a more positive direction here in Liverpool; not only are young people still visiting to learn and be inspired by our collections, exhibitions and activity programmes, but people from all over the world are continuing to come to the city to experience what we have to offer.
"We can learn a lot from forging international links and partnerships, and we have joined forces with many organisations locally, nationally and internationally to learn from each other, campaign for social justice and use the power of museums to change people's lives."
It's estimated that the boost National Museums Liverpool delivers to its local audience's wellbeing could be worth £130m per year. Recent national research also highlights the important role that museums can play in supporting people's happiness and mental wellbeing.
National Museums Liverpool has taken major steps to achieve better health and social inclusion for those living with both physical and mental disability. One of its most significant social impacts is the House of Memories dementia awareness programme, training more than 11,000 people to date. The ambition to make House of Memories services available in every care setting across the UK is beginning to be realised with a national roll out.
The only national museum service in England based outside London, National Museums Liverpool safeguards some of the world's greatest museum collections and shares them with a range of venues to allow objects and artworks to be seen by the widest audience possible.
National Museums Liverpool is consistently one of the most active museums in the country to loan collections; in 2014 the organisation loaned to more venues than any other museum funded by the Department of Culture Media and Sport (DCMS), and in 2015/16 loaned collections to 150 other organisations.
Sir David Henshaw, Chair of National Museums Liverpool, said:
"The Making a Difference report highlights some crucial facts that demonstrate the very real economic and social benefits of cultural activity. At a time of diminishing public funding, it's vital that these benefits are spelled out clearly and that we fly the flag for Liverpool arts and culture to show we are up there with the best in the UK and internationally."
* Figures are rounded. This research uses Gross Value Added (GVA) as the measure of economic value, to enable comparison with the Liverpool City Region's targets for growth. GVA is the key measure of the value of goods and services produced in an area, industry or sector of the economy, following HM Government guidelines.
Notes to Editors
Making a Difference
The Making a Difference economic and social impact report has drawn upon research and analysis by Regeneris Consulting.
To find out more, please visit www.liverpoolmuseums.org.uk/makingadifference
National Museums Liverpool
National Museums Liverpool comprises eight venues, including some of the most visited museums in England outside of London. Our collections are among the most important and varied in Europe and contain everything from Impressionist paintings and rare beetles to a lifejacket from the Titanic. We attract around 3 million visitors every year. Our venues are the Museum of Liverpool, World Museum, the Walker Art Gallery, Merseyside Maritime Museum, International Slavery Museum, Border Force National Museum, Sudley House and the Lady Lever Art Gallery.  www.liverpoolmuseums.org.uk