Matisse: Drawing with Scissors release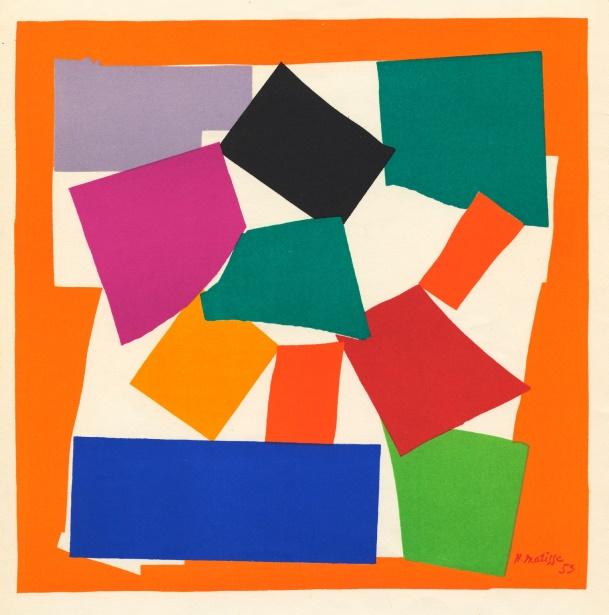 This autumn, an exhibition by Henri Matisse (1869-1954), one of the 20th-century's most influential artists, is opening at the Lady Lever Art Gallery as part of Wirral Year of Culture.
Matisse: Drawing with Scissors will feature 35 posthumous prints of the famous cut-outs that the artist produced in the last four years of his life when confined to his bed, including many of his iconic images, such as The Snail (pictured) and the Blue Nudes.
Celebrated for their extraordinary richness and luminosity of colour, Matisse's vibrant cut-outs were the final triumph of his career.
Matisse: Drawing with Scissors is a Hayward Gallery Touring exhibition from the Southbank Centre.
Kate O'Donoghue, Curatorial Trainee at National Museums Liverpool, said:
"Henri Matisse is a world-famous artist and this exhibition includes many of his iconic images, such as The Snail and the Blue Nudes. We are proud that Matisse is coming to Wirral for the first time in over ten years and during Wirral Borough of Culture Year".
The French painter, sculptor and designer, Matisse, continued creating highly original works into his eighties. The colours he used were so strong that he was advised by his doctor to wear dark glasses.
For his cut-outs he used paper, hand-painted with gouache, which he carved into with scissors, saying: 'the paper cut-out allows me to draw in the colour … Instead of drawing the outline and putting the colour inside it…I draw straight into the colour'.
Henri Matisse
Matisse began his working life as a lawyer, before going to Paris to study art in 1890. At first strongly influenced by the Impressionists, he soon created his own style, using brilliant, pure colours, and started making sculptures as well as paintings. In 1905 he and his colleagues were branded the Fauves (wild beasts) because of their unconventional use of colour.
'There is no gap between my earlier pictures and my cut-outs', Matisse wrote; 'I have only reached a form reduced to the essential through greater absoluteness and greater abstraction'.
The lithographic reproductions in this exhibition are taken from a special double issue of Verve. This was a review of art and literature published by Matisse's friend, the critic and fine art publisher Tériade, in 1958, four years after Matisse's death. The publication was planned during Matisse's lifetime and the first lithographic plates were prepared under his direction a few days before he died.
If visitors enjoy the Matisse: Drawing with Scissors exhibition we're asking them to pay what they think is appropriate, to help us create great exhibitions for everyone. Visitor contributions help us to continue staging world class exhibitions.
For more information on this exhibition: http://www.liverpoolmuseums.org.uk/matisse
For more information about upcoming venues for this exhibition please check: www.southbankcentre.co.uk/visual-arts/hayward-touring/current
Notes to Editors
About the Lady Lever Art Gallery
The Lady Lever Art Gallery houses one of the UK's greatest collections of fine and decorative art. An extensive programme of restoration and improvement has been completed at the South End of the Gallery. The £2.8m project enabled 500 square metres of gallery space to be transformed. The galleries have been returned to their original architectural design and more than 1,500 objects have been redisplayed, including the best collection of Wedgwood jasperware in the world, one of the finest collections of Chinese porcelain in Europe and outstanding 18th century paintings, furniture and sculpture.
The scheme was funded through donations, corporate sponsorship and major grants. This includes generous grants from the following donors: The Heritage Lottery Fund, Lord Leverhulme Charitable Trust, DCMS/Wolfson Museums & Galleries Improvement Fund, Garfield Weston Foundation, Headley Trust, J Paul Getty Jr Charitable Trust, Granada Foundation, The Henry Moore Foundation, Sir Siegmund Warburg's Voluntary Settlement, 29th May 1961 Charitable Trust and Charles Hayward Foundation. For more information on the project, visit www.liverpoolmuseums.org.uk/leverplans
About National Museums Liverpool
National Museums Liverpool comprises eight venues, including some of the most visited museums in England outside of London. Our collections are among the most important and varied in Europe and contain everything from Impressionist paintings and rare beetles to a lifejacket from the Titanic. We attracted more than 4 million visitors in 2018. Our venues are the Museum of Liverpool, World Museum, the Walker Art Gallery, Merseyside Maritime Museum, International Slavery Museum, Border Force National Museum, Sudley House and the Lady Lever Art Gallery. National Museums Liverpool is regulated by the Department of Digital, Culture, Media and Sport (DCMS). Museums and galleries regulated by DCMS are exempt charities under Schedule 3 of the Charities Act 2011. Registered Office: World Museum, William Brown Street, Liverpool L3 8EN. www.liverpoolmuseums.org.uk
About Hayward Gallery Touring
Hayward Gallery Touring is the UK's largest and longest-standing not for profit organisation producing exhibitions of modern and contemporary art that tour to galleries, museums and other publicly funded venues throughout Britain. Funded by Arts Council England and based at Southbank Centre, London, Hayward Gallery Touring collaborates with independent curators, artists, writers and galleries to create ambitious exhibitions that are beyond the scope of a single institution. Ranging in scale from the British Art Show – the largest exhibition of contemporary art produced in the UK – to smaller monographic shows, our imaginative exhibitions are seen by up to half a million people in over 40 cities and towns each year.