Model Image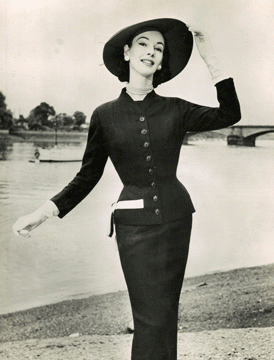 Vintage prints and costumes at the Lady Lever Art Gallery
The elegance and glamour of the 1950s is captured in a brand new exhibition at the Lady Lever Art Gallery. Model Image: fashion and photos from the 1950s, open from 20 October 2017 – 15 April 2018, explores the life of one of the top British models of the era, Liverpool-born June Duncan (1924-2014).
June's modelling career was an exhilarating whirl of fashion shoots, front covers and haute couture. The exhibition encapsulates June's rise from child actor to cover girl through stunning prints of her by some of the most high-profile photographers of the decade, including John French, Eugene Vernier, Hans Wild and Noel Mayne.
The exhibition also features effortlessly stylish 1950s evening dresses and accessories from National Museums Liverpool's collection.
Pauline Rushton, Senior Curator, said:
"June was born in the Liverpool suburb of Mossley Hill in 1924 and went on to appear as a model in the most iconic fashion magazines, including Vogue, Harper's Bazaar, Vanity Fair and Tatler.

"It has been a privilege to find out about June's stellar rise from her sister Barbara, who has so kindly shared June's photographs and memoirs with us. We're excited to show the beautifully evocative photographs that really capture the refined grace of the decade.

"From her time as a child actor on stage at Liverpool's Empire and Playhouse theatres, to wartime service in the Women's Royal Naval Service (WRENS), to her days in Paris appearing in French Vogue and modelling for haute couture houses including Christian Dior, June summed up the experience perfectly herself. Looking back she wrote, 'Sometimes I look at myself in the mirror and wonder if I dreamed those heady days at the peak of my career in the glamour and fashion world of the 1950s."
www.liverpoolmuseums.org.uk/modelimage #modelimage50s
Free entry
Open daily 10am-5pm
Lady Lever Art Gallery
Port Sunlight Village, Wirral, CH62 5EQ
liverpoolmuseums.org.uk/ladylever
Telephone 0151 478 4136
Notes to editors:
About the Lady Lever Art Gallery
The Lady Lever Art Gallery houses one of the UK's greatest collections of fine and decorative art.
An extensive programme of restoration and improvement has been completed at the South End of the Gallery. The £2.8m project enabled 500 square metres of gallery space to be transformed.
The galleries have been returned to their original architectural design and more than 1,500 objects have been redisplayed, including the best collection of Wedgwood jasperware in the world, one of the finest collections of Chinese porcelain in Europe and outstanding 18th century paintings, furniture and sculpture.
The scheme was funded through donations, corporate sponsorship and major grants. This includes generous grants from the following donors: The Heritage Lottery Fund, Lord Leverhulme Charitable Trust, DCMS/Wolfson Museums & Galleries Improvement Fund, Garfield Weston Foundation, Headley Trust, J Paul Getty Jr Charitable Trust, Granada Foundation, The Henry Moore Foundation, Sir Siegmund Warburg's Voluntary Settlement, 29th May 1961 Charitable Trust and Charles Hayward Foundation.
For more information on the project, visit www.liverpoolmuseums.org.uk/leverplans
About the Heritage Lottery Fund
Thanks to National Lottery players, we invest money to help people across the UK explore, enjoy and protect the heritage they care about - from the archaeology under our feet to the historic parks and buildings we love, from precious memories and collections to rare wildlife. www.hlf.org.uk @heritagelottery
About National Museums Liverpool
National Museums Liverpool comprises eight venues, including some of the most visited museums in England outside of London. Our collections are among the most important and varied in Europe and contain everything from Impressionist paintings and rare beetles to a lifejacket from the Titanic. We attract three million visitors every year. Our venues are the Museum of Liverpool, World Museum, the Walker Art Gallery, Merseyside Maritime Museum, International Slavery Museum, Border Force National Museum, Sudley House and the Lady Lever Art Gallery.