Mucha exhibition in Liverpool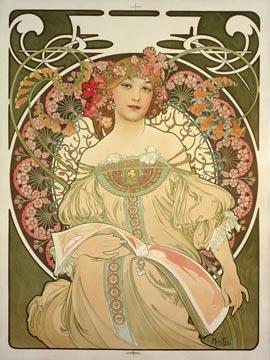 Tickets for major touring exhibition on sale from Monday 20 March
Tickets for the Walker Art Gallery's upcoming Alphonse Mucha exhibition are to go on sale online, from Monday, 20 March.
Renowned for his iconic poster designs epitomising the Art Nouveau movement, around 100 works by Mucha will go on display in the exhibition Alphonse Mucha: In Quest of Beauty, in Liverpool from 16 June to 29 October 2017.
Czech-born Alphonse Mucha (1860 – 1939) is recognised as one of the most prominent artists of the Art Nouveau movement, and this major touring exhibition from the Mucha Foundation explores the work of the artist around the theme of beauty; the core principle underlying his artistic philosophy.
With works primarily drawn from the Mucha Trust collection, the exhibition will include drawings, paintings, photographs, a rare Mucha sculpture, and some of the artist's most celebrated poster designs synonymous with the Art Nouveau style of the end of the 19th century, including Gismonda; the artist's first poster design promoting the actress Sarah Bernhardt.
A number of key 'aesthetic' and Art Nouveau works from National Museum Liverpool's own collections will also feature within the exhibition as well as a selection of sculptures by Auguste Rodin (1840-1917), a friend of Mucha's.
Xanthe Brooke, Curator of European Fine Art at the Walker Art Gallery, said:
"The works of Alphonse Mucha are undoubtedly some of the most widely-recognised examples of Art Nouveau style and design, and still a popular choice for interior decoration and design.

"Prints of his most distinctive illustrative posters adorn the walls of many people's homes, and it's fantastic to see that Art Nouveau is still embraced by contemporary audiences and reflected in modern culture. We're looking forward to welcoming visitors to the Walker to see a huge array of his works, showing the depth of style and skill that Mucha employed to ensure an artistic legacy that lives on today."
Tickets for Alphonse Mucha: In Quest of Beauty are available to purchase in advance online from Monday 20 March 2017, priced at £7 for adults and £5 for concessions.
The exhibition is free to anyone aged 18 and under and discounted tickets are available for existing members of National Museums Liverpool and other selected groups.
New members joining National Museums Liverpool from 13 March until 29 October 2017 will receive free entry to the exhibition.
For further information, and to purchase tickets or become a member, visit: www.liverpoolmuseums.org.uk/mucha
#alphonsemucha
Free entry
Open daily 10am-5pm
Walker Art Gallery
William Brown Street, Liverpool, L3 8EL
Telephone 0151 478 4199
www.liverpoolmuseums.org.uk/walker
Follow the Walker Art Gallery online:
Twitter: www.twitter.com/walkergallery
Facebook: www.facebook.com/walkerartgallery
Instagram: www.instagram.com/walkerartgallery
Notes to Editors
About the Walker Art Gallery
The Walker Art Gallery houses an internationally-renowned collection of paintings, sculpture and decorative art. It is one of Europe's finest galleries, with a collection that ranges from outstanding modern and contemporary works to Medieval and Renaissance masterpieces. Some of the greatest British artists of the last century are represented in the contemporary galleries, from Lucian Freud to David Hockney, while the Gallery's Impressionist collection is not to be missed. Visitors can also see paintings by 17th and 18th century masters including Poussin, Rembrandt and Gainsborough, before taking in the Walker's famed Pre-Raphaelite collection. Younger visitors will love Big Art for Little Artists, a gallery designed to introduce children to art in a fun and interactive way. The Walker Art Gallery is an Arts Council Collection National Partner. Between April 2016 and March 2019, the Gallery will curate and host an exciting and innovative series of contemporary art exhibitions, drawn from the Arts Council Collection. www.liverpoolmuseums.org.uk/walker
About National Museums Liverpool
National Museums Liverpool comprises eight venues, including some of the most visited museums in England outside of London. Our collections are among the most important and varied in Europe and contain everything from Impressionist paintings and rare beetles to a lifejacket from the Titanic. We attract around 3 million visitors every year. Our venues are the Museum of Liverpool, World Museum, the Walker Art Gallery, Merseyside Maritime Museum, International Slavery Museum, Border Force National Museum, Sudley House and the Lady Lever Art Gallery. www.liverpoolmuseums.org.uk