Museum launches memory app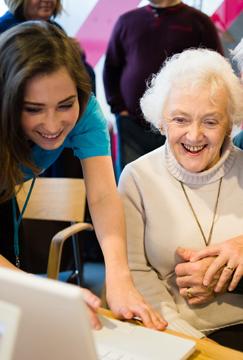 Digital app helps those living with dementia
To mark Dementia Awareness Week (18 – 24 May) National Museums Liverpool's award-winning House of Memories programme has gone digital.
My House of Memories App has been co-created with people living with dementia, and allows app-users to explore objects from the past and share memories together.
It will be launched at the Museum of Liverpool on Thursday 22 May, when carers and their VIP guests who are living with dementia will be invited to enjoy an afternoon of entertainment on a very special Celebration Day.
Funded by the Mi (More Independent) Partnership, which aims to help people live more independently through the use of technology, My House of Memories App is a digital app which uses a very simple format to stimulate memory.
The free App allows people to browse through objects from across the decades, brought to life with multimedia, to prompt reminiscence about a range of every day objects, from school life to sport. App-users can save objects to their own memory trees, memory boxes or memory timelines. Carers can also create personal profiles for different people, so that they can save their favourite objects and look at them again.
Carol Rogers, Executive Director of Education, Communities and Visitors at National Museums Liverpool said: "Our House of Memories dementia awareness programme has been running since 2012, training more than 5,000 carers across Merseyside, the North and Midlands. In addition to the training we offer, we have also been working towards a way in which we can make use of technology to benefit the lives of people living with dementia.
"We've worked with some absolutely fantastic people - who are either living with dementia themselves, or caring for someone who's living with dementia – to develop an app which is a useful tool in helping to enrich the lives of those who use it, and an enjoyable activity to share."
My House of Memories App has been developed in line with the Dementia Friendly Technology Charter, which is currently being created with the aim of enabling every person with dementia to have the opportunity to benefit from technology appropriate to their needs.
Dave Horsfield, Mi Programme Manager said: "Liverpool (NHS) Clinical Commissioning Group is leading the way in pioneering technology that can change people's lives – supporting them to live more confidently, healthily and independently. Our More Independent (Mi) programme, brings together a range of technology, tools and projects that are all about helping people do more for themselves and their family and its partnership with National Museums Liverpool to produce the House of Memories app is a great example of this in practice."
Carol Rogers continues: "There are 800,000 people with dementia in the UK, and this number is set to rise to over 1 million by 2021. We have to do everything we can to help support these people and those who are caring for them, creating innovative options that are based on fantastic resources, which open to us across the country.
"Our App uses objects from our social history collection at the Museum of Liverpool, but they are relevant and to people everywhere. The objects act as prompts to unlock people's own collections of memories that might be tucked away at the back of their minds. The App will inspire and instigate conversation, and enhance the lives of those who use it. "
The App has been co-produced with Innovate Dementia and individual members of their Regional Stakeholder Platform, and Mersey Care NHS Trust and members of the Mossley Hill Hospital Memory Group.
www.liverpoolmuseums.org.uk/houseofmemories / http://liverpoolmuseums.org.uk/app  
Notes to editors
About National Museums Liverpool
National Museums Liverpool comprises eight venues, including some of the most visited museums in England outside of London. Our collections are among the most important and varied in Europe and contain everything from Impressionist paintings and rare beetles to a lifejacket from the Titanic. We attract more than 2.7 million visitors every year. Our venues are the Museum of Liverpool, World Museum, the Walker Art Gallery, Merseyside Maritime Museum, International Slavery Museum, Border Force National Museum, Sudley House and the Lady Lever Art Gallery.  
About House of Memories
House of Memories has been running at the Museum of Liverpool since 2012, training more than 5,000 carers across Liverpool and the north to date.

The programme has received recognition from NHS England North West for their Learning Together in Health and Social Care Award 2013, and is cited as an example of best practice in the Museums Association's new vision for the impact of museums: Museums Change Lives. The Northern model of the training recently won the Museums & Heritage Award for Excellence in the Education Initiative category.