Museum offers caravan site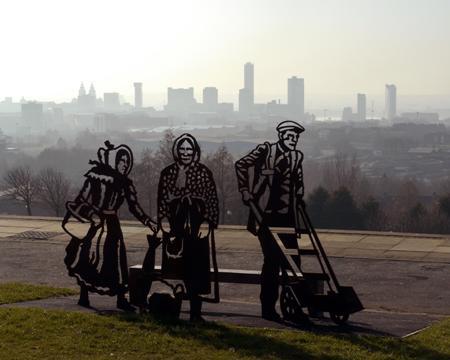 Caravan Gallery to exhibit photography at Museum of Liverpool
Images available on request.
The Museum of Liverpool is opening a new photographic exhibition this May, documenting the ordinary and extraordinary details of everyday life.
Merseystyle: Photographs by The Caravan Gallery will feature images exploring Liverpool and Wirral by revealing the people, places, architecture and humour that give Merseyside its distinctiveness.
From 10 May – 27 October 2013, the exhibition of more than 40 photographs, which has been created in partnership with The Caravan Gallery, will go on display in the Skylight Gallery as part of the city's Who Do You Think You Are? LOOK/13 photography festival.
A mobile exhibition venue and visual arts project, The Caravan Gallery was set up in 2000 by Jan Williams and Chris Teasdale, and has travelled thousands of miles and exhibited in hundreds of locations in the UK and abroad.
Sharon Brown, Curator said: "We're really pleased that The Caravan Gallery team is stopping off in Liverpool to share their views of Merseyside with visitors to the Museum. They've spent a lot of time getting to grips with the flavour and style of the two sides of the River Mersey, hence the title of the exhibition being Merseystyle.
"This 'style' is shown perfectly in the photographs featured. From images of people's homes, pubs and shops, to quirky photos depicting the Scouse sense of humour, the exhibition will give people a snapshot of some of the more unique aspects of Merseyside."
The caravan itself, from which the mobile gallery derives its name, will be pitched up outside the venue from 17 – 19 May for the launch weekend of LOOK/13 including LightNight.
Jan Williams from The Caravan Gallery, who has roots on both sides of the Mersey said:" We look for regional characteristics wherever we go and love to document how places evolve. Merseyside is one of our favourite places to photograph. It has more character and style per square mile than virtually anywhere else we know."
Leading up to the exhibition, the public in Liverpool and Wirral can meet The Caravan Gallery team as they go on tour, to find out from the people who live there what's special about each area. The caravan will be located at the following spots throughout May:
1 May - Morrisons Speke, Liverpool  11am - 6pm
2 May - Morrisons, West Kirby, Wirral  10am - 5pm
4 May - Great Homer Street Market, Liverpool  9am - 3pm
5 May - Birkenhead Park, Wirral  11am - 5pm
11 May - Wirral Farmers' Market, New Ferry  9am - 1pm
This exhibition forms part of the LOOK/13: Liverpool International Photography Festival which launches on Friday 17 May and will see dozens of photographic exhibitions and events taking place across the city. The Walker Art Gallery features three new exhibitions as part of the festival including a new exhibition by photographer Rankin: Alive: In The Face of Death which opens on 17 May.
Notes to editors
Museum of Liverpool
The Museum of Liverpool is the country's most visited museum outside of London. It is the largest newly-built national museum in Britain for more than a century, demonstrating Liverpool's unique contribution to the world.
As the first national museum devoted to the history of a regional city, it showcases popular culture while tackling social, historical and contemporary issues and is a fantastic, free family day out. It has attracted nearly 1.8million visitors since opening in July 2011. The prestigious Council of Europe Museum Prize for 2013 was awarded to the Museum for its commitment to human rights as well as its work with children and families from all backgrounds.
The Museum has received generous support from several major funders, along with grants from trusts and foundations, corporate support and individual donations. Major funders include the Northwest Regional Development Agency (NWDA), The European Regional Development Fund (ERDF), the Heritage Lottery Fund (HLF), the Department for Culture Media and Sport (DCMS),Garfield Weston Foundation and the Clore Duffield Foundation.
The Northwest Regional Development Agency (NWDA) was responsible for the sustainable economic development and regeneration of England's Northwest and had five key priorities: Business, Skills and Education, People and Jobs, Infrastructure and Quality of Life.
The European Development Fund (ERDF) is making a real difference to people and businesses in the North West. With €755 million to invest between 2007 and 2013, ERDF is enhancing the competitiveness of the region's economy by supporting growth in enterprise and employment. ERDF in the North West is managed by the Department for Communities and Local Government – for further information visit www.communities.gov.uk/erdf.
Using money raised through the National Lottery, the Heritage Lottery Fund (HLF) sustains and transforms a wide range of heritage for present and future generations to take part in, learn from and enjoy. From museums, parks and historic places to archaeology, natural environment and cultural traditions, we invest in every part of our diverse heritage.  HLF has supported more than 30,000 projects allocating £4.5billion across the UK.  www.hlf.org.uk 
About National Museums Liverpool
National Museums Liverpool comprises eight venues, including some of the most visited museums in England outside of London. Our collections are among the most important and varied in Europe and contain everything from Impressionist paintings and rare beetles to a lifejacket from the Titanic. We attract more than 3 million visitors every year. Our venues are the Museum of Liverpool,  World Museum, the Walker Art Gallery, Merseyside Maritime Museum, International Slavery Museum, UK Border Agency National Museum, Sudley House and the Lady Lever Art Gallery. 
Look/13: Liverpool International Photography Festival
Who do you think you are? LOOK/13 asks what happens when we turn the camera on ourselves and others, to create images of identity, subjectivity and the self. The festival's much-anticipated second edition launches on Liverpool's Light Night, 17 May 2013. Taking place in venues across the city, it presents an eclectic mix of exhibitions and events, featuring historical and contemporary work by photographers from Liverpool, the UK and beyond. The festival launches on 17 May 2013 with a long opening weekend 16-19 May 2013. For more information, please contact Stephanie Knox:
steph@margaretlondon.com website: