Museums are dementia friends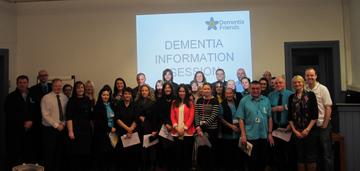 Staff at National Museums Liverpool make commitment to being dementia aware
National Museums Liverpool has become the first national museums service to take part in the Dementia Friends initiative.
More than 200 staff from across the organisation including those from the front of house team, shops, cafés, education and senior posts, attended Dementia Friends awareness sessions run on behalf of the Alzheimer's Society.
National Museums Liverpool has been providing its own dementia awareness training at the Museum of Liverpool since 2012. The House of Memories programme has worked with more than 3,500 people in the health and social care sector, to inform practice, help transform relationships and enhance the wellbeing of people living with dementia.
Carol Rogers, Executive Director of Education and Communities at National Museums Liverpool said: "It's hugely important that we show visitors that our venues are places they can come and feel safe in a community that understands and supports their needs. More action is needed nationally to understand how we can help people to live well with dementia.
"National Museums Liverpool has over a decade of experience working with older people, and we'll never stop building on this. Becoming Dementia Friends is a great way of demonstrating our commitment to creating dementia-friendly communities, and our staff will wear the badges with pride."
It's estimated that more than 800,000 people are currently living with dementia in the UK, and 550,000 people are acting as primary carers. People with dementia sometimes need a helping hand to go about their daily lives and feel included in their local community. Dementia Friends sessions give people an understanding of dementia and the small things people can do to make a difference to people living with dementia.
Hazel Bayley, Regional Operations Manager for the North West said: "National Museums Liverpool's pioneering House of Memories project has been fantastic. By taking part in Dementia Friends awareness sessions, they are a shining example of how the Alzheimer's Society envisages other organisations taking actions.
 "The Forget-me-not is the symbol of our initiative. It is a clear message that we will not let people living with dementia struggle on alone. We want to create a network of a million Dementia Friends across England by 2015, so a big thank you goes to the staff at National Museums Liverpool for helping us achieve this ambition."
The training was carried out by Dementia Champion Andy Tysoe whose time was donated by the Countess of Chester Hospital and West Cheshire and Chester Council.
www.liverpoolmuseums.org.uk/houseofmemories
Notes to editors
About National Museums Liverpool
National Museums Liverpool comprises eight venues, including some of the most visited museums in England outside of London. Our collections are among the most important and varied in Europe and contain everything from Impressionist paintings and rare beetles to a lifejacket from the Titanic. We attract more than 3 million visitors every year. Our venues are the Museum of Liverpool,  World Museum, the Walker Art Gallery, Merseyside Maritime Museum, International Slavery Museum, Border Force National Museum, Sudley House and the Lady Lever Art Gallery. 
Mi – More Independent
House of Memories has been running at the Museum of Liverpool since 2012, working with people in the health and social care sector specifically with funding support from Liverpool Clinical Commissioning Group's Mi project. Mi (More Independent) is a Government-funded initiative that is being piloted across four UK regions. Liverpool has been chosen as one of the pilot areas. The Mi partnership is funded by the Technology Strategy Board, the UK's innovation agency (https://connect.innovateuk.org/web/dallas), which finds ways to boost the UK economy through technological innovations.