Museums awarded LGBT funds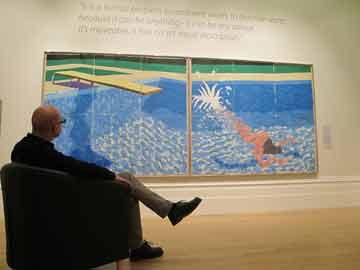 Support provided to highlight LGBT collections
National Museums Liverpool has been awarded a significant grant to fund research into its Lesbian, Gay, Bisexual and Transgender (LGBT) collections in its art galleries and urban history items at the Museum of Liverpool.
The £91,863 grant from the Esmée Fairbairn Collections Fund will be used by National Museums Liverpool to support the Pride and Prejudice project.
Working with partner Royal Pavilion & Museums, Brighton & Hove, the two-year project will tackle the challenges faced across the museum sector, by realising the full potential of LGBT collections to ensure that objects and stories within these collections are fully researched, sensitively interpreted and made accessible online and through display to a wide and diverse audience.
Joined by Liverpool-based LGBT arts and social justice organisation Homotopia, National Museums Liverpool will build on current and past LGBT successes that have made a significant impact including the exhibitions April Ashley: Portrait of a lady at the Museum of Liverpool, David Hockney: Early reflections at the Walker Art Gallery and the Un-Straight Museum conference, held at the Museum of Liverpool in 2014. The project will also follow on from the successful exhibition Keith Vaughan: A Volatile Medium at Brighton Museum & Art Gallery.
As part of its research and development, the Pride and Prejudice project will also produce a series of online 'toolkits' for other museums and galleries interested in developing their own LGBT work, covering themes including research, terminology and evaluation.
Ann Bukantas, Head of Fine Art at National Museums Liverpool said:
"Working with LGBT collections is a relatively unexplored but vital subject for museums and galleries, and we are absolutely delighted to have been awarded this funding. It will make a real difference to how we understand, use and develop our LGBT collections."

"We look forward to working with all our partners to create long-lasting relationships that will help make our collections and venues more relevant and representative, and we hope that the toolkits we are devising will help other museums nationally to develop their own work in this field."
The Pride and Prejudice project will enable research to take place into the Museum of Liverpool's urban history collections in areas such as the history of Liverpool's LGBT communities, venues and key personalities, including performers and activists. Research will also be undertaken into collections at the Walker Art Gallery and Lady Lever Art Gallery, where many of the LGBT stories in the objects and paintings are currently unknown or hidden.
National Museums Liverpool will work collaboratively with Royal Pavilion & Museums, Brighton & Hove, which is based within one of the UK's most prominent LGBT communities. By proactively sharing and embedding best practice evolving from the project both internally and across the museum and heritage sector, it is hoped that the project will create a fruitful and distinct legacy.
A spokesperson for Royal Pavilion & Museums said:
"We are delighted to be given this opportunity to develop our knowledge and understanding of LGBT collections further. This exciting project with the Royal Pavilion & Museums and National Museums Liverpool will build an important online legacy, helping us to share knowledge not only with our communities, but with other museums, enabling them to interpret and collect for wider and more diverse audiences"
The Esmée Fairbairn Foundation was established in 1961 by Ian Fairbairn as a memorial to his wife Esmée. Today it is one of the largest independent grant-making foundations in the UK. The Collections Fund is administered and managed by the Museums Association, with the aim of broadening access to and use of museum collections and focuses on time-limited collections work outside the scope of an organisation's core resources.
David Fleming, Director of National Museums Liverpool said:
"Social justice is at the heart of what we do at National Museums Liverpool, and the Pride and Prejudice project will help LGBT work to become even more firmly embedded within our organisational culture, creating a blueprint for the rest of the museum sector."
Notes to editors:
About National Museums Liverpool
National Museums Liverpool comprises eight venues, including some of the most visited museums in England outside of London. Our collections are among the most important and varied in Europe and contain everything from Impressionist paintings and rare beetles to a lifejacket from the Titanic. We attract more than 2.7 million visitors every year. Our venues are the Museum of Liverpool, World Museum, the Walker Art Gallery, Merseyside Maritime Museum, International Slavery Museum, Border Force National Museum, Sudley House and the Lady Lever Art Gallery.
For more information on Esmée Fairbairn Collections Fund please visit www.museumsassociation.org