National Museums Liverpool Breaks Visitor Record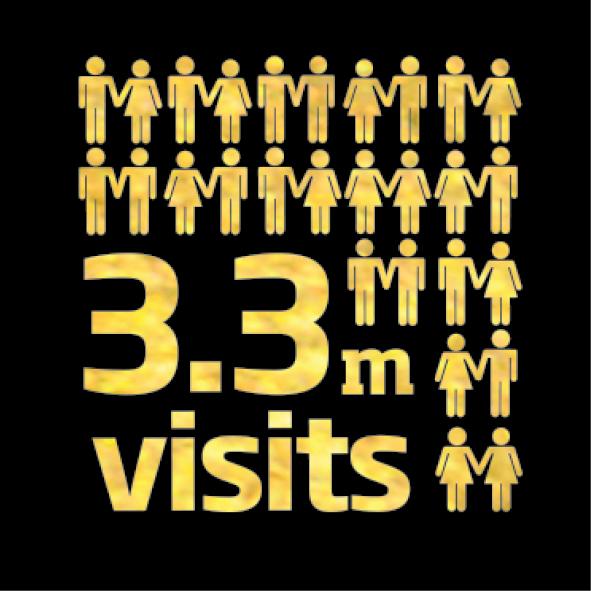 Highest ever visitor number in year of Terracotta Warriors exhibition
Exhibition contributes over £20m to local economy in first three months
National Museums Liverpool has achieved its highest annual visitor figure ever in 2017/18 across its eight venues. It welcomed 3,305,671 visitors in a year which also saw the opening of its China's First Emperor and the Terracotta Warriors exhibition at World Museum.
With a visitor increase of 9% compared to 2016/17, and a 16% increase on the year before, National Museums Liverpool has also beaten its own previous best ever year for visitor numbers in 2012-13, when it achieved 3,277,303 visits[1].
In February 2018, National Museums Liverpool opened its blockbuster exhibition, China's First Emperor and the Terracotta Warriors. With five months left to run, and tickets still available, it is already proving to be the most popular exhibition National Museums Liverpool has ever held with around half a million people expected to visit throughout the exhibition's run.
2017/18 was also a very strong year at the Walker Art Gallery, where visits increased by 53%, with a vibrant exhibition programme including Slaves of Fashion: New Works by The Singh Twins and a new partnership with the Arts Council Collection.
At National Museums Liverpool's museums and galleries located on the city's iconic waterfront, highlights included Tales from the City, a ground-breaking exhibition at Museum of Liverpool, Black Salt at Merseyside Maritime Museum and the 10th anniversary of the International Slavery Museum. A vibrant and popular events programme on the waterfront, including taking part in Royal Albert Dock's events such as Heritage on the Dock and the Pirates Festival, as well as National Museums Liverpool's own popular events such as the Border Force open day, contributed to the high footfall.
Tracey McGeagh, Director of Marketing and Communications, National Museums Liverpool said:
"Our mission is to be the world's leading example of an inclusive museum service. In 2017/18, we welcomed a record number of visitors and it is incredibly rewarding and important, that we are attracting so many people into the museums and galleries to share in the collections and hear the stories told in our exhibitions.

"This cultural offer also brings unprecedented profile to the city region and value to the visitor economy.

"More than three quarters of visitors told us that our Terracotta Warriors exhibition was the main reason for their visit to Liverpool[2]. We also know from our wider research that there is a substantial upward trend in the number of visitors to our museums and galleries from abroad this year: at least 40,000 more than last year[3]."
An estimated 36% of visitors to National Museums Liverpool venuesare on staying visits from outside the city region – more than twice the city's average of 17% of visitors coming to Liverpool on a staying basis. Using this data, National Museums Liverpool estimates the Terracotta Warriors exhibition has already driven around 65,000 staying visits to Liverpool and a wider contribution to the local economy of over £20m in its first three months.[4]
Since China's First Emperor and the Terracotta Warriors launched, National Museums Liverpool has sold more than 370,000 tickets for the exhibition, which has so far attracted media coverage reaching over 29 million people, and with an equivalent advertising value of over £1.2 million[5]. Tickets are still available but anyone who wants to see the exhibition is advised to book in advance as specific dates and times sell out quickly: www.liverpoolmuseums.org.uk/warriors.
As a whole, National Museums Liverpool, which comprises the Merseyside Maritime Museum, International Slavery Museum, Walker Art Gallery, Border Force National Museum, Sudley House, Lady Lever Art Gallery, World Museum and the Museum of Liverpool, is the most-visited group of museums in England outside London according to ALVA figures[6].
Notes to Editors
About National Museums Liverpool
National Museums Liverpool comprises eight venues, including some of the most visited museums in England outside of London. Our collections are among the most important and varied in Europe and contain everything from Impressionist paintings and rare beetles to a lifejacket from the Titanic. We attract more than 3.3 million visitors every year. Our venues are the Museum of Liverpool, World Museum, the Walker Art Gallery, Merseyside Maritime Museum, International Slavery Museum, Seized! (UK Border Force National Museum), Sudley House and the Lady Lever Art Gallery. National Museums Liverpool is regulated by the Department of Digital, Culture, Media and Sport (DCMS). Museums and galleries regulated by DCMS are exempt charities under Schedule 3 of the Charities Act 2011. Registered Office: World Museum, William Brown Street, Liverpool L3 8EN.
---
[1] National Museums Liverpool Visitor figures
[2] Terracotta Warriors Visitor Evaluation survey by National Museums Liverpool. April 2018
[3] National Museums Liverpool Visitor Profiling Survey 2017-18
[4] National Museums Liverpool Visitor Statistics and North West Research Visitor Profiling Information, May 2018
[5] International Press Cuttings Bureau and National Museums Liverpool, November 2018 – March 2019
[6] ALVA (Association of Leading Visitor Attractions) Latest Visitor Figures, 2017 http://www.alva.org.uk/details.cfm?p=423