National Museums Liverpool secures Stonewall's Silver Award for leading LGBTQ+ inclusive employers
National Museums Liverpool recognised for its work on supporting LGBTQ+ staff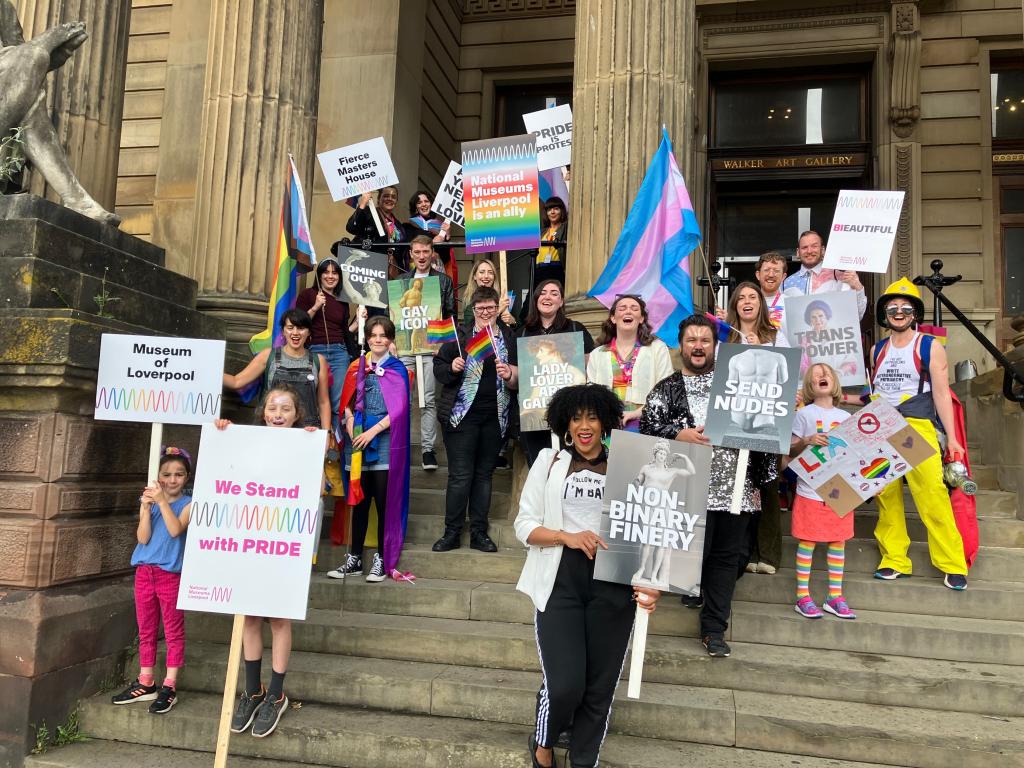 •    Stonewall's Silver award recognises exceptional employers who are committed to supporting their LGBTQ+ staff and customers

•    National Museum's Liverpool was praised for its work creating a workplace where LGBTQ+ employees can bring their full selves to work 

•    National Museums Liverpool joins a number of construction, legal, health, finance and education firms who achieved the Silver award for LGBTQ+ inclusive employers 
Today, Stonewall, Europe's largest charity for lesbian, gay, bi, trans and queer rights, launched its widely anticipated Top 100 Employers List and National Museums Liverpool (NML) was recognised for its work on supporting LGBTQ+ staff to be themselves at work. While NML is still working towards a place in the Top 100, its significant inclusion work has been recognised with a Silver Award. 
Over the past year, National Museums Liverpool has undertaken significant strides towards creating an inclusive working environment, including the launch of Trans inclusion protocols and bespoke Trans-led training, which make NML one of the most Trans friendly workplaces in the UK.
Matt Exley, Participation Producer and Co-Chair of NML's LGBTQ+ Staff Network (he/him) said: "As LGBTQ+ staff it is vital that we feel safe, supported, understood, and included in our workplaces. Many of us know bitterly what it is like to have worked in environments that do not include LGBTQ+ people.
"NML has been on a long journey to become more LGBTQ+ inclusive. For our visitors this means exhibitions, displays, trails, events, and programmes but this award also recognises the volume of work that has gone on behind the scenes, often centring LGBTQ+ staff voices, to make NML a more inclusive workplace.
"The launch of our Trans inclusion protocols and bespoke Trans-led training has helped enable and empower us to better work with local Trans communities on large projects, in co-production such as our annual Trans Day of Visibility programmes.
"By putting LGBTQ+ voices at the heart of this transformation we can feel proud to be ourselves in a workplace that makes sure our concerns are listened to, our values respected, and our individual stories and experiences celebrated."
Rebecca Loy, Diversity & Inclusion Partner (she/her) at NML added,
"At NML our ongoing commitment is to create a culture of greater inclusivity and equitability for all. We want our environment to be a place where everyone feels they can take up space, are valued, and belong."
Stonewall's Top 100 Employers List 2023 is the UK's leading ranking of employers from public, private and third sectors on how inclusive their workplaces are. 
Creating inclusive environments makes the workplace safer and better for everyone – not just LGBTQ+ people. 
Nancy Kelley, CEO of Stonewall (she/her) said: "It's been fantastic to see all of the work put in by National Museums Liverpool over the past year to create a workplace where LGBTQ+ staff feel free to thrive as themselves. 
"For many of us, the majority of our time is spent at work, so if we have to hide who we are it can take an enormous personal toll and hold us back from fulfilling our true potential. Creating environments where we can all feel comfortable makes our workplaces a safer, better and friendlier place for everyone and helps staff be proud of who they are.
"We're incredibly proud to see so many new entrants from a range of sectors on this year's list, who are committed to making LGBTQ+ people's lives better." 
Delve into insightful interviews and opinion pieces inspired by National Museum Liverpool's rich collections and commitment to sharing the experiences of Liverpool's long and diverse LGBTQ+ history here.
Interviews available on request, please email press@liverpoolmuseums.co.uk