NATIONAL MUSEUMS LIVERPOOL WATERFRONT ATTRACTIONS TO REOPEN
National Museums Liverpool (NML) has announced that its waterfront attractions – the International Slavery Museum, Merseyside Maritime Museum and Museum of Liverpool - will reopen to the public on Wednesday 19 August.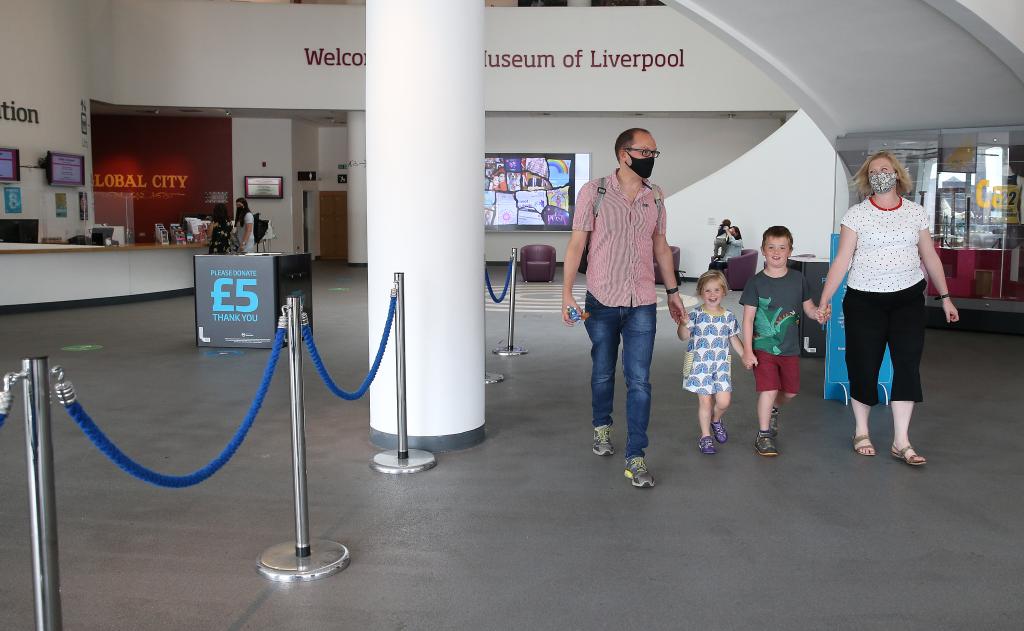 National Museums Liverpool to reopen waterfront venues including a new permanent gallery at Merseyside Maritime Museum
National Museums Liverpool is reopening the doors of the International Slavery Museum, Merseyside Maritime Museum and Museum of Liverpool on Wednesday 19 August.

Merseyside Maritime Museum will open with new permanent gallery which reveals the dangers, joys, cultures and community at the heart of seafaring.
National Museums Liverpool (NML) has announced that its waterfront attractions – the International Slavery Museum, Merseyside Maritime Museum and Museum of Liverpool - will reopen to the public on Wednesday 19 August.
The venues will be open from Wednesday – Sunday, 10am – 5pm (closed Mondays and Tuesdays).
There will be an opportunity for media to book scheduled slots for interviews at all waterfront venues throughout the day on Tuesday 18 August. Please contact the press office via press@liverpoomuseums.org.uk with requirements.
In line with being COVID-secure, National Museums Liverpool has implemented changes to offer a safe and enjoyable visit for all, including pre-booked timed entry, mandatory face coverings for visitors, enhanced cleaning protocols and social distancing measures. The same measures have already been implemented at World Museum and the Walker Art Gallery, which have been open since mid-July.
Visits will remain free, but timed entry slots must be pre-booked ahead of visiting via www.liverpoolmuseums.org.uk
NML members are able to pre-book tickets now

Tickets will be available for everyone to book from Friday 14 August

People booking for the International Slavery Museum and Merseyside Maritime Museum can book a combined ticket to gain access to both museums
Merseyside Maritime Museum will reopen with a brand new gallery that was all set to launch days after the country went into lockdown. Life on Board shares the moving and fascinating stories of work and leisure at sea. From the merchant sailors who drove the city's prosperity, to glamorous tales of the people who sailed aboard leisure liners, the new gallery comprises a diverse selection of voices and personal accounts told through digital projections and soundscapes alongside more than 250 objects.
Laura Pye, Director of National Museums Liverpool said: "We're so excited to reopen these venues, especially as the Maritime Museum is showcasing a new gallery which has been patiently waiting to receive visitors since March. The many voices featured in Life on Board are the reflections of real people and their fascinating lives, and we're grateful to those who've shared their experiences to create this new space. It's important that these stories are told and we can't wait for people to see it.

"Also reopening are the International Slavery Museum and Museum of Liverpool; another two venues that have remained very active, both behind the scenes in terms of collecting activity and in the campaigning spotlight while we've been closed.

"As a city history museum, the team at the Museum of Liverpool has been busy responding to the COVID-19 pandemic by acquiring objects that will represent how local people from across our communities have responded and are being affected. A selection of these objects including several key worker 'thank you' banners, an LFC v Atletico Madrid programme and homemade Eid card will be on display when the museum opens on 19 August.

"While the physical venue hasn't been open, the International Slavery Museum has been a focal point for online conversations since the tragic death of George Floyd in May, and has been spearheading our work around education, conversation and shared resources linking to the Black Lives Matter movement. This is such an important venue for our organisation, and we really hope that people will book to visit to learn more about our shared histories and talk about the uncomfortable subjects that really matter and still affect so many people today. The museum shines a light on so many voices that have been suppressed through slavery – both in the past and today - and this work is something we're carrying across all our museums and galleries, ensuring our commitment to being anti-racist is embedded across everything we do here at National Museums Liverpool."
Plans for the remaining National Museums Liverpool venues to reopen are underway and there will be a further announcement in due course.
For further information, please see the FAQs available at https://www.liverpoolmuseums.org.uk/reopening
Life on Board – additional info
As Britain remains heavily dependent on shipping, with 95% of all goods travelling to and from us by sea, Life on Board also explores the unique environment and distinctive culture experienced by seafarers, and looks at the traditions of music, language, entertainment and art that have been shaped by global sailing throughout history.
Highlights include the recently conserved Arandora Star ship model, which hasn't been displayed since it was damaged during the Liverpool Blitz in 1940. The museum holds one of the largest collections of ship models in the UK and the selection on show represents the many shipping companies that sailed in and out of Liverpool.
Life on Board also explores the style and comfort of passenger travel, looking at the 'floating palaces' of the early 20th century. It will consider how competition between shipping companies created a market for distinctive maritime design. Transatlantic liners were sumptuously styled, with interiors and fittings reminiscent of stately homes.
Another highlight is the selection of outfits belonging to passenger, Gertrude Walker, that reflect the experience of women travelling by sea in the 20th century. Gertrude's diary records the daily routine of First Class travel on Transatlantic ships.
By the 1930s, architects and artists were employed to remodel the liners, representing a modern and steamlined Art Deco style. The introduction of the new Tourist Third Cabin Class made sailing more affordable and, by the mid-20th century, cruise ships were enjoyed by many more people.
A number of striking Art Deco glass panels from the Mauretania II are on display. These would have graced the Cabin (first) Class Dining Room in the 1930s, representing the tradition of excellence that the newly merged Cunard White Star wanted to promote at the time.
The new gallery also explores the significance of campaigning within seafaring history, which has been pivotal in addressing a range of issues from environmental concerns to conditions for seafarers. There is a particular focus on the story of the MV Derbyshire; a bulk carrier owned by Liverpool's Bibby Line.
When MV Derbyshire was lost in a typhoon in 1980, 42 crew members and two of their wives perished. The Derbyshire Family Association (DFA) campaigned for twenty years to discover how their loved ones were lost, with the re-opened formal investigation concluding in 2000. Their campaigning has greatly helped to improve safety procedures for bulk carriers.
Life on Board has been generously supported by DCMS/Wolfson Museums and Galleries Improvement Fund, The Molly Tomlinson Bequests and The Sir John Fisher Foundation.