New acquisition for Walker Art Gallery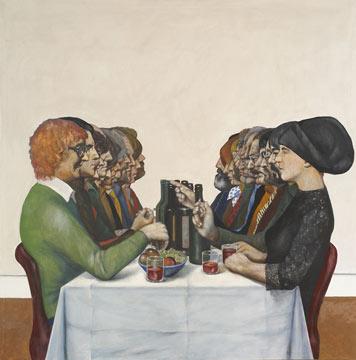 An important painting by Pop-artist Sam Walsh donated to the nation under the Cultural Gifts Scheme
 One of the city's best-known and loved paintings The Dinner Party by Sam Walsh (1934-89), has been gifted to the Walker Art Gallery in Liverpool under the Cultural Gifts Scheme introduced by the UK Government last year. This is the fourth gift under this major initiative to encourage philanthropy to the UK's public museums, galleries and archives.
Walsh, a contemporary of Peter Blake and David Hockney, was one of the driving forces of the Liverpool art scene in the 1960s. He lived there for 29 years at the heart of the city's cultural life and his art has a resonance that relates directly to Liverpool.
The Dinner Party
is one of Walsh's most significant works and is a homage  to one of the Walker's most celebrated masterpieces
Isabella
by pre-Raphaelite John Everett Millais (1829-96).
 The people depicted in The Dinner Party were all from the artist's life and include his neighbour, solicitor, ex-wife, partner, bank manager, fellow artists, poets, musicians and friends. Walsh appears twice in the painting, wagging a finger at himself seated opposite, an ironic gesture by the artist who was known to have particularly disliked the mannerism.
 The painting is being gifted to the nation by John Entwistle, a former Trustee of National Museums Liverpool and founder-Chairman of its Development Trust. The Entwistle family were the principal benefactors of the Walker's European sculpture gallery.
Culture Minister Ed Vaizey, said:
This is another wonderful donation under the Cultural Gifts Scheme, which thanks to the generosity of the donor will be returning home to the city where it was created. I hope the continuing success of this scheme encourages even more donors to come forward, to boost philanthropy for our museums and galleries.
John Entwistle said:
I am delighted that the new Cultural Gifts Scheme has enabled me to gift this painting to the Walker in Liverpool during my lifetime rather than on death. The Walker is absolutely the right place for it to be seen by the public as Walsh was an important Liverpool artist and the painting depicts several of the leading poets and artists working in Liverpool in the 1970s, including the artist - twice.
For years there has been a demand for this type of scheme to encourage gifts of important works, by way of a tax reduction, to appropriate institutions by donors during their lifetime. I look forward to seeing the scheme become better known and well used. 
 Sandra Penketh, Director of Art Galleries said:
Sam Walsh's close ties with Liverpool and the Walker Art Gallery make this a fabulous addition to our collection. It joins our outstanding collection of 20th-century British painting and we're sure visitors will enjoy its complex composition and humour.
We're very grateful to John Entwistle for donating the work and we hope other art collectors might be inspired to follow his example.
Alan Davey, Chief Executive, Arts Council England, said:
It is a real pleasure to be able to announce this donation via the Cultural Gift Scheme so soon after the recent Wright of Derby announcement. The generous donation of Sam Walsh's iconic painting is the fourth important object to have been given to the nation via this scheme in the last year, showing how rapidly this scheme is developing.
It is wonderful that a painting so closely linked to Liverpool should find its way into a public space in the heart of the city where the artist lived and worked for so many years.
Notes to editors
Painting information:
Sam Walsh (1934-89)
The Dinner Party, 1980
oil on canvas
152 x 152.5 cm
The painting depicts (left hand side, from the front):
Ray Hudson, artist's neighbour;
David Berry, artist's solicitor;
Nish (Christine) Ridpath;
Arthur Ballard, ex-boxer and painter;
Lesley Walsh, artist's ex-wife;
Joe Martindale;
Artist himself;
Mike Carran, artist's bank manager;
Stanley Haddon, Liverpool Philharmonic clarinettist;
Luke Walsh, artist and son of the artist
Don Craig, ex-teacher and Liverpool Councillor.
(right hand side, from the front):
Susannah Lash, artist's friend;
Billy Wellings, artist's friend;
Adrian Henri, poet and painter;
Ros McAlister, with whom artist was living;
Roger McGough, poet;
Artist himself; 
Maurice Cockrill, painter;
Jim Weston, sculptor;
Don McKinlay, painter;
McKinlay's partner Jani;
Sheena McKinlay, Don's daughter;
23. Spud Nolan, artist's friend.
The Cultural Gifts Scheme was launched by the Department for Culture, Media & Sport in March 2013 as an important element of its expanding programme to encourage philanthropy for the arts. The Acceptance in Lieu Panel advises Ministers on all objects offered under the Cultural Gifts Scheme. The Scheme is administered by Arts Council England and enables UK taxpayers to donate important objects to the nation during their lifetime. Items accepted under the Scheme are allocated to public collections and are available for all. In return, donors will receive a reduction in their income tax, capital gains tax or corporation tax liability, based on a set percentage of the value of the object they are donating: 30 per cent for individuals and 20 per cent for companies.
The acceptance of this object will generate a tax reduction of £3,000.
Walker Art Gallery
National Museums Liverpool comprises eight venues. Our collections are among the most important and varied in Europe and contain everything from Impressionist paintings and rare beetles to a lifejacket from the Titanic.  
We attract more than 2.7 million visitors every year. Our venues are the International Slavery Museum, Lady Lever Art Gallery, Merseyside Maritime Museum, Museum of Liverpool, Sudley House, Border Force National Museum (Seized! The Border and Customs Uncovered), Walker Art Gallery and World Museum. 
One of the finest art galleries in Europe, the Walker Art Gallery is home to renaissance masterpieces, Tudor portraits and one of the best collections of Victorian and Pre-Raphaelite art in the country. An outstanding display of contemporary art includes work by David Hockney, Lucian Freud and Bridget Riley.
Walker Art Gallery William Brown Street, Liverpool     Admission FREE
Open 10am-5pm every day                                           Information 0151 478 4199
Website liverpoolmuseums.org.uk/walker
Twitter www.twitter.com/walkergallery
Facebook www.facebook.com/walkerartgallery
Arts Council England champions, develops and invests in artistic and cultural experiences that enrich people's lives. We support a range of activities across the arts, museums and libraries – from theatre to digital art, reading to dance, music to literature, and crafts to collections. Great art and culture inspires us, brings us together and teaches us about ourselves and the world around us. In short, it makes life better. Between 2010 and 2015, we will invest £1.9 billion of public money from government and an estimated £1.1 billion from the National Lottery to help create these experiences for as many people as possible across the country.