New closing date for Museum of Liverpool John and Yoko exhibition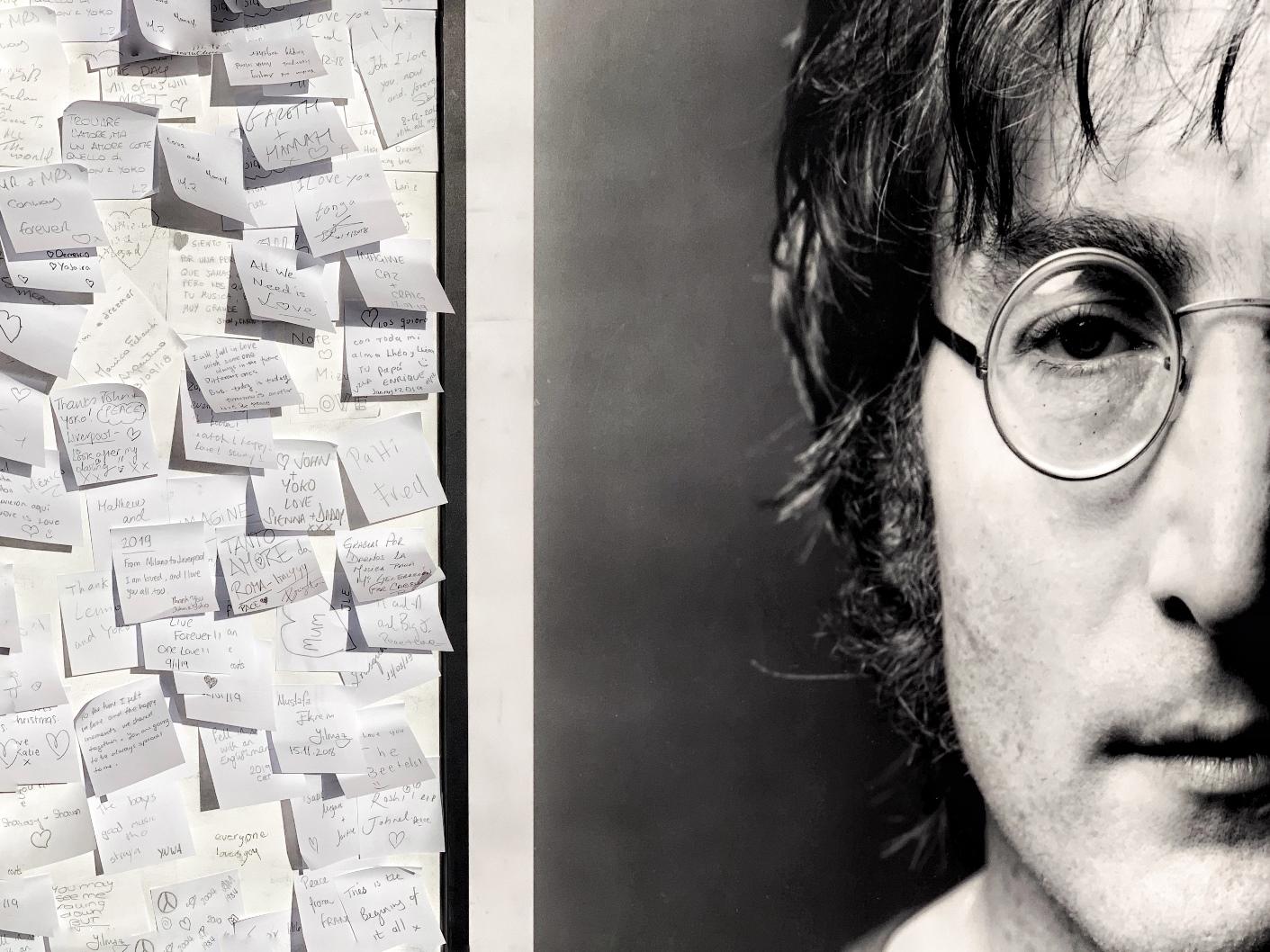 The Museum of Liverpool is pleased to announce that its block buster exhibition Double Fantasy has been extended until 3 November 2019.
Since opening in May 2018, Double Fantasy has become one of the Museum of Liverpool's most popular exhibitions, attracting more than 300,000 visitors. Part of John and Yoko's ongoing Imagine Peace campaign, the exhibition shows how the couple used their fame and influence to campaign for peace and human rights across the world, transforming not only their own lives, but art, music and activism forever.
Yoko Ono Lennon said:
"I am so happy that Double Fantasy is popular with visitors to the Museum of Liverpool, as I know John would be too. It means a lot to me that they are engaging with it emotionally, posting their tributes and wishes for peace."
Many visitors to Double Fantasy have been moved to express their own feelings of what love and peace mean to them by posting on the Wish Trees and Remember Love wall that feature in the exhibition. More than 24,000 tags have been hung from the Wish Trees, while around 26,000 notes have been inscribed and placed on the wall surrounding Iain Macmillan's portrait of John Lennon. When the exhibition closes, all notes and tags will be stored at IMAGINE PEACE TOWER, Yoko's memorial to John which she unveiled in 2007 on the island of Videy, Reykjavik in Iceland.
The ground-breaking exhibition which is drawn from Yoko Ono Lennon's own private collection was originally due to close 22 April 2019. It is the first to explore the personal and creative chemistry between Yoko Ono and John Lennon, featuring many objects that have never been displayed before.
Paul Gallagher, Deputy Director of the Museum of Liverpool said:
"The response from visitors has been amazing. While the beauty of Double Fantasy is the evident deep and powerful love John and Yoko had for one another through their art, music and film, it is also a very human story that has resonated with visitors."
From the intimate to the iconic, the exhibition brings together unmissable objects and artworks, including hand-written lyrics, original artworks, instruments, John and Yoko's wedding outfits and other items of clothing and personal objects owned by the pair.
www.liverpoolmuseums.org.uk/doublefantasy
#doublefantasy
This exhibition has been made possible with the kind permission of Yoko Ono Lennon.

Notes to Editors
Museum of Liverpool
The Museum of Liverpool is one of the country's most visited museums outside of London. It is the largest newly-built national museum in Britain for more than a century, demonstrating Liverpool's unique contribution to the world. The first national museum devoted to the history of a regional city, it showcases popular culture while tackling social, historical and contemporary issues. It has attracted more than four million visitors since opening in July 2011. The prestigious Council of Europe Museum Prize for 2013 was awarded to the Museum for its commitment to human rights as well as its work with children and families from all backgrounds.

The Museum has received generous support from several major funders, and grants from trusts and foundations, corporate support and individual donations. Major funders include the Northwest Regional Development Agency (NWDA), The European Regional Development Fund (ERDF), the Heritage Lottery Fund (HLF), the Department for Culture Media and Sport (DCMS),Garfield Weston Foundation and the Clore Duffield Foundation.
The Northwest Regional Development Agency (NWDA) was responsible for the sustainable economic development and regeneration of England's Northwest and had five key priorities: Business, Skills and Education, People and Jobs, Infrastructure and Quality of Life.
The European Development Fund (ERDF) is making a real difference to people and businesses in the North West. With €755 million to invest between 2007 and 2013, ERDF is enhancing the competitiveness of the region's economy by supporting growth in enterprise and employment. ERDF in the North West is managed by the Department for Communities and Local Government – for further information visit www.communities.gov.uk/erdf.
Using money raised through the National Lottery, the Heritage Lottery Fund (HLF) sustains and transforms a wide range of heritage for present and future generations to take part in, learn from and enjoy. From museums, parks and historic places to archaeology, natural environment and cultural traditions, we invest in every part of our diverse heritage. HLF has supported more than 30,000 projects allocating £4.5billion across the UK.
About National Museums Liverpool
National Museums Liverpool comprises eight venues, including some of the most visited museums in England outside of London. Our collections are among the most important and varied in Europe and contain everything from Impressionist paintings and rare beetles to a lifejacket from the Titanic. We attract more than 3 million visitors every year. Our venues are the Museum of Liverpool, World Museum, the Walker Art Gallery, Merseyside Maritime Museum, International Slavery Museum, Seized! (UK Border Force National Museum), Sudley House and the Lady Lever Art Gallery. National Museums Liverpool is regulated by the Department of Digital, Culture, Media and Sport (DCMS). Museums and galleries regulated by DCMS are exempt charities under Schedule 3 of the Charities Act 2011. Registered Office: World Museum, William Brown Street, Liverpool L3 8EN.