New research changes Lusitania data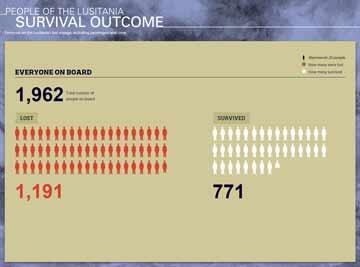 Data regarding passengers and crew updated in new exhibition
An exhibition opening at Merseyside Maritime Museum on 27 March called Lusitania: life, loss, legacy will highlight little-known data that changes the commonly used figures of the last 100 years, when referencing the crew and passengers on Lusitania's final voyage.
Omitted from the previous official figures for Lusitania are Fireman Gontes Cloules, Waiter F. Hill and passenger Robert Anderson, taking the figures for people on board from 1,959 to 1,962.
In the days following the sinking, newspapers reported numerous lists of survivors and victims, obtained from various sources. It was March, 1916 when an official booklet known as the 'Cunard Confidential Report' was published, which became the official source. However, it was discovered very early on that this report contained errors, and there were at least two subsequent amendments to this, the last-known published in March 1917.
Gontes Cloules, Waiter F. Hill and passenger Robert Anderson were not included in the official lists of crew and passengers, and are therefore not reflected in the numbers widely used in reference to the tragic sinking of the Lusitania on 7 May, 1915.
Independent historian Peter Kelly has searched records over the last 10 years to bring them back into public consciousness. This and other findings of Peter's, have given us a new level of detail about passengers and crew aboard Lusitania, and will be included in the new exhibition at Merseyside Maritime Museum.
Peter Kelly said:
"The figures have always been out there, except that not many of us have looked for them or been able to find them. It's not unusual for records to have been incomplete or incorrect in those times. It was an age before technology, when passenger names were often taken phonetically and misspelt, or maybe people were travelling under a different name.

"I'm not alone in researching this data and trying to tie it down so that everyone who was on-board Lusitania is recognised - whether they lost their lives when the ship went down, or survived this terrible tragedy. We all have our various theories on the names of a number of people who are recorded as having sailed on the ship, and it's a difficult process to work through due to the amount of records and personal accounts out there, some of which provide conflicting information.

"I'm at the point now where the research I've done has led me to believe these new figures are true, accounting for the three extra people that were on-board. The story of the Lusitania has always had some mystery surrounding it, and if more information comes to light about those who were on-board, the figures will be updated again."
Peter's figures will be included in the exhibition as part of an interactive resource, which can also be accessed by the public online from 27 March. The resource is such that any new data and information can be added in the future.
Ellie Moffat said:
"This story of the Lusitania is so important here in Liverpool. The ship was the jewel in the city's crown and more than 600 people on her final voyage had connections with the city and wider region. Many people living today are still profoundly affected by the account of a relative who went through the sinking. When Peter came forward with his research, we were thrilled, because we want to share as much, and as complete, information as we can with the city, and with anyone connected to the ship."
General findings:
Total number of people on board:
1962 (total people previously – 1959*)
Everyone on board:
Survived: 771 (survived previously – 761*)
Lost: 1191 (lost previously – 1198*)
Comparison passenger and crew survival rates:
Passengers: 480 survived, 786 lost - 1266 total passengers (total passengers previously 1257*)
Crew: 291 survived, 405 lost - 696 total crew (total crew previously 702*)
* The 'previous official figures' refers to data taken from Cunard's official list of crew published by The Cunard Steam Ship Company in March 1915 and list of passengers lost and saved published by The Cunard Steam Ship Company in March 1916.
Fireman Gontes Cloules
Gontes Cloules was born in Malta in 1891 and lived at 99, Vicnarsa Hania, Malta.
Although the records of the Commonwealth War Graves Commission show that he served on-board the Lusitania as a Fireman in the Engineering Department and was killed when the ship was sunk, he does not appear in the Cunard Steamship Company's list of crew members, either missing or having survived.
However, a Cunard list of crew members who engaged at New York on 30 April 1915 includes the name Cloules Goutes, who signed on as a Fireman at a monthly rate of pay of £4-5s.-0d. Presumably some mistake was made and Goutes was thought to be his surname. The names are too similar for it to be anything else, although there is no Goutes listed amongst the missing either.
The name Gontes Cloules is embossed on the Mercantile Marine Memorial at Tower Hill, London. The register for the memorial does not record any verifying details of his age, family or home.
Waiter, F. Hill
F. Hill (forename not known), was born in Glasgow, Renfrewshire Scotland, in the latter half of the nineteenth century.
He was a professional sailor in the Mercantile Marine and in April 1915, he had engaged to sail to England from New York on the Cunard liner S.S. Cameronia. However, at the end of that month, the Cameronia was taken up from trade by the British Admiralty for war work and on 1 May 1915, all the passengers and cargo and some of the crew were transferred instead, to the Lusitania, then awaiting what became her final transatlantic voyage at Pier 54 in New York harbour. Waiter Hill was one of these crew members and was offered the monthly rate of pay of £4-5s.-0d. (£4.25).
Six days out of New York, when she was off the southern coast of Ireland, the liner was torpedoed and sunk by the German submarine U-20, only hours away from her Liverpool destination, but fortunately, Hill was counted amongst the survivors.
Having been rescued from the sea and landed at Queenstown, he eventually made it to Liverpool where he was officially discharged from the Lusitania's last voyage and paid the balance of wages owing to him. This was in respect of his sea service from 1 May until 8 May 1915; 24 hours after the liner had gone down.
An official list of crew known to have been on board the Lusitania when she was sunk and published by The Cunard Steam Ship Company in March 1915, does not mention Waiter Hill at all, but he does appear in a Particulars of Discharge ledger held in the Public Record Office at Richmond in Surrey.
Robert Anderson
Robert Anderson was born in Ireland in 1875. He was a provision merchant and in 1915, he had been living and trading in New York, N.Y. in the United States of America.
In the spring of 1915, he decided to return home to Ireland - and consequently booked third class passage on the scheduled May sailing of the Lusitania, from New York to Liverpool.
He arrived at the Cunard berth at Pier 54 in New York harbour on the morning of 1 May 1915 - with ticket number 1807 - only to find that the liner's 10.00 a.m. departure had been delayed. This was because she had to wait to embark passengers, crew and cargo from the Anchor Lines vessel the S.S. Cameronia, which the British Admiralty had requisitioned for war service as a troop ship at the end of April.
The Lusitania finally left port just after midday and six days later, on the afternoon of 7 May, she was torpedoed and sunk by the German submarine U-20. At that time, she was only about 250 miles away from her destination and within sight of the coast of southern Ireland.
It was probably the closest that Robert Anderson would get to his homeland as he was killed as a result of this action. As his body was never recovered from the sea and identified afterwards, he has no known grave. He was aged 40 years.
He does not appear in the list of passengers lost and saved which was published by The Cunard Steam Ship Company in March 1916, but he is on a list compiled by the company at a later time and updated as late as February 1917, now held at The Public Record Office at Richmond in Surrey. This record has been found to be a more reliable source.
For more information about the Lusitania: life, loss, legacyexhibition, visit: www.liverpoolmuseums.org.uk/lusitania
For access to the online resource, visit: www.liverpoolmuseums.org.uk/lusitaniapeople
Notes to Editors
About National Museums Liverpool
National Museums Liverpool comprises eight venues. Our collections are among the most important and varied in Europe and contain everything from Impressionist paintings and rare beetles to a lifejacket from the Titanic.

We attract more than 2.7m visitors every year. Our venues are the International Slavery Museum, Lady Lever Art Gallery, Merseyside Maritime Museum, Museum of Liverpool, Sudley House, Border Force National Museum, Walker Art Gallery and World Museum.

Merseyside Maritime Museum is situated at the Albert Dock. It contains a variety of objects associated with the social and commercial history of the port of Liverpool. Highlights include ship models, maritime paintings, colourful posters from the golden age of liners and even some full sized vessels. There is also the major current exhibition Titanic and Liverpool: the untold story. This tells the story of Liverpool's links to the ill-fated liner.