A new spotlight on John Blanke - media release
Tudor trumpeter was one of the first people of African descent in British history to have both a visual and written record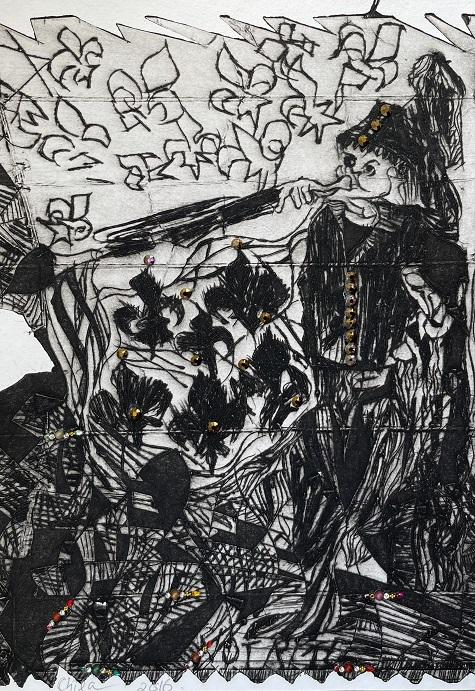 The Walker Art Gallery is set to share the story of one of the first people of African descent in British history to have both a visual and written record. The life of John Blanke, court trumpeter to Henry VII and Henry VIII, will be explored as part of the Gallery's major upcoming exhibition, The Tudors: Passion, Power and Politics (21 May to 29 August 2022).
John Blanke has become the face of diversity in Tudor England. He is represented twice on the Westminster Tournament Roll (College of Arms, London) which will be on display as part of the exhibition. Produced in 1511, the Roll celebrates the birth of Henry VIII's son with Katherine of Aragon, Henry, who died in infancy. This extraordinary document was last on public display almost 20 years ago and has never before been shown outside of London.
The exhibition at the Walker will also present 24 artworks produced by artists as part of the John Blanke Project, founded and directed by Michael I Ohajuru. This contemporary art and archive project responds to the life and legacy of John Blanke, celebrating his presence at the Tudor court.
Michael I Ohajuru, Director of the John Blanke Project, said: "In highlighting the role of John Blanke within this major exhibition, and presenting responses from contemporary artists and historians, we're able to tell a real, inclusive Tudor story. In this way, history, art and the imagination can work together to make connections between Black British history, then and now.

"Many people find it difficult to visualise a Black Tudor presence, but the Westminster Tournament Roll presents him quite clearly within the grandeur and spectacle of Tudor court. Here, we're seeing the most famous images of a named African person living in Tudor England."
John Blanke performed at the funeral of Henry VII in 1509 and at the coronation of King Henry VIII. Trumpets were always key at these events and were often referred to as the 'heralds of the gods'. Tudor records reveal that King Henry VIII paid him a wage, and that he granted him a considerable pay rise. When John Blanke married in 1512, the king gifted him fine clothing.
Chila Kumari Burman is one of the artists presenting work as part of the exhibition. She said: "I imagined John Blanke as an exceptional musician with a cool commanding energy and dynamic spirit. After some research, I felt inspired to make a spontaneous aquatint etching, which I've embellished with subversive bindis and Swarovski gems to give John Blanke a regal and anarchic quality I think he represents and deserves!"
It is not known how John Blanke came to England, but it is believed that he may have arrived from Spain with Katherine of Aragon in 1501. Katherine's entourage also included Catalina, a woman from Motril, Granada, who was probably of North African descent. Blanke would have been one of many Africans living in Tudor England.
Historians have learned more about the diversity of Tudor society in recent years. Much of this information has come from archival sources, written by English people living in England. This evidence includes baptism, marriage and burial records. These show that Tudor society was ethnically diverse, and Africans were an integral part of this society.
The Tudors: Passion, Power and Politics will explore the fascinating politics, powerful family connections and unique culture of the most famous royals in history. The exhibition will showcase more than 100 objects. This includes 68 works from the National Portrait Gallery Collection, alongside paintings from the Walker Art Gallery's collection and a selection of rare, additional loaned objects.
The National Portrait Gallery is currently temporarily closed until 2023 for a major redevelopment project, which presented this remarkably rare opportunity to share so many important paintings from its Collection with other UK galleries. The Holburne Museum, Bath, will display 25 portraits from the Collection until May 2022, when they will travel to the Walker as part of the exhibition.
The exhibition presents the five Tudor monarchs: Henry VII; Henry VIII; Edward VI; Mary I; and Elizabeth I. Together, they represent some of the most familiar figures from English history. Their instantly recognisable portraits – among the most famous in the National Portrait Gallery's Collection – have preserved their likenesses for 500 years.
The dynasty's reign over 16th-century England, from 1485 to 1603, encompassed the tumultuous years of the Reformation, a literary renaissance, conflict with Scotland, France and Spain, and conquest and colonisation in Ireland and America. The Walker exhibition will explore the Tudors from a range of perspectives and will spotlight some historically underrepresented aspects of the period, including Black Tudor history and LGBTQ+ history.
Portraits on display include the Tudor monarchs alongside their counsellors and courtiers: Thomas More; Thomas Cromwell; Robert Dudley; William Cecil; and Francis Walsingham. Some of the works have never been shown outside of London, including a portrait of Jane Seymour, after Hans Holbein the Younger, and the highly unusual Sir Henry Unton portrait.
The artists exhibiting their work within the exhibition as part of the John Blanke Project are:
Larry Achiampong
Toby Laurent Belson
Phoebe Boswell
Nathan Bowen
Victoria Burgher
Matthew Collings
Ebun Culwin
Jon Daniel
Paul Dash
Kimathi Donkor
Tinuke Fagborun
Dan Farrimond
Jenny Fay
Sharon Foster
Holly Graham
Tam Joseph
Linett Kamala
Kofi
Chila Kumari Burman
Atta Kwami
Seema Manchanda
Alex McKenzie
Tonderai
Stephen B Whatley
Tickets are now on sale, with prices starting at £13. For further information, and to book tickets, visit liverpoolmuseums.org.uk/tudors
- ENDS -
FURTHER INFORMATION
Felicity Robinson
PR & Communications Officer
felicity.robinson@liverpoolmuseums.org.uk