New work by Tabitha Moses at the Walker Art Gallery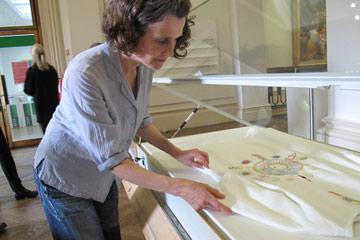 A personal journey inspires major new art work
Fertility symbols, ancient and contemporary, are explored in beautiful new art work by winner of the Liverpool Art Prize 2013, Tabitha Moses.
Three white hospital gowns, which through delicate hand embroidery give intimate insight into the artist's own experience of fertility treatment, and that of two other women, are central to Tabitha Moses: Investment, on display at the Walker Art Gallery from 27 September to 26 October 2014.
The installation, supported by an Arts Award from the Wellcome Trust, is the latest in a series of work on the subject, following Tabitha and her husband's own diagnosis with 'unexplained infertility' in 2010. The work is a continuation of themes explored in her winning Liverpool Art Prize exhibition.
The couple underwent IVF treatment at Liverpool's Hewitt Fertility Centre and CARE Fertility, Manchester. Before and during this time, Tabitha, in an attempt to regain control of her body, explored various methods to improve her fertility. From changing her diet and charting her temperature to predict ovulation, to wearing a fertility amulet and using acupuncture and meditation, Tabitha's search for a solution will be familiar to others who have been through the same experience.
For Tabitha the third round of IVF was a success and she went on to have a baby girl in 2014. However the profound influence of this period on her life led her to continue her work on the subject. Researching ancient fertility symbols at Liverpool's World Museum, the British Museum and the Wellcome Collection, her tender embroidered illustrations for Investment are a curious mix of imagery from modern medicine and symbols of ancient folklore, unifying the yearning for a child across centuries and cultures.
With the support of the Hewitt Fertility Centre Tabitha found two other women who were willing to share their own experience and personal rituals. One woman, who looked to her recently departed grandmother for support, also had a fertility symbol tattoo and jewellery. The second wore a lucky pair of leopard-print knickers. These deeply individual symbols of hope and strength feature in Tabitha's embroidery and give character to each woman's story.
Photographs of the gowns and the women wearing them are an important element of the exhibition installation. Tabitha collaborated with Liverpool-based artist and designer, Jon Barraclough, to produce the tender portraits, which reveal a human identity to the clinical gowns.
Ann Bukantas, Head of Fine Art said:
"Investment is a sensitive and beautiful work which we're moved to be the first to show at the Walker Art Gallery. By producing this work Tabitha is sharing a very personal journey with us, which we're sure visitors will find incredibly poignant and thought-provoking."
The project is part of the Liverpool Art Prize and is managed by Metal. Tabitha Moses: Investment is funded by the Wellcome Trust and Arts Council England, and supported by a bursary from a-n The Artist Information Company.
The exhibition is accompanied by a series of talks and workshops at the Walker Art Gallery and Metal at Edge Hill Station, organisers of the Liverpool Art Prize.
• Saturday 27 September 2.30pm - Artist's talk at the Walker Art Gallery
• Saturday 4 October 1.30pm - Fertility Food and Yoga Taster Session with Jenni Jones and Tabitha Moses at Metal, Edge Hill Station
• Thursday 16 October 6pm - Fruitful Infertility: A talk by Dr Rebecca Baillie about Investment and Tabitha's work more generally, followed by a vegetarian supper, at Metal, Edge Hill Station
• Saturday 18 October 1.30pm – Opening session of Fertile Minds: Tabitha Moses and Rebecca Sharp, creative workshops at Metal, Edge Hill Station, for people with experience of assisted conception (running until Saturday 13 December)
All events are free. For more details and to book: www.metalculture.com.
An exhibition catalogue featuring Dr Jane Webb's essay and writing by Tabitha Moses, Jon Barraclough and Kate Brian is available in the Walker Art Gallery shop.
Notes to editors:
About Metal and The Liverpool Art Prize
Metal supports artists from all creative disciplines. In Liverpool, they work out of Edge Hill Station, the world's oldest passenger railway station, still in use. Metal completed a major renovation of the previously empty, historic buildings in 2009. Alongside an exciting programme of international and UK artists-in-residence, and wide-ranging participatory programme, they manage the annual Liverpool Art Prize exhibition with four prizes, including an international exchange with Shanghai Art School. Regular programme for the buildings at Edge Station includes quarterly Future Station meetings and fortnightly film nights. They also create projects in partnership with other organisations across the city.
The Liverpool Art Prize is an annual award and exhibition for contemporary artists based or born in Liverpool City Region. For seven years it has awarded the city's most exciting and inspiring contemporary visual artists. Each year an exhibition of shortlisted artists is held in Liverpool featuring a range of different creative disciplines. The main prize, selected by a panel of judges, includes £2000 and a solo exhibition. The winner of the £1000 People's Choice award is decided by a public vote taken at the gallery. Tabitha Moses was the first artist to win both awards in the same year.
About the Wellcome Trust
The Welcome Trust is a global charitable foundation dedicated to achieving extraordinary improvements in human and animal health. It supports the brightest minds in biomedical research and the medical humanities. The Trust's breadth of support includes public engagement, education and the application of research to improve health. It is independent of both political and commercial interests.
About National Museums Liverpool
National Museums Liverpool comprises eight venues. Our collections are among the most important and varied in Europe and contain everything from Impressionist paintings and rare beetles to a lifejacket from the Titanic.
We attract more than 2.7 million visitors every year. Our venues are the International Slavery Museum, Lady Lever Art Gallery, Merseyside Maritime Museum, Museum of Liverpool, Sudley House, Border Force National Museum (Seized! The Border and Customs Uncovered), Walker Art Gallery and World Museum.
One of the finest art galleries in Europe, the Walker Art Gallery is home to renaissance masterpieces, Tudor portraits and one of the best collections of Victorian and Pre-Raphaelite art in the country. An outstanding display of contemporary art includes work by David Hockney, Lucian Freud and Bridget Riley.