New Works at the Walker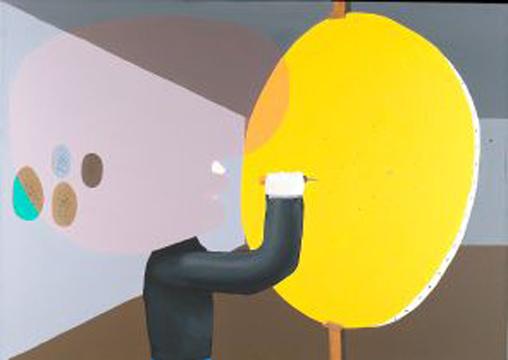 Kapoor, Rego, Ono, Bourgeois and Tillmans
A selection of images and a full list of artists and titles are available on request.
Some of the world's most exciting contemporary artists star in a new exhibition at the Walker Art Gallery from 2 February 2013.
New Works at the Walker consists of more than 50 works from the gallery's own collection and includes pieces by Anish Kapoor, Paula Rego, Yoko Ono, Wolfgang Tillmans and winner of the 2010 Northern Art Prize, Haroon Mirza.
An eclectic mix of installations, paintings, drawings, prints, video, sculpture, costume and decorative arts, the exhibition explores the broad range of work the Walker has collected in recent years.
You are invited to a press preview at 1030 hours on Thursday 31 January 2013.  Head of Fine Art, Ann Bukantas and Assistant Curator Lucy Gardner will be available for interview.
Highlights:
• A number of household names emphasise the significance of the collection. Red in the Centre by Anish Kapoor was made during a residency at the Walker in 1981-82. Kapoor was yet to establish an international reputation and this work offers an insight into this modern master's early influences. The Walker has also acquired Kapoor's 1993 piece Sculpture which was a gift from Bluecoat Display Centre.
• The exhibition features three etchings from Paula Rego's powerful Abortion series; Yoko Ono's Liverpool Skyladders, made for the 2008 Liverpool Biennial; stunning photographic prints by Wolfgang Tillmans, acquired through the Art Fund, and a delicate textile work by Louise Bourgeois.
• It'll be the first chance to see some exciting new additions to the collection at the Walker. This display includes Lubaina Himid's acclaimed We Will Be, first exhibited in the influential exhibition Black Woman Time Now in 1983, and former Professor of Sculpture at the Royal Academy, Ivor Abrahams' dramatic, Head of the Stairs. It was presented by Professor Ivor Abrahams and Evelyne Abrahams through the Art Fund.
• Alongside well-established names a new generation of artists figure in the collection. A Sleek Dry Yell is an intriguing sound sculptural installation, by one of the UK's hottest artists, Haroon Mirza, winner of the 2010 Northern Art Prize. It was purchased by the Contemporary Art Society through the Sculpture Fund, supported by Cathy Wills. An important animation and drawing by Manchester artist Rachel Goodyear, (another rising star, nominated for the Northern Art Prize in 2009), gifted by the artist, are also on display.
• The biennial John Moores Painting Prize, held at the gallery since 1957, has helped establish the Walker's strong association with contemporary painting. A selection of some of the most recent winners are on show, including another chance to see Sarah Pickstone's winning 2012 painting, Stevie Smith and the Willow, acquired with assistance of the Art Fund. 
• The exhibition explores the gallery's objectives when selecting new work. A strong body of work by women artists demonstrates an active direction by the Walker to strengthen this area. Key pieces which deliver a strong feminist message include the work of Louise Bourgeois, Helen Chadwick and Lubaina Himid.
• Video-based pieces such as Nancy Davenport's Workers (Leaving the Factory), as well as prints and drawings by Paula Rego, James Unsworth and Rachel Goodyear, indicate the Walker's commitment to representing both new media, and works on paper that are fully realised artworks in their own right.
Director of Art Galleries, Sandra Penketh said: "New Works at the Walker presents a rich display of contemporary fine and decorative art, which might come as a surprise to those who only associate the gallery with its outstanding historic collection.
"The exhibition explores how good working relationships with artists and art organisations have helped enhance the Walker's contemporary collection. From the generosity of artists who have gifted their work to the Walker such as Yoko Ono, Lubaina Himid and Rachel Goodyear, to the support of the Art Fund and Contemporary Art Society, this exceptional collection remains fresh and relevant."
More details of the exhibition here:
www.liverpoolmuseums.org.uk/new-works
Notes to Editors
The Art Fund
The Art Fund is the national fundraising charity for art, helping museums to buy and show great art for everyone to enjoy. Over the past 5 years we've given £24m to help over 200 museums and galleries acquire £195m worth of art for their collections, from ancient sculpture and treasure hoards to Old Master paintings and contemporary commissions. We are funded by over 95,000 members who, through the National Art Pass, enjoy free and discounted entry to over 200 museums, galleries and historic houses across the UK, as well as 50% off entry to major exhibitions.
Contemporary Art Society
The Contemporary Art Society is a national charity that encourages an appreciation and understanding of contemporary art in the UK. With the help of our members and supporters we raise funds to purchase works by new artists which we give to museums and public galleries where they are enjoyed by a national audience; we broker significant and rare works of art by important artists of the twentieth century for public collections through our networks of patrons and private collectors; we establish relationships to commission artworks and promote contemporary art in public spaces; and we devise programmes of displays, artist talks and educational events. Since 1910 we have donated over 8,000 works to museums and public galleries - from Bacon, Freud, Hepworth and Moore in their day through to the influential artists of our own times - championing new talent, supporting curators, and encouraging philanthropy and collecting in the UK.
About National Museums Liverpool
National Museums Liverpool comprises eight venues. Our collections are among the most important and varied in Europe and contain everything from Impressionist paintings and rare beetles to a lifejacket from the Titanic. 
We attract more than three million visitors every year. Our venues are the International Slavery Museum, Lady Lever Art Gallery, Merseyside Maritime Museum, Museum of Liverpool, Sudley House, UK Border Force National Museum, Walker Art Gallery and World Museum. 
One of the finest art galleries in Europe, the Walker Art Gallery is home to renaissance masterpieces, Tudor portraits and one of the best collections of Victorian and Pre-Raphaelite art in the country. An outstanding collection of contemporary art includes work by David Hockney, Lucian Freud and Banksy.
Walker Art Gallery William Brown Street, Liverpool     Admission FREE
Open 10am-5pm every day  Information 0151 478 4199
Website liverpoolmuseums.org.uk/walker
Twitter
Facebook
www.facebook.com/walkerartgallery