Novel Paintings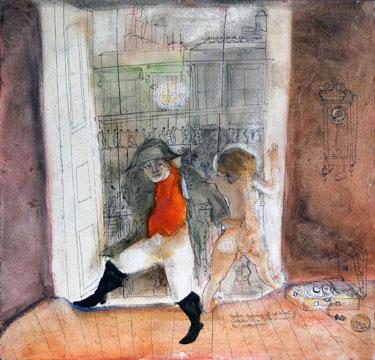 Exhibition of Beryl Bainbridge's art at Museum of Liverpool
In December, the Museum of Liverpool opened a special exhibition dedicated to the works of celebrated and award-winning novelist, Dame Beryl Bainbridge.
Running until 28 April 2013, Beryl Bainbridge, painter is a unique collection of 15 paintings by Liverpool-born Bainbridge, displayed together for the first time in her home town.
Success and critical acclaim in the world of literature eclipsed Bainbridge's lifelong passion as an artist. Visitors to the exhibition can expect to get a rare glimpse into the art of the writer who penned classic novels including An Awfully Big Adventure, Everyman for Himself and Master Georgie.
Born in Liverpool in 1932 and raised in Formby, Beryl showed an interest in art and literature from an early age, writing stories inspired by family life in her teenage years that were illustrated with her own art work.
Throughout her life, Beryl drew heavily from her own experiences and memories of Liverpool became a strong emotional tie and source of inspiration for both her literature and painting. Her two talents developed hand-in-hand and Beryl Bainbridge, painter explores each painting's connections to her best-loved novels, family, lovers and life in Liverpool.
The exhibition's Curator, Paul Gallagher said: "Many people are aware of Beryl Bainbridge as one of the UK's best novelists, but she was also an accomplished painter.
"She may not have had any formal training, but Beryl's paintings reveal a vibrant and exuberant style that mirrored her distinctive personality and storytelling technique. We feel privileged to be displaying her work in the Museum of Liverpool, celebrating her talents in both literature and art."
Paintings featured in the exhibition include portraits of her children, Liverpool memories, depictions of the story of the Titanic, Captain Scott's journey to the South Pole and of Napoleon, who was a rich source of inspiration for Bainbridge.
Many of her paintings can be related back to particular periods in Bainbridge's writing career, linking to books such as Harriet Said, A Weekend with Claude, The Birthday Boys, and The Girl in the Polka Dot Dress, which was published in 2011 after her death.
Psiche Hughes, a close friend of Beryl for nearly 50 years, helped bring the exhibition to life, and has written a book entitled Beryl Bainbridge, Artist, Writer, Friend which provides a vivid first-hand portrait of Beryl's life.
Psiche said: "It was while helping to catalogue her paintings that I felt inspired to write about Beryl and all the qualities that made her such an inspirational talent, and above all, a great friend.
"While her writing career was never smooth, she found painting to be a relaxing and exhilarating experience, which had close interconnections with her life and writing. Painting was as much a part of her as her novels, and being able to let people see this side of her is a great testament and celebration of her life and very rewarding for those who knew her."
Also included in the exhibition set in the Museum's Skylight Gallery are several objects relating to Beryl and her career, including first editions of several of her books, a journal and images taken throughout her life, many of which have been provided by Psiche Hughes and Beryl's children Aaron, Jojo and Rudi.
Jojo Davies said of her mother: "She was a hugely original painter and painted with a surety and freedom that reminds me of her personality…there is an honesty in her work that comes from her intensely creative personality."
Beryl Bainbridge passed away in 2010 at the age of 77. During her career she was famously nominated for the Man Booker Prize five times, yet didn't win the title until she was posthumously awarded a special prize in 2011, whereby five of her novels were pitted against each other, the winner being decided by public vote.
Bainbridge won the Whitbread Award for best novel in 1977 and 1996, and in 2008 was among The Times' 50 Greatest Writers Since 1945.
Notes to editors
Museum of Liverpool
The Museum of Liverpool is the largest newly-built national museum in Britain for more than a century, demonstrating Liverpool's unique contribution to the world. As the first national museum devoted to the history of a regional city, it showcases popular culture while tackling social, historical and contemporary issues and is a fantastic, free family day out. The prestigious Council of Europe Museum Prize for 2013 was awarded to the Museum for its commitment to human rights as well as its work with children and families from all backgrounds.
The Museum has received generous support from several major funders, along with grants from trusts and foundations, corporate support and individual donations. Major funders include the Northwest Regional Development Agency (NWDA), The European Regional Development Fund (ERDF), the Heritage Lottery Fund (HLF), the Department for Culture Media and Sport (DCMS),Garfield Weston Foundation and the Clore Duffield Foundation.
The Northwest Regional Development Agency (NWDA) was responsible for the sustainable economic development and regeneration of England's Northwest and had five key priorities: Business, Skills and Education, People and Jobs, Infrastructure and Quality of Life.
The European Development Fund (ERDF) is making a real difference to people and businesses in the North West. With €755 million to invest between 2007 and 2013, ERDF is enhancing the competitiveness of the region's economy by supporting growth in enterprise and employment. ERDF in the North West is managed by the Department for Communities and Local Government – for further information visit www.communities.gov.uk/erdf.
Using money raised through the National Lottery, the Heritage Lottery Fund (HLF) sustains and transforms a wide range of heritage for present and future generations to take part in, learn from and enjoy. From museums, parks and historic places to archaeology, natural environment and cultural traditions, we invest in every part of our diverse heritage.  HLF has supported more than 30,000 projects allocating £4.5billion across the UK.  www.hlf.org.uk 
Skylight Gallery
The Skylight Gallery is sponsored by Home Bargains for a two-year period. The sponsorship is enabling the space to be used for exhibitions and associated community programmes.
About National Museums Liverpool
National Museums Liverpool comprises eight venues. Our collections are among the most important and varied in Europe and contain everything from Impressionist paintings and rare beetles to a lifejacket from the Titanic. We attract more than 3 million visitors every year. Our venues are the Museum of Liverpool,  World Museum, the Walker Art Gallery, Merseyside Maritime Museum, International Slavery Museum, UK Border Agency National Museum, Sudley House and the Lady Lever Art Gallery.