Objects and memories from Liverpool's black community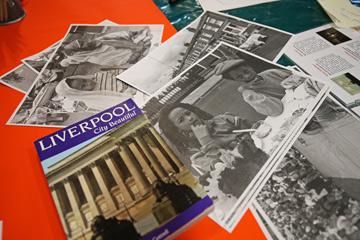 National Museums Liverpool launches Sankofa project
An exploration of activism in Liverpool's Black communities launches National Museums Liverpool's Sankofa project on Saturday 28 January in the Dr Martin Luther King Jr building at Liverpool's Albert Dock.
The Sankofa project aims to investigate Black social history within National Museums Liverpool's collections and the wider community. It also intends to support Black communities in Liverpool to look after their precious objects, photographs and archival material, such as letters or other documents, and seek ways to make this material more accessible.
At the launch event on 28 January (free, drop in from 1-4pm) people are invited to share their objects and stories of local Black activism. This is one of the subjects the Sankofa project wants to explore during the next 18 months. Museum staff are keen to see or hear about anything which will develop a fuller picture of how local Black people have campaigned for change.
From the traditional tools of activism, such as placards or leaflets, to less obvious examples, like plans to improve the local environment, the intention of the event is to shine a spotlight on the causes - big and small - which have had an importance to Liverpool's Black communities.
The day will also include the following:
• Significant objects and memories shared at the event will be incorporated in a timeline of activism. An artist will also be creating visual minutes to record the day's events and discoveries.
• Museum staff will be able to offer advice on the best way for people can look after their important objects and preserve their legacy for future generations.
• An opportunity to get a closer look at objects from National Museums Liverpool's Collecting Cultures project and Bristol Art Gallery and Museum's anti-apartheid movement collection.
• A slideshow of the Nelson Mandela Freedom Festival photographs, donated to the International Slavery Museum by Joe Farrag. Museum staff would love to hear from people who attended the L8 event in 1988 and who may even appear in the photographs.
• Free, fun craft for younger visitors.
If you can't make it on this date but you have an object which you feel is relevant, you can still get involved. Email a picture and description to mittyr@liverpoolmuseums.org.uk
Mitty Ramagavigan, Sankofa Project Curator, said:
"I'm excited to be launching the project with a call out for objects and memories related to Black activism in Liverpool. A city as feisty as Liverpool has a long history of political and social action. I am really keen to find out what causes were most important to Black people in the area and to understand how they have been expressed.

"The aim of the Sankofa project is to develop the idea of a 'shared collection' and to further explore the representation of Black histories within National Museums Liverpool. As an organisation we understand how crucial this is to really understanding our collections.

"We know that not all of these histories can fit inside the walls of museums, and that museums are not the only place to hold them. We hope that we can work together, sharing our knowledge of the best way to preserve objects and by recording them we can find new ways to embed local Black histories within the wider telling of Liverpool's story."
Sankofa is a word in the Akan language of Ghana that translates as 'reach back and get it'. It also refers to an Asante Adinkra symbol. The Sankofa symbol teaches us that we must go back to our roots in order to move forward. The Sankofa project explores the representation of Black histories within National Museums Liverpool's collections held at Museum of Liverpool, Merseyside Maritime Museum and the International Slavery Museum.
The project has been funded by a significant grant from the Esmée Fairbairn Collections Fund and is a partnership with Bristol Museums, Galleries and Archives. #sankofapeople
Notes to editors:
About the Sankofa project
The Sankofa project has been funded by a significant grant from the Esmée Fairbairn Collections Fund. The project will be led by National Museums Liverpool in partnership with Bristol Museums, Galleries and Archives. It will be developed and delivered in collaboration with the Black community, individuals and community organisations in Liverpool, and further afield. The project will inform how the museums and heritage sector understands, conserves, collects and utilises both transatlantic slavery and its legacies, along with Black social history and the diaspora. National Museums Liverpool and its partners will consult and work with galleries nationwide to create new resources, share findings and best practice within the sector, in order to demonstrate how collections can be cared for, shared, stored and displayed in community settings outside museums.
About National Museums Liverpool
National Museums Liverpool comprises eight venues, including some of the most visited museums in England outside of London. Our collections are among the most important and varied in Europe and contain everything from Impressionist paintings and rare beetles to a lifejacket from the Titanic. We attract more than 2.8 million visitors annually. Our venues are the Museum of Liverpool, World Museum, the Walker Art Gallery, Merseyside Maritime Museum, International Slavery Museum, Seized! (UK Border Force National Museum), Sudley House and the Lady Lever Art Gallery.