OMD TO PLAY MUSEUM OF LIVERPOOL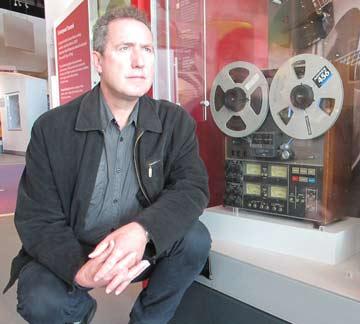 Exclusive concert set for Saturday 1 November
Music legends Orchestral Manoeuvres In The Dark are to play an exclusive concert at the Museum of Liverpool.
OMD have just celebrated 35 years in music and will mark the occasion with the intimate gig in their home city.
The special show will take place on Saturday 1 November in the Museum's 550-capacity Atrium. The set will include greatest hits, tracks from the band's 1983 Dazzle Ships album and one song which has never ever been performed live.
This is the first time the Museum of Liverpool has hosted a gig by a major music act. On the night OMD will consist of Andy McCluskey, Paul Humphreys and Martin Cooper.
OMD's iconic and influential fourth album Dazzle Ships was inspired by the painting Dazzle Ships in dry dock at Liverpool by Edward Wadsworth. Now that there is once again a Dazzle Ship in a dry dock in front of the Museum of Liverpool, it is appropriate that the band commemorate the event with a concert.
Tickets for the performance will also allow fans to hear the missing parts I, IV, V & VI of OMD's Dazzle Ships musique concrète composition from 1983.
As an added bonus, a unique music artefact which is usually on display in the Museum's Wondrous Place gallery, will be involved in the show. The special reel-to-reel tape recorder known as 'Winston' - used by OMD during their very early gigging days - will grace the stage again for the first time in three decades.
More details and information about tickets will be announced shortly at: www.liverpoolmuseums.org.uk/omd , www.omd.uk.com and www.facebook.com/omdofficial . Or follow Twitter accounts: @MuseumLiverpool and @OfficialOMD.
OMD frontman Andy McCluskey said:
"We can't wait to play at the Museum. The space for the concert is fantastic and very intimate. The museums and galleries in this city have had a major influence on me so it's nice to come back and do a unique concert at the Museum of Liverpool."
All proceeds from the gig are going back into supporting National Museums Liverpool.
Janet Dugdale, Director of the Museum of Liverpool, said:
"We are absolutely thrilled to be hosting a concert by OMD, a major Liverpool group who have gone on to have success around the globe. The Museum of Liverpool tells the story of the city's rich and fantastic music heritage. To bring that story to life with a concert by OMD should be very special indeed."
Notes to editors:
Dazzle Ship
In partnership with National Museums Liverpool, Liverpool Biennial, Tate Liverpool and 14-18 NOW - the official cultural programme for the First World War Centenary Commemorations - have co-commissioned one of the major figures of contemporary art, Carlos Cruz-Diez, to paint a version of a 'Dazzle Ship'.
The Edmund Gardner vessel is conserved by Merseyside Maritime Museum and has been 'dazzled' in dry dock adjacent to Albert Dock Liverpool.
Museum of Liverpool
The Museum of Liverpool is one of the country's most visited museums outside of London. It is the largest newly-built national museum in Britain for more than a century, demonstrating Liverpool's unique contribution to the world. The first national museum devoted to the history of a regional city, it showcases popular culture while tackling social, historical and contemporary issues. It has attracted more than two million visitors since opening in July 2011. The prestigious Council of Europe Museum Prize for 2013 was awarded to the Museum for its commitment to human rights as well as its work with children and families from all backgrounds.
The Museum has received generous support from several major funders, and grants from trusts and foundations, corporate support and individual donations. Major funders include the Northwest Regional Development Agency (NWDA), The European Regional Development Fund (ERDF), the Heritage Lottery Fund (HLF), the Department for Culture Media and Sport (DCMS),Garfield Weston Foundation and the Clore Duffield Foundation.
The Northwest Regional Development Agency (NWDA) was responsible for the sustainable economic development and regeneration of England's Northwest and had five key priorities: Business, Skills and Education, People and Jobs, Infrastructure and Quality of Life.
The European Development Fund (ERDF) is making a real difference to people and businesses in the North West. With €755 million to invest between 2007 and 2013, ERDF is enhancing the competitiveness of the region's economy by supporting growth in enterprise and employment. ERDF in the North West is managed by the Department for Communities and Local Government – for further information visit www.communities.gov.uk/erdf.
Using money raised through the National Lottery, the Heritage Lottery Fund (HLF) sustains and transforms a wide range of heritage for present and future generations to take part in, learn from and enjoy. From museums, parks and historic places to archaeology, natural environment and cultural traditions, we invest in every part of our diverse heritage. HLF has supported more than 30,000 projects allocating £4.5billion across the UK. www.hlf.org.uk
About National Museums Liverpool
National Museums Liverpool comprises eight venues, including some of the most visited museums in England outside of London. Our collections are among the most important and varied in Europe and contain everything from Impressionist paintings and rare beetles to a lifejacket from the Titanic. We attract more than 2.7 million visitors every year. Our venues are the Museum of Liverpool, World Museum, the Walker Art Gallery, Merseyside Maritime Museum, International Slavery Museum, Border Force National Museum, Sudley House and the Lady Lever Art Gallery.