Only in England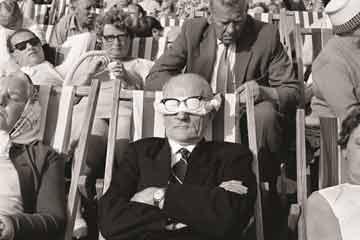 Photographs by Tony Ray-Jones and Martin Parr
A new exhibition exploring the lasting influence of the photographer Tony Ray-Jones on the development of British photography, opens at the Walker Art Gallery on 13 February to 7 June 2015.
More than 100 images, around half of which are new prints selected by esteemed photographer Martin Parr, are humorous yet melancholic photographs, taken between 1966 and 1969. As a body of work they beautifully reflect English customs and identity, as well as Ray-Jones' innovative approach.
Also included are around 50 of Parr's own rarely seen early black and white photographs from The Non-Conformist series which reveal how an early introduction to Ray-Jones' work affected Parr's emerging style.
"Don't take boring pictures" was a self-imposed rule Tony Ray-Jones lived by throughout his all too short career. Documenting ordinary English life, his images were a startling departure from anything else being produced at the time. They quickly attracted the attention of the Institute of Contemporary Arts (ICA), London, where they were exhibited in 1969. Tragically, in 1972, Ray-Jones died from leukaemia aged just 30.
Sandra Penketh, Director of Art Galleries said:
"These photographs are an evocative record of a time before 'selfies' and mass media. English beaches, markets, streets and tea rooms all come under Ray-Jones' watchful eye. The subjects are delightfully unpretentious and natural, as though they aren't even aware of the photographer's presence."
Intriguing ephemera – notebooks, layouts and lists – from the Ray-Jones' archive are included in the exhibition and give viewers a touching insight into his dedication.
Sandra Penketh continued:
"Ray-Jones was passionate about photography and we're delighted to be exhibiting these powerful images at the Walker Art Gallery, which not only reveal a fascinating composite of English eccentricities, but the ability of candid, studied photography to capture this spirit."
In 1970, Martin Parr, a photography student at Manchester Polytechnic, was introduced to Ray-Jones. Struck by the ground-breaking images, Parr went on to produce The Non-Conformists, shot in black and white in Hebden Bridge and the surrounding Calder Valley. The title for the project came from the Methodist and Baptist churches that dotted the region and defined a communal character.
It is clear to see within these quietly observational images of various aspects of traditional life, the legacy of Ray-Jones.
When describing his first encounter with Ray-Jones' work Martin Parr said:
"It was his ability to construct complex images, with everyone perfectly placed in the uniquely English atmosphere and surroundings, which struck a cord of recognition - and envy - in me."
The exhibition forms part of the LOOK/15: Liverpool International Photography Festival which launches on Saturday 17 May 2015 and will see dozens of photographic exhibitions and events taking place across the city.
Only in England: Photographs by Tony Ray-Jones and Martin Parr is one of a series part funded by the European Union - the European Regional Development Fund (ERDF).
Exhibition organised and toured by National Media Museum and Science Museum's Media Space.
Notes to Editors
ERDF in the Northwest
ERDF is making a real difference to people and businesses in the North West. The current programme, which is worth €755 million, is enhancing the competitiveness of the region's economy by supporting growth in enterprise and employment. ERDF in the North West is managed by the Department for Communities and Local Government – for further information visit https://www.gov.uk/erdf-programmes-progress-and-achievements
Artist biographies:
Tony Ray-Jones was born in Somerset in 1941. He studied graphic design at the London School of Printing before leaving the UK in 1961 to study on a scholarship at Yale University in Connecticut, US. He followed this with a year long stay in New York during which he attended classes by the influential art director Alexey Brodovitch, and became friends with photographers Joel Meyerowitz and Garry Winogrand. In 1966 he returned to find a Britain still divided by class and tradition. A Day Off- An English Journal, a collection of photographs he took between 1967-1970 was published posthumously in 1974 and in 2004 the National Media Museum held a major exhibition, A Gentle Madness: The Photographs of Tony Ray-Jones.
Martin Parr was born in Epsom, Surry in 1952. He graduated from Manchester Polytechnic in 1974 and moved to Hebden Bridge in West Yorkshire, where he established the 'Albert Street Workshop', a hub for artistic activity in the town. Fascinated by the variety of non-conformist chapels and the communities he encountered in the town he produced The Non-Conformists. In 1984 Parr began to work in colour and his breakthrough publication The Last Resort was published in 1986. A Magnum photographer, Parr is now an internationally renowned photographer, filmmaker, collector and curator, best-known for his highly saturated colour photographs critiquing modern life.
About the Science Museum, National Media Museum and Tony Ray-Jones archive
The Tony Ray-Jones archive comprises of approximately 700 photographic prints, 1700 negative sheets, 2700 contact sheets, 600 boxes of Ektachrome/Kodachrome transparencies. It also includes ephemera such as notebooks, diary pages, and a maquette of 'England by the Sea' made by Tony Ray-Jones.
Only in England was the inaugural exhibition at the Media Space in London's Science Museum. Bringing together photographers, artists, curators and the creative industries, Media Space explores relationships between, and lesser known histories of, photography, science, art and technology. Media Space is a collaboration between the Science Museum and the National Media Museum in Bradford, home of the National Photography Collection.
The Science Museum's collections form an enduring record of scientific, technological and medical change from the past. Aiming to be the best place in the world for people to enjoy science, the Science Museum makes sense of the science that shapes our lives, sparking curiosity, releasing creativity and changing the future by engaging people of all generations and backgrounds in science, engineering, medicine, technology, design and enterprise. The Science Museum Art Collection contains over 8000 works, including 290 oil paintings, relating to the history of science, technology and medicine from the antique to the contemporary. Now in its 16th year, the Science Museum's Contemporary Arts Programme commissions artists to respond to the past, present and futures of Science and technology through interventions, exhibitions, research and events. Past artists have included Tacita Dean, Dryden Goodwin, Cornelia Parker, Conrad Shawcross and David Shrigley and media art pioneers such as David Rokeby and Mark Hansen & Ben Rubin. www.sciencemuseum.org.uk/smap
The National Media Museum in Bradford, West Yorkshire, opened as the National Museum of Photography, Film & Television in Bradford in 1983 with the remit to explore the art and science behind images and image-making. With the aim to be the best museum in the world for inspiring people to learn about, engage with and create media, it draws from more than 3.5 million objects in its National Photography, Television, Cinematography and New Media Collections to create special exhibitions, interactive galleries and activities for families and adults. It also organises a variety of film events every year including Bradford International Film Festival and Bradford Animation Festival, and is home to Europe's first IMAX cinema screen. Comprising of approximately 3.2 million images, the National Photography Collection includes work by Julia Margaret Cameron, Alfred Stieglitz, Edward Steichen, Edward Weston, Paul Strand, Dorothea Lang, Ansel Adams, Henri Cartier-Bresson, Larry Burrows, Martin Parr, Paul Graham. Nick Knight and Luc Delahaye amongst others.
About National Museums Liverpool
National Museums Liverpool comprises eight venues. Our collections are among the most important and varied in Europe and contain everything from Impressionist paintings and rare beetles to a lifejacket from the Titanic.
We attract more than 2.7 million visitors every year. Our venues are the International Slavery Museum, Lady Lever Art Gallery, Merseyside Maritime Museum, Museum of Liverpool, Sudley House, Border Force National Museum (Seized! The Border and Customs Uncovered), Walker Art Gallery and World Museum.
One of the finest art galleries in Europe, the Walker Art Gallery is home to renaissance masterpieces, Tudor portraits and one of the best collections of Victorian and Pre-Raphaelite art in the country. An outstanding display of contemporary art includes work by David Hockney, Lucian Freud and Bridget Riley.
Walker Art Gallery William Brown Street, Liverpool Admission FREE
Open 10am-5pm every day Information 0151 478 4199
Website liverpoolmuseums.org.uk/walker
Twitter www.twitter.com/walkergallery
Facebook www.facebook.com/walkerartgallery