Parr and Wood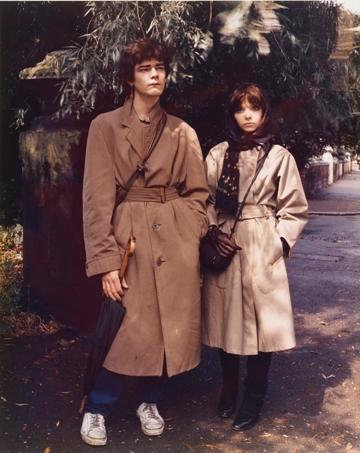 Photographs by Martin Parr and Tom Wood.
From young couples kissing on a dingy dance floor to the faded grandeur of a seaside town, an exhibition of work by acclaimed photographers Martin Parr and Tom Wood examines the early influences of both men and finds a compelling beauty in the ordinary.
Every Man and Woman is a Star runs at the Walker Art Gallery from 11 May to 18 August 2013 and features more than 20 prints from the gallery's own collection, including one of the earliest known photographs by Parr in a public collection (New Brighton, 1976).
Parr and Wood embarked on their careers at a time when the perception of photography was shifting. At the start of the 1960s it had been the eccentric face of the London fashion world; the visual language of advertising, and a middle-class hobby. Parr and Wood were amongst the first photographers to turn their cameras on modern Britain, elevating everyday life into fine art.
Charlotte Keenan, Tomlinson Curator of works on paper said: "Taken between 1976 and 1987 the emotive photographs in Every Man and Woman is a Star convey the similarities in the work of Tom Wood and Martin Parr, who are old friends, as well as their differences.
"The photographs are an important part of the Walker's works on paper collection. They represent a significant period for photography, which was finally establishing itself as a fine art, as well as the changes in society for both the local area and on a wider scale."
Parr's images span the period 1976 to 1983 and predate his change to colour film. They respond to his desire to document the world around him before it disappeared, illustrating many of his enduring interests including leisure, consumerism and community. These continue to influence his work, which he describes as 'subjective documentary.'
Included in the exhibition are a selection of Parr's images of the west of Ireland, which reveal the modern face of American investment, as well as the unusual customs and traditions of a vanishing community. There are also several images of the patrons of Yates's Wine Lodge, Liverpool, some of his last work in black and white.
Wood photographed the area and people of Merseyside for more than 20 years, earning himself the nickname 'photie man'.  The photographs on display were taken between 1980 and 1986.
Wood's photographs are the result of chance encounters. From fellow passengers on a bus, claustrophobic scenes in a nightclub, and well-kept suburban gardens, there is a voyeuristic quality about the work.
Each of Wood's images documents the moment it was taken, but cumulatively they form a record of the region's past. However, his work is more than a photographic archive; for Wood it is firmly fine art. Indeed, he has said, "What's more conceptual than spending twenty years photographing a bus journey that should take twenty minutes?"
This exhibition forms part of the LOOK/13: Liverpool International Photography Festival which launches on Friday 17 May and will see dozens of photographic exhibitions and events taking place across the city.  The press preview is on Friday 17 May. Contact
for accreditation and further details.
Four Tom Wood photographs from the Walker's collection will also be going on display at Liverpool Cathedral from 15 May – 26 August 2013.
Notes to Editors
Martin Parr artist biography
Martin Parr was born in Epsom, Surrey, in 1952. He developed an interest in photography as a child under the influence of his grandfather, a member of the Royal Photographic Society and went on to study photography at Manchester Polytechnic (1970 – 1973). Since 1994, Parr has been a member of Magnum Photos. He has had almost 50 books published, and featured in around 80 exhibitions worldwide. In 2008, he was made an Honorary Doctor of Arts at Manchester Metropolitan University (MMU) in recognition for his ongoing contribution to photography and to MMU's School of Art.
Tom Wood artist biography
Tom Wood was born in 1951 in County Mayo in the west of Ireland. He lived and worked on Merseyside between 1978 and 2003 before he moved to his current home in North Wales. Wood has published numerous books, including Bus Odyssey, People, All Zones Off Peak and Looking for Love. He has had solo and group exhibitions worldwide and his work is represented in the collections of major international museums.
About LOOK/13: Liverpool International Photography Festival
Who do you think you are? LOOK/13 asks what happens when we turn the camera on ourselves and others, to create images of identity, subjectivity and the self. The festival's much-anticipated second edition launches on Liverpool's Light Night, 17 May 2013. Taking place in venues across the city, it presents an eclectic mix of exhibitions and events, featuring historical and contemporary work by photographers from Liverpool, the UK and beyond. The festival launches on 17 May 2013 with a long opening weekend 16-19 May 2013
About National Museums Liverpool
National Museums Liverpool comprises eight venues. Our collections are among the most important and varied in Europe and contain everything from Impressionist paintings and rare beetles to a lifejacket from the Titanic. 
We attract more than three million visitors every year. Our venues are the International Slavery Museum, Lady Lever Art Gallery, Merseyside Maritime Museum, Museum of Liverpool, Sudley House, UK Border Force National Museum, Walker Art Gallery and World Museum.
One of the finest art galleries in Europe, the Walker Art Gallery is home to renaissance masterpieces, Tudor portraits and one of the best collections of Victorian and Pre-Raphaelite art in the country. An outstanding collection of contemporary art includes work by David Hockney, Lucian Freud and Banksy.
Walker Art Gallery William Brown Street, Liverpool     Admission FREE
Open 10am-5pm every day  Information 0151 478 4199
Website liverpoolmuseums.org.uk/walker
Twitter
Facebook
www.facebook.com/walkerartgallery