Phil Phillips Receives MBE For Services To Museums And Science Press Release
World Museum veteran, Phil Phillips is recognised in The Queen's Jubilee Birthday Honours List with an MBE for services to museum and science.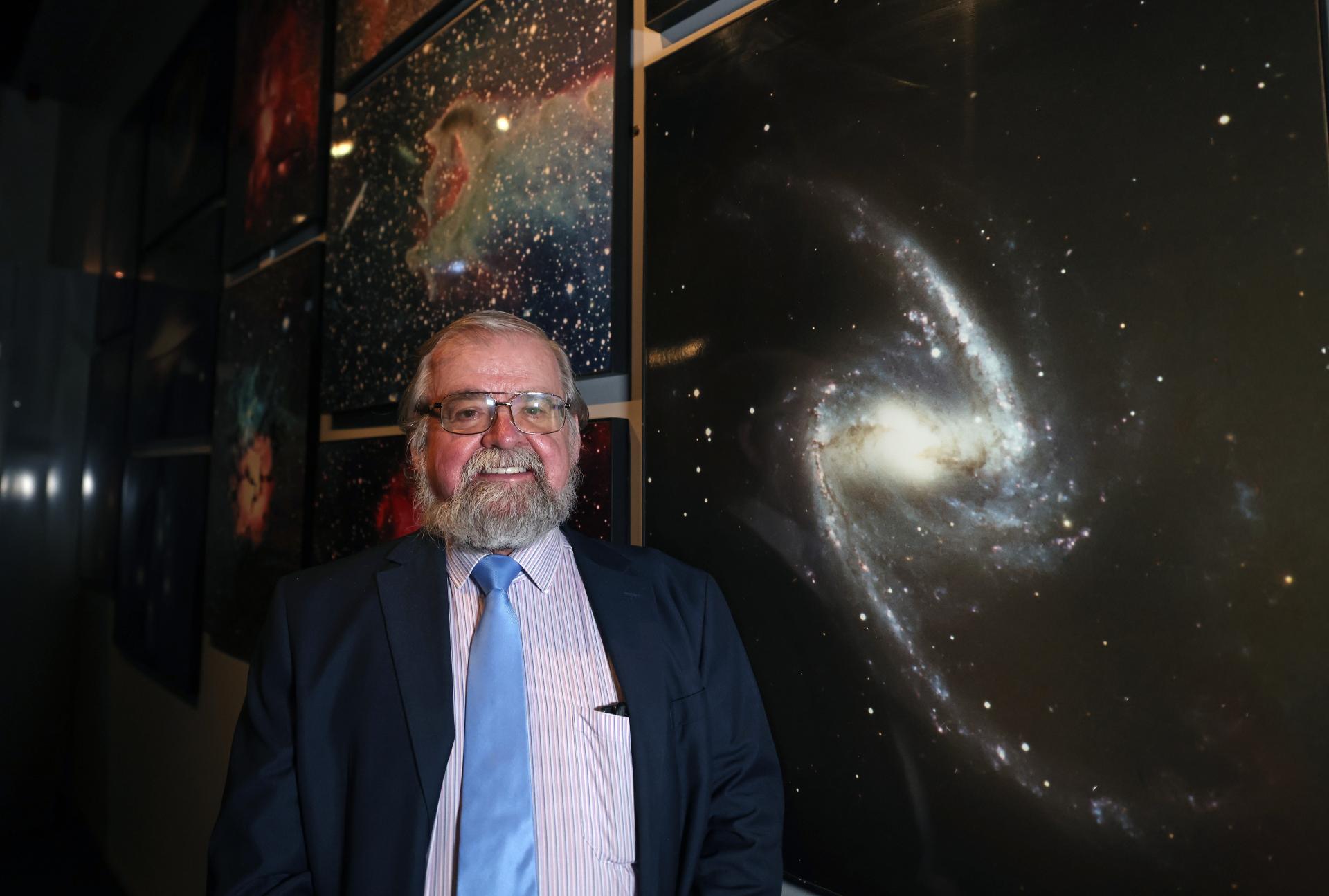 The man behind one of the first computer interactives in a museum in Europe has been recognised in Her Majesty The Queen's Jubilee Birthday Honours List.  
Phil Phillips, New Media Development Manager at World Museum in Liverpool, has been awarded an MBE (Member of the Order of the British Empire) for services to museums and science. The award recognises that Phil has been a pioneer of using new technologies in museums to create digital experiences since the 1970s.  
Phil, who is from Porthcawl but now lives in Bromborough, was one of the first to use computers for documenting collections and to see the opportunities offered by them. 
Earlier this year, Phil was highly commended in the new Unsung Heroes category at Liverpool City Region Tourism Awards, which recognises a person's excellence in their role and commitment to the industry.  
Phil, who has worked for National Museums Liverpool since 1972, said: "I've been fortunate to work on a wide variety of projects with some wonderful colleagues over the years. These have included working on the What's in Store exhibition about our extensive reference and research collections which led to the establishment of the Natural History Centre, and the JASON Project, an American educational programme organised by Dr Bob Ballard the oceanographer, who rediscovered Titanic in the Atlantic Ocean.
Ballard used satellite technology to conduct live broadcasts from scientific expeditions in remote parts of the world. We were the first organisation outside America to take part in these broadcasts.  
"More recently I have been involved with the installation of the new Planetarium shows, including adding subtitles which improves access for our audiences.  Equally exciting projects included 'Dinomania', where I imported a special T. Rex from Australia and had the dinosaur 'roaming' around the museum. In the evenings, we had a 'Dinosaur disco' in the atrium and the scene reminded me very much of the closing episode of the film Night at the Museum - Living the Dream indeed." 
The Director of the Association of Leading Visitor Attractions, Bernard Donoghue, has also been awarded an OBE for services to tourism and to culture, recognising Bernard's work and advocacy for UK tourism and his non-executive roles in the cultural sector. 
Others on the Queen's Jubilee Birthday Honours List include author Sir Salman Rushdie and illustrator Sir Quentin Blake who receive Companions of Honour; former footballer and commentator Rio Ferdinand, who receives an OBE for his activism and charity work; Ian Rankin who receives a knighthood for services to literature and charity; and actor Damian Lewis, who receives a CBE for services to drama and charity for initiating the campaign to raise £1 million to provide food for NHS workers throughout Covid-19.
FURTHER INFORMATION 
Images available for download here: https://we.tl/t-0rPqiOk8LJ 
07384 510967 
NOTES TO EDITOR  
The full honours list will be published at www.gov.uk/honours/honours-lists at 22.30 on Wednesday 1st June 2022. 
World Museum    
Experience the wonders of life and the universe at World Museum, where millions of years of the world's history are revealed. Find out how humans have shaped the planet we inhabit, from Africa to the Americas, Asia and Europe and how human behaviour is impacting our world today. Immerse yourself in Sarah Howe's magical poetry about survival and loss in the World Cultures Gallery and learn more about how we are reinterpreting collections. Visit the Ancient Egypt gallery, which houses one of the finest ancient Egyptian and Nubian collections in Europe.  We will take you to the farthest reaches of our spectacular world, diving down into underwater life in the newly refurbished Aquarium (opening summer 2021) and blasting you off into the skies in the Space Gallery and our updated Planetarium.  
www.liverpoolmuseums.org.uk/world-museum 
 
National Museums Liverpool 
National Museums Liverpool (NML) comprises seven venues, including some of the most visited museums in England outside of London. Our collections are among the most important and varied in Europe and contain everything from Impressionist paintings and rare beetles to a lifejacket from the Titanic. We attracted more than 3 million visitors in 2019.  
Our venues are Museum of Liverpool, World Museum, Walker Art Gallery, Maritime Museum, International Slavery Museum, Sudley House and Lady Lever Art Gallery. National Museums Liverpool is regulated by the Department of Digital, Culture, Media and Sport (DCMS).