Picturing Venice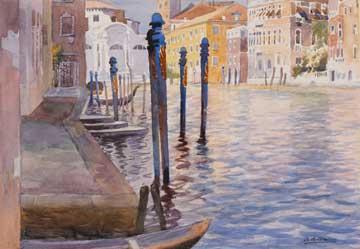 Turner, Sickert and Brangwyn feature in new summer exhibition
A new exhibition showcasing Venice through the eyes of old and modern masters opens at the Lady Lever Art Gallery on 1 May and runs until 27 September 2015.
Picturing Venice features works by artists including JMW Turner, Walter Sickert and Frank Brangwyn, exploring the influence of the Italian city on British art and culture.
The exhibition also considers the enduring appeal of 'The Floating City' to tourists and travellers, from its role in providing an educational rite of passage for the European elite embarking on the Grand Tour from the 17th century onwards, to its position today as one of the world's most popular tourist destinations.
Charlotte Keenan, Curator of Fine Art (British), said:
"Picturing Venice will showcase an exciting selection of works from National Museums Liverpool's collections, exploring the stylistic developments of British art between the mid-17th century and 20th century through images of Venice.

"The Lady Lever Art Gallery provides a fitting setting for the exhibition, not only because so many of the painters and sculptors whose work feature in the collection were inspired by the art and architecture of Venice, but also because William Hesketh Lever, who built the Gallery, was involved with some of the early Venice Biennales."
The inaugural Biennale took place in 1895. Held every two years, the event provides an international stage to showcase contemporary art. The exhibition coincides with this year's Biennale, 9 May to 22 November 2015.
Picturing Venice includes works by several British artists who travelled to Venice to exhibit at the Biennale. In addition to pieces by Sickert and Brangwyn, visitors can see Charles H Mackie's woodblock prints of Venice (1911), along with Liverpool-born artist Mary McCrossan's oil painting, Umbrellas and Barges (c. 1924-1934).
Visitors will undoubtedly be familiar with many of the iconic tourist spots depicted in the exhibition, including the Piazza San Giovanni, St Mark's facade and the majestic Doge's Palace.
Picturing Venice will also present a selection of photographs of the 'City of Water' taken by pioneering photographer Carlo Ponti, who moved to Venice in 1852 and opened a shop selling photographic souvenirs to tourists.
Ponti's photographs superseded the work of British artists such as JMW Turner and James Holland. In contrast to the thriving Venice represented in their paintings, the photographs capture an eerily quiet city, without the gondoliers and character sketches.
Venice's political and artistic influential power diminished after it failed to compete with the great empires of the 17th and 18th centuries. For many, the city's submission to Napoleon in 1797 was seen as the final act in its history. It would shortly afterwards lose its independence as a state.
While many histories of Venice conclude with the unification of Italy and the end of the Renaissance period, the exhibition argues that the city still had much to offer to artists, who continued to flock there. Venice would re-emerge in the early 20th century as a centre for contemporary art, continuing to evolve and inspire artists and visitors alike.
The Lady Lever Art Gallery, located in Port Sunlight village, Wirral, is open daily from 10am-5pm. Entry to the Gallery and exhibitions is free. For more information, visit liverpoolmuseums.org.uk/lady-lever-art-gallery
Notes to editors
About the Lady Lever Art Gallery
The Lady Lever Art Gallery houses one of the UK's greatest collections of fine and decorative art. An extensive programme of restoration and improvement is currently underway in the South End of the Gallery. The £2.8m project will see 500 square metres of gallery space transformed. The galleries will be returned to their original architectural design and more than 1,500 objects will be redisplayed, including the best collection of Wedgwood jasperware in the world, one of the finest collections of Chinese porcelain in Europe and outstanding 18th century paintings, furniture and sculpture. The scheme will be funded through donations, corporate sponsorship and major grants, including a generous grant of £1.4m from the Heritage Lottery Fund (HLF).
Lady Lever Art Gallery Port Sunlight village, Wirral L62 5EQ
Admission FREE
Open 10am-5pm daily
Information 0151 478 4136
Website www.liverpoolmuseums.org.uk/lady-lever-art-gallery
Twitter www.twitter.com/leverartgallery
Facebook www.facebook.com/ladyleverartgallery
About the Heritage Lottery Fund
Using money raised through the National Lottery, the Heritage Lottery Fund (HLF) aims to make a lasting difference for heritage, people and communities across the UK and help build a resilient heritage economy. From museums, parks and historic places to archaeology, natural environment and cultural traditions, we invest in every part of our diverse heritage. HLF has supported over 36,000 projects with more than £6bn across the UK. www.hlf.org.uk.
About National Museums Liverpool
National Museums Liverpool comprises eight venues. Our collections are among the most important and varied in Europe and contain everything from Impressionist paintings and rare beetles to a lifejacket from the Titanic. We attract more than 2.7 million visitors every year. Our venues are the International Slavery Museum, Lady Lever Art Gallery, Merseyside Maritime Museum, Museum of Liverpool, Sudley House, UK Border Force National Museum, Walker Art Gallery and World Museum.