Poppies: Women and War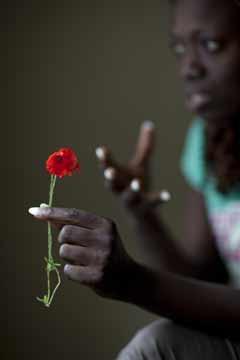 Revealing the personal stories of women affected by conflict
A new photographic exhibition exploring the personal stories of women affected by war will open at the Museum of Liverpool this summer.
Opening on 24 July, Poppies: Women and War will display striking portraits of women whose lives have been affected by conflict, from the First World War to present day, alongside botanical images of poppies; the symbol of remembrance.
Every year thousands of women suffer as a result of war, but their stories are lost behind headlines from the battlefields. Visitors to this free exhibition will be invited to learn more, and consider the impact of conflict, through renowned photographer Lee Karen Stow's compelling images.
Lee Karen Stow said:
"Poppies: Women and War is evolving. This is not an attempt to cover every conflict, or to dare to hope for peace. My research and my portraits grow organically as women and their stories enter into my own awakening.

"I wasn't aware of my own mother's childhood during the Blitz in the Second World War. 'You never told me,' I said. 'You never asked,' she replied. I began to ask more. I hope others will do the same."
Portraits within the exhibition include Tracy Dunn-Bridgeman and Colonel Debbie Telford T.D. L/QARANC; two Liverpool women personally affected by war.
Tracy Dunn-Bridgeman's son, Kingsman Jason Dunn-Bridgeman, 2nd Battalion, The Duke of Lancaster's Regiment, was shot and killed on foot patrol in Helmand Province, Afghanistan, in 2009, just before his 21st birthday.
Colonel Debbie Telford is the first female to command the 208 (Liverpool) Field Hospital Territorial Army, now known as the Army Reserve. She was deployed twice to Afghanistan, to the Role 3 Hospital at Camp Bastion, a military base built by the British Army in 2005 that housed soldiers from nations including the UK and US.
Karen O'Rourke, Curator of Urban and Military History at the Museum of Liverpool said:
"It is an honour to have this exhibition at the Museum of Liverpool. The impact of conflict on women is often overlooked. Through Lee's captivating portraits, some of their stories are able to be told."
The portraits are displayed alongside images of poppies in their natural environment. The poppy, despite its delicate appearance, is able to generate new life when everything else has been destroyed.
There are a number of poignant objects on display within the exhibition including Kingsman Dunn-Bridgeman's identity tags, the Red Cross armband worn by Colonel Debbie Telford in Afghanistan and a ceramic poppy from the Blood Swept lands and Seas of Red art installation at the Tower of London in 2014, which was seen by more than five million people.
The exhibition is part of National Museums Liverpool's programme commemorating the centenary of the First World War.
Poppies: Women and War is a touring exhibition supported by Arts Council England. The next venue it will be on display at is the University of Hull in summer, 2016.
For more details on the exhibition, please visit: www.liverpoolmuseums.org.uk/poppies #poppieswomen
Notes to editors
Museum of Liverpool
The Museum of Liverpool is the largest newly-built national museum in Britain for more than a century, demonstrating Liverpool's unique contribution to the world. Opened in July 2011, it attracted more than 2 million visitors in its first year, and is the first national museum devoted to the history of a regional city. It showcases popular culture while tackling social, historical and contemporary issues and is a fantastic, free family day out.
The Museum has received generous support from several major funders, along with grants from trusts and foundations, corporate support and individual donations. Major funders include the Northwest Regional Development Agency (NWDA), The European Regional Development Fund (ERDF), the Heritage Lottery Fund (HLF) and the Department of Culture Media and Sport (DCMS)
The Northwest Regional Development Agency (NWDA) was responsible for the sustainable economic development and regeneration of England's Northwest and had five key priorities: Business, Skills and Education, People and Jobs, Infrastructure and Quality of Life.
The European Development Fund (ERDF) is making a real difference to people and businesses in the North West. With €755 million to invest between 2007 and 2013, ERDF is enhancing the competitiveness of the region's economy by supporting growth in enterprise and employment. ERDF in the North West is managed by the Department for Communities and Local Government – for further information visit www.communities.gov.uk/erdf.
Using money raised through the National Lottery, the Heritage Lottery Fund (HLF) sustains and transforms a wide range of heritage for present and future generations to take part in, learn from and enjoy. From museums, parks and historic places to archaeology, natural environment and cultural traditions, we invest in every part of our diverse heritage. HLF has supported more than 30,000 projects allocating £4.5billion across the UK. www.hlf.org.uk
About National Museums Liverpool
National Museums Liverpool comprises eight venues, including some of the most visited museums in England outside of London. Our collections are among the most important and varied in Europe and contain everything from Impressionist paintings and rare beetles to a lifejacket from the Titanic. We attract nearly 2.7 million visitors every year. Our venues are the Museum of Liverpool, World Museum, the Walker Art Gallery, Merseyside Maritime Museum, International Slavery Museum, Border Force National Museum, Sudley House and the Lady Lever Art Gallery.