Putting on the Glitz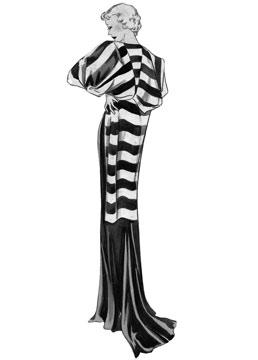 Lady Lever Art Gallery displays fabulous fashions from the 1930s
Dazzling 1930s evening gowns will take centre stage in the Lady Lever Art Gallery's new exhibition Putting on the Glitz, which runs from 16 October 2015 to 28 February 2016.
The display of 20 outfits from National Museums Liverpool's costume collection reveals how the glitz and glamour of Hollywood was reflected in the fashions of the period. In contrast to the loose, flapper-style silhouettes of the previous decade, women embraced more fitted styles with longer hemlines.
An evening dress that belonged to the daughter of the Chief Officer on the Titanic will be on show, along with a pearl and diamanté encrusted silk wedding dress bought from Brown's of Chester and garments purchased from Liverpool department stores George Henry Lee & Co. and Owen Owen Ltd.
Pauline Rushton, Curator of Costume and Textiles at National Museums Liverpool, said:
"Putting on the Glitz showcases the sort of stylish outfits that wouldn't look out of place in a Hollywood film. The sumptuous textiles, elegant lines and subtle embellishments really bring to mind the glamour of silver screen sirens such as Bette Davis and Joan Crawford.

"The outfits are also representative of a period of rising social aspirations. Much as we do today, people chose to demonstrate their affluence and taste through their choice of clothing."
Putting on the Glitz will also display a set of striking fashion illustrations which were designed for George Henry Lee & Co. by local illustrator Miss Winifred Aileen Brown (1907-1993). Born in Wallasey, Miss Brown worked as a fashion illustrator for the Basnett Street department store, later purchased by John Lewis, in the 1930s.
The illustrations have been loaned to National Museums Liverpool by Miss Brown's daughter, Mrs Gillian Harrand, who learned that her mother would sketch the fashions as they were paraded by models in the store. The sketches would then appear in the evening newspapers, advertising the goods to readers.
The exhibition also features a wonderful selection of accessories including shoes, stoles, handbags and hats, some of which were purchased by Liverpool doctor's wife and renowned shopper Mrs Emily Tinne (1887-1966).
Visit liverpoolmuseums.org.uk/glitz
Lady Lever Art Gallery
Free entry
Open daily 10am-5pm
Port Sunlight Village, Wirral, CH62 5EQ
liverpoolmuseums.org.uk/ladylever
Telephone 0151 478 4136
Notes to editors:
About the Lady Lever Art Gallery
The Lady Lever Art Gallery houses one of the UK's greatest collections of fine and decorative art. An extensive programme of restoration and improvement is currently underway in the South End of the Gallery. The £2.8m project will see 500 square metres of gallery space transformed. The galleries will be returned to their original architectural design and more than 1,500 objects will be redisplayed, including the best collection of Wedgwood jasperware in the world, one of the finest collections of Chinese porcelain in Europe and outstanding 18th century paintings, furniture and sculpture. The scheme will be funded through donations, corporate sponsorship and major grants, including a generous grant of £1.4m from the Heritage Lottery Fund (HLF).For more information on the project, visit www.liverpoolmuseums.org.uk/leverplans
About the Heritage Lottery Fund
Using money raised through the National Lottery, the Heritage Lottery Fund (HLF) aims to make a lasting difference for heritage, people and communities across the UK and help build a resilient heritage economy. From museums, parks and historic places to archaeology, natural environment and cultural traditions, we invest in every part of our diverse heritage. HLF has supported over 36,000 projects with more than £6bn across the UK. www.hlf.org.uk.
About National Museums Liverpool
National Museums Liverpool comprises eight venues, including some of the most visited museums in England outside of London. Our collections are among the most important and varied in Europe and contain everything from Impressionist paintings and rare beetles to a lifejacket from the Titanic. We attract nearly 2.7 million visitors every year. Our venues are the Museum of Liverpool, World Museum, the Walker Art Gallery, Merseyside Maritime Museum, International Slavery Museum, Border Force National Museum, Sudley House and the Lady Lever Art Gallery.