REFLECTIONS: PAST & PRESENT
The International Slavery Museum commemorates Slavery Remembrance Day, August 2021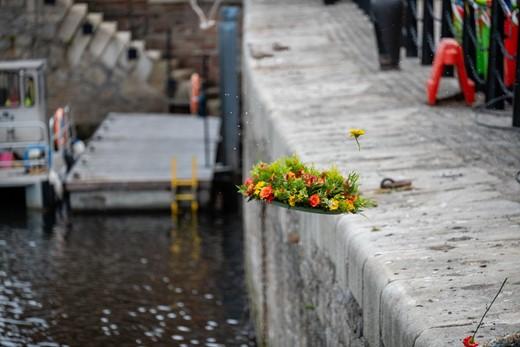 The annual Slavery Remembrance Day (SRD), held on 23 August, returns this year as National Museums Liverpool (NML), commemorates this important date with the theme of Reflections: Past & Present. Looking at the past and the horrific history of the transatlantic slave trade, the three-day commemoration (21-23 August) has been co-created with the RESPECT Group and will reflect, remember, and encourage learning from the injustices of the past and how we can work together to prevent them from happening again.
Slavery Remembrance Day has been marked on 23 August in Liverpool since 1999. Liverpool was the European capital of the transatlantic slave trade, responsible for half of Britain's trade. The ships set sail from Liverpool with goods and franchise, which were exchanged for enslaved men, women and children on the west coast of Africa who were then taken across the Atlantic on a horrendous journey known as 'the Middle Passage.' Slavery Remembrance Day acknowledges this major period of trauma and injustice in world history which is too often forgotten – or not even acknowledged.
On this day in 1791, an uprising of enslaved Africans on the island of Saint Domingue (modern Haiti) began. The date has been designated by UNESCO as Slavery Remembrance Day, a reminder that enslaved Africans were the main agents of their own liberation.
From 21-23 August NML has a number of events and lectures which enable us to remember and reflect upon the millions of lives that were stolen through enslavement. It allows us to consider the many legacies and achievements of people of African heritage throughout the diaspora. It is also a time to reflect on the continuing fight against racism today.
Matt Exley, Learning & Participation manager says:
"Slavery Remembrance Day gives us the opportunity to reflect on the past but also gives a vitally important opportunity to reflect on the legacies that slavery, colonialism, and imperialism leave today. This year's theme allows us to interrogate Liverpool's long and deep connections to slavery but to also tell the important and often untold story of grassroots community activism across the city, both past and present – all of which combat racism and the other legacies of slavery.
"We hope to provide a platform for people to reflect on what changes still need to take place and what we can each do to create a more equal, just, and fair future for everyone."  
The SRD weekend starts on 21 August with an online in conversation between Liverpool's Mayor Joanne Anderson and Laurence Westgaph (Historian in Residence at NML). This conversation will reflect on Liverpool's historic links to the transatlantic slave trade as well as exploring the significance of Mayor Anderson becoming the first Black woman to be elected of any major UK city.
Activist Maria O'Reilly and world-renowned academic Professor Bayyinah Bello will both be keynote speakers as part of the online Dorothy Kuya Slavery Remembrance Memorial Lecture on 22 and 23 August respectively.
Maria O'Reilly will talk about the struggle for race equality in Liverpool and the quest for social justice. She will draw on almost 50 years of experience to outline the struggles and movements within Liverpool's Black communities.
Professor Bayyinah Bello is an expert in Pan-African and Haitian history and linguistics. She founded the Fondasyon Félicité to preserve and research Haitian history and was recently honoured at the Gala des Femmes et Flammes as one of ten women 'whose lives and professional work have paved the way for a better Haiti'. 
There will also be craft sessions, live performances and a live panel discussion exploring the need for change, and what activism looks like. Five of Liverpool's most prominent activists, including Chantelle Lunt (Co-founder of Merseyside Black Lives Matter Alliance), will reflect on the story of anti-racist activism Liverpool over the last 40 years and more. Weaving their stories together and contextualising it against the story of slavery and its legacies, Laurence Westgaph will be leading this panel talk.
The Centre for the Study of International Slavery (CSIS) in partnership with the University of Liverpool and NML have commissioned Malik Al Nasir to convene a unique symposium which starts on 23 August and will run until 4 October. The symposium called 'Barriers to Black Academia: Slavery and Colonialism and the Case for Reparative Justice' will begin with a keynote lecture by Professor Sir Hilary Beckles, Vice-Chancellor of The University of the West Indies and will explore the barriers to representation for Black academics in the UK.
A comprehensive list of what you can expect can be found on the museum's website.
In addition to the remembrance programming, National Museums Liverpool in partnership with Black Cultural Archives, Bristol Culture, Hull Museums, Glasgow Museums and Museum of London, will launch a new national forum with a focus on transatlantic slavery and legacies in Museums on 23 August. The first of its kind, this will create a space and network to share current discourse and create a coherent narrative thread to fully represent slavery and its legacies in the UK.
While the transatlantic slave trade ended over two centuries ago, the ideas that propelled it remain alive today and this cruel part of Britain's history is still untold, whilst its legacies have shaped the world, we all live in today. Slavery Remembrance Day is a time for us to come together; in remembrance of the past, but also to fight for change in the present for our future generations. 
We Remember. We Act.   
FURTHER INFORMATION
Sahar Beyad , PR & Communications  
sahar.beyad@liverpoolmuseums.org.uk  / 07935 009883 
Twitter / Instagram / Facebook #SlaveryRemembranceDay #SRD2021
NOTES TO EDITOR
International Slavery Museum 
The International Slavery Museum opened in August 2007. It is currently situated on the third floor of the Maritime Museum at the Royal Albert Dock. However, as part of the Waterfront Transformation Project, there are plans for a dramatic new front door at the Dr Martin Luther King Jr Building, which will lead to spaces to explore and investigate the transatlantic slave trade, its legacies, and other forms of slavery and human rights issues. In July 2021, the museum was awarded £9.9m as part of the National Lottery Heritage Fund, Heritage Horizon Awards, which will help realise the start of these ambitions. International Slavery Museum is the only national museum in the world to cover the transatlantic slave trade and its legacies as well as contemporary forms of slavery. It is also an international hub for resources on human rights issues and campaigning: www.liverpoolmuseums.org.uk/international-slavery-museum  
National Museums Liverpool
National Museums Liverpool (NML) comprises seven venues, including some of the most visited museums in England outside of London. Our collections are among the most important and varied in Europe and contain everything from Impressionist paintings and rare beetles to a lifejacket from the Titanic. We attracted more than 3 million visitors in 2019. Our venues are Museum of Liverpool, World Museum, Walker Art Gallery, Maritime Museum, International Slavery Museum, Sudley House and Lady Lever Art Gallery. National Museums Liverpool is regulated by the Department of Digital, Culture, Media and Sport (DCMS).