Refractive Pool: Contemporary Painting in Liverpool - media release
Walker Art Gallery to showcase Liverpool talent in new, artist-led exhibition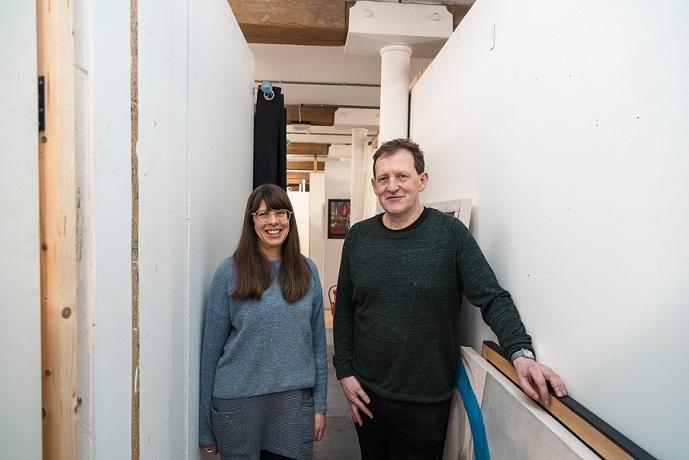 The Walker Art Gallery will showcase the work of some of the most exciting contemporary painters in Liverpool in a new, artist-led exhibition. Refractive Pool: Contemporary Painting in Liverpool, which runs from 29 April 2022 to 8 January 2023, features 21 artists who are currently living and working in the city and its surrounding areas.
The exhibition is curated by Liverpool-based artists Josie Jenkins and Brendan Lyons, who approached the Walker in response to what they felt to be a disconnect between many practicing artists and art galleries today. In particular, many artists at the beginning of their careers don't see themselves or their work represented in larger, public galleries. 
For some of the artists, this will be their first opportunity to present their work in a major gallery, while others have previously exhibited at the Walker, including Frances Disley, The Singh Twins Gary Sollars and Jason Thompson. Artists Pete Clarke, David Jacques, Gareth Kemp, Brendan Lyons and Gary Sollars have also exhibited at the Gallery as part of the John Moores Painting Prize. 
Co-curator Josie Jenkins said: "Liverpool's contemporary painting community represents a diverse mix of individuals and artistic practices, perhaps unified only in their use of the medium of paint and a shared current location. Not all of the exhibiting artists were born here, but they've been able to develop their practice within this city's thriving, supportive network.
"We hope that this exhibition will give visitors an insight into the varied and exciting range of art being made in the many studios around Liverpool, which is too often hidden away from public view."
The Liverpool painting scene reaches across the city, with many artists enjoying shared studio spaces, such as Arena Studios and Gallery, The Bluecoat studios, The Bridewell Studios & Gallery and The Royal Standard. Exhibiting artist Cherie Grist is the co-founder and director of Bold Place Ltd, which opened in 2021. It offers a creative hub designed specifically for females, offering studio spaces, workshops and career guidance.
The work of Millie Toyin Olateju, one of the artists based at Bold Place Ltd, features in the exhibition. She is the recent recipient of a research and development grant offered by Liverpool Biennial and 24 Kitchen Street as part of Black History Month 2021. Her large-scale, vibrant, abstract paintings evolve organically, focusing on composition, colour, shape and texture.
Katherine Lloyd, Project Officer at National Museums Liverpool, said: "It's been wonderful to work alongside Josie and Brendan to create this important and timely exhibition. To be able to celebrate the incredible painting being produced here in Liverpool feels very special, especially after what has been a challenging past two years for many practicing creatives.
"Visitors can expect to see a diverse range of subject matter and an interesting choice of materials used, as well as some ground-breaking ways of presenting and hanging the works. In many ways, the exhibition pushes the boundaries of what painting is, challenging our traditional preconceptions."
Among the artists choosing to work beyond the traditional canvas is Anna Ketskemety. Ketskemety utilises found objects such as mirrors to investigate the relationship between objects and the painted surface. Similarly, Jason Thompson favours found wooden panels on which to apply enamel paints and varnish. Brendan Lyons creates three-dimensional items such as bags made purely from paint, allowing the media to represent something other than itself.
The works in the exhibition consider an eclectic range of themes. Frances Disley creates work that responds to people and environments. Disley's artwork, When we rest, was developed specifically for the exhibition. It invites the viewer to become part of the work, by situating themselves within it. Her video piece, Epic Luxe, commissioned by Turnpike Gallery and created with Fallen Angels Dance Theatre, will also be shown for the first time. 
The theme of identity is central to work by The Singh Twins. The exhibition will include a hand-painted preparatory work used to produce the artwork NHS Covid-19: Fighting on Two Fronts, which featured in the Channel 4 television series, Grayson's Art Club. Artist Sumuyya Khader also explores identity through her work, focusing specifically on Black subjects to address Black lived experience. 
The role of place and location is a theme within the work of Pete Clarke and Gareth Kemp. Clarke will display paintings that were initially inspired by an old photograph of the derelict Theatre Royal in Williamson Square, Liverpool. Kemp, who is currently artist-in-residence at Liverpool's Bluecoat gallery, will present artwork influenced by a research trip to Marfa, Texas, in which he attempts to capture aspects of the unique Texan landscape.
The exhibition follows the publication of a book compiled by Jenkins and Lyons and funded with support from both a crowdfunding campaign and Arts Council England. Titled Refractive Pool, it features extracts from interviews with 38 Liverpool-based artists, displayed alongside their photographic portraits and images of their work.
As part of the exhibition, the Walker will also present poetry by Paul Farley. Farley was commissioned to write a poem for the Refractive Pool publication. The Studio is a 12-page episodic work themed around memories of Liverpool and the practice of studio painting. Places featured include the Walker Art Gallery and his former studio near Hope Street.
The artists exhibiting in the exhibition are:
Pete Clarke
Joana De Oliveira Guerreiro
Frances Disley
Cherie Grist
David Jacques
Louis Jeck Prestidge
Josie Jenkins
Gareth Kemp
Anna Ketskemety
Sumuyya Khader
Brendan Lyons
Richard Meaghan
Brian Mountford
Millie Toyin Olateju
M.B O'Toole
James Quin
The Singh Twins
Luke Skiffington
Gary Sollars
Jason Thompson
Zahra
Refractive Pool: Contemporary Painting in Liverpool is a Pay What You Think exhibition. 
Media contact: Felicity Robinson, PR and Communications. felicity.robinson@liverpoolmuseums.org.uk