Rembrandt in Print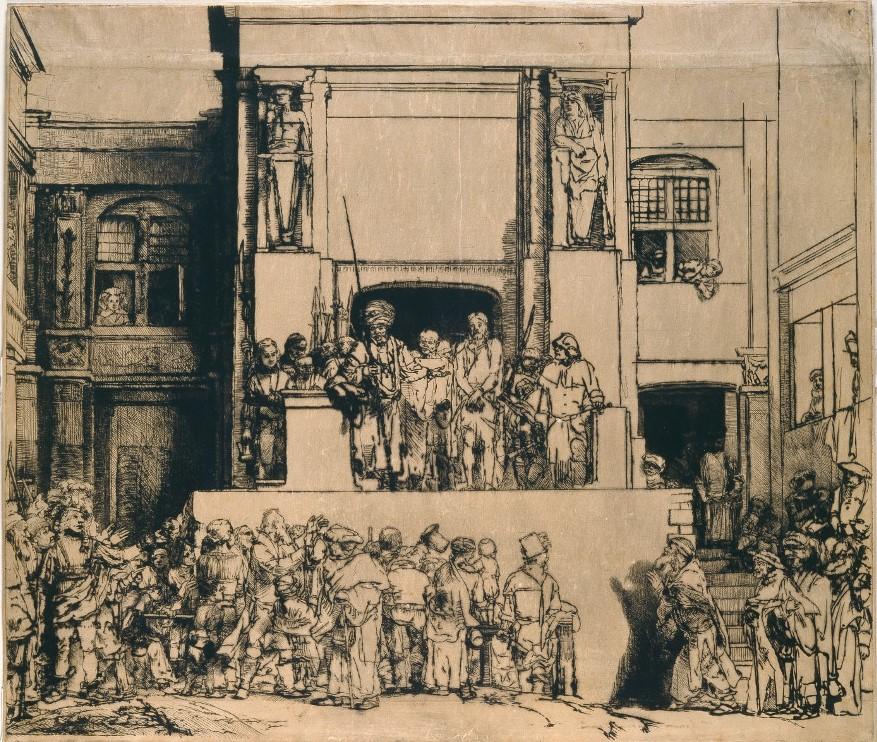 'Best-of-the-best' prints displayed together for first time at Lady Lever
The Lady Lever Art Gallery will be opening Rembrandt in Print (1 June to 15 September 2019), a new exhibition which presents 50 of the finest etchings and drypoints by the world-famous Rembrandt van Rijn (1606-1669), on loan from the celebrated collection of the Ashmolean Museum, University of Oxford.
This exclusive selection of 'the-best-of-the-best' Rembrandt prints have never been displayed together and have been hand-picked to show the full scope of Rembrandt's ability as a printer, in the year which also marks 350 years since the artists' death, and Wirral's Year of Culture.
Rembrandt Harmensz van Rijn (1606-1669) is shown as an unrivalled storyteller through the selection of print works, dating from 1630 to the late 1650s. Widely hailed as the greatest painter of the Dutch Golden Age, he was also one of the most innovative and experimental printmakers of the 17th century.
Exhibition highlights include Rembrandt's earliest known self-portrait dating from 1630, Rembrandt's only still-life print, The Shell (1650) and iconic works such as The Three Trees (1643) and The Windmill (1641) and three other intense self-portraits with their penetrating gaze.
Perhaps the most remarkable print on display is Christ Presented to the People (Ecce Homo) (1655), considered to be the pinnacle of Rembrandt's printmaking; the Ashmolean's print is one of only 8 first state impressions in existence in the world. Created solely in drypoint it is a true feat of printmaking, and was printed on rare Japanese paper which Rembrandt must have sourced via the Dutch East India Company who had exclusive access to Japan through the harbour in Nagasaki.
Xanthe Brooke, Curator of Art Galleries, National Museums Liverpool said:
"This is an exemplary collection, and we are thrilled it is first being shown at the Lady Lever Art Gallery. Visitors to Rembrandt in Print will be able to see Rembrandt's intense self-portraits, atmospheric landscapes, intimate family portraits, biblical stories and confronting nude studies. We hope people will enjoy this special exhibition".
An Van Camp, Curator, Ashmolean Museum, University of Oxford said:
"This collection of 50 works is the best-of-the best of the Ashmolean's outstanding Rembrandt prints collection. He created extraordinary prints by using existing techniques in his own artistic and innovative way. His prints range from squiggly, drawing-like sketches to more pictorial, heavily-hatched compositions. While apparently quite diverse at first sight, all Rembrandt's printed works are characterised by his talent for storytelling and his keen observational skills. His subjects are steeped in drama, adding atmosphere to views of the Dutch countryside or imbuing Biblical scenes with lively characters".
Rembrandt in Print is organised by the Ashmolean Museum, University of Oxford, which holds a world class collection of over 200 Rembrandt prints www.liverpoolmuseums.org.uk/rembrandt
Rembrandt in Print will be followed at the Lady Lever Art Gallery by Matisse: Drawing with Scissors, a Hayward Gallery Touring exhibition from Southbank Centre. The French painter, sculptor and designer, Henri Matisse (1869-1954) was one of the 20th century's most influential artists. His vibrant works are celebrated for their extraordinary richness and luminosity of colour and his spectacular paper cut-outs were his final triumph. The exhibition will feature 35 posthumous prints of the famous cut-outs that the artist produced in the last four years of his life, when confined to his bed. It includes many of his iconic images, such as The Snail and the Blue Nudes. www.liverpoolmuseums.org.uk/matisse
If visitors enjoy the Rembrandt in Print and Matisse: Drawing with Scissors exhibitions we're asking them to pay what they think is appropriate, to help us do more. Visitor contributions help us to continue staging world class exhibitions.
Notes to Editors
About the Lady Lever Art Gallery
The Lady Lever Art Gallery houses one of the UK's greatest collections of fine and decorative art.
An extensive programme of restoration and improvement has been completed at the South End of the Gallery. The £2.8m project enabled 500 square metres of gallery space to be transformed.
The galleries have been returned to their original architectural design and more than 1,500 objects have been redisplayed, including the best collection of Wedgwood jasperware in the world, one of the finest collections of Chinese porcelain in Europe and outstanding 18th century paintings, furniture and sculpture.
The scheme was funded through donations, corporate sponsorship and major grants. This includes generous grants from the following donors: The Heritage Lottery Fund, Lord Leverhulme Charitable Trust, DCMS/Wolfson Museums & Galleries Improvement Fund, Garfield Weston Foundation, Headley Trust, J Paul Getty Jr Charitable Trust, Granada Foundation, The Henry Moore Foundation, Sir Siegmund Warburg's Voluntary Settlement, 29th May 1961 Charitable Trust and Charles Hayward Foundation.
For more information on the project, visit www.liverpoolmuseums.org.uk/leverplans
About the Heritage Lottery Fund
Thanks to National Lottery players, we invest money to help people across the UK explore, enjoy and protect the heritage they care about - from the archaeology under our feet to the historic parks and buildings we love, from precious memories and collections to rare wildlife. www.hlf.org.uk @heritagelottery
About National Museums Liverpool
National Museums Liverpool comprises eight venues, including some of the most visited museums in England outside of London. Our collections are among the most important and varied in Europe and contain everything from Impressionist paintings and rare beetles to a lifejacket from the Titanic. We attracted more than 4m visitors in 2018. Our venues are the Museum of Liverpool, World Museum, the Walker Art Gallery, Merseyside Maritime Museum, International Slavery Museum, Seized! (UK Border Force National Museum), Sudley House and the Lady Lever Art Gallery. National Museums Liverpool is regulated by the Department of Digital, Culture, Media and Sport (DCMS). Museums and galleries regulated by DCMS are exempt charities under Schedule 3 of the Charities Act 2011. Registered Office: World Museum, William Brown Street, Liverpool L3 8EN. www.liverpoolmuseums.org.uk
About the Ashmolean:
The Ashmolean is the University of Oxford's museum of art and archaeology, founded in 1683. The world famous collections range from Egyptian mummies to contemporary art, telling human stories across cultures and across time. The museum's collections are extraordinarily diverse, representing most of the world's great civilisations, with objects dating from 500,000 BC to the present day. Among many riches we have the world's greatest collection of Raphael drawings, the most important collection of Egyptian pre-Dynastic sculpture and ceramics outside Cairo, the only great Minoan collection in Britain, outstanding Anglo-Saxon treasures, and the foremost collection of modern Chinese painting in the western world. Visit: www.ashmolean.org/press | Tw: @AshmoleanMuseum
About the exhibition tour:
Rembrandt in Print has been curated by An Van Camp, Christopher Brown Assistant Keeper of Northern European Art at the Ashmolean Museum. An is currently working with the Museum De Lakenhal (Leiden, The Netherlands) on a major research project focusing on Rembrandt as a young artist which will result in an international loan exhibition in 2020. Rembrandt in Print is a precursor to this major exhibition and has also been organised to coincide with 2019's 'Year of Rembrandt' marking 350 years since the artist's death in 1669. This touring exhibition begins at the Lady Lever Art Gallery in the Wirral where the exhibition will be on display from 1 June – 15 September. The tour continues to the Holburne Museum in Bath from 04 October – 05 January 2020 before moving onto the North Hertfordshire Museum, Hitchin from 18 January – 19 April 2020. Finally, the exhibition tour will finish at the Crawford Art Gallery, Cork from 22 May – 23 August 2020.