The return of Blackler's Santa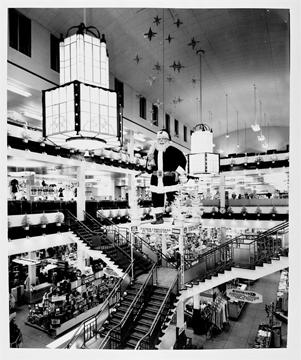 We're going to need a bigger chimney!
A giant Father Christmas, which delighted generations of Liverpool children in his former home at Blackler's Department Store, goes on display for the first time in 20 years at the Museum of Liverpool, on Tuesday 15 November 2016.
Towering over visitors, at more than five metres high, the jumbo Santa was originally used to advertise Blackler's famous grotto, a must-visit for many Liverpool families during the festive season between 1957 until the store closed in 1988.
The impressive model was made in 1957 by the artist Peter Blazey and his colleagues in the Blackler's Display Studio. When the store closed Peter bought up many of the props he had created during his career, including Santa. In the subsequent years it made occasional appearances around the city, including at Albert Dock, to raise money for charity. Eventually, after many years of work, his original cane body and costume could not be saved. Peter kindly donated Santa's head, hands and boots to the Museum of Liverpool in 2013.
On hearing the plight of the much-loved Santa, Phil (Chair of National Museum Liverpool) and Alexis Redmond, stepped in to fund its restoration. The work was completed by the person who knows the model best, original artist, Peter Blazey. The transformation, which included a faithful recreation of his body and costume, has been completed specially in time for Christmas 2016, and will be on display in the Museum's Atrium until 30 December.
Curator of Urban Community History, Kay Jones said:
"Blackler's Santa made a big impression on all of those who saw him on a visit to Blackler's at Christmas. He was taken into the hearts of Liverpool people and we are delighted to be able to put him back on public display, not just for this Christmas but for many more to come.

"We're very grateful to Phil and Alexis Redmond for their generosity in supporting the restoration of the model and to Peter Blazey, who has done an excellent job restoring Santa to his former glory."
Chair of National Museums Liverpool, Phil Redmond said:
"Like so many other people, Alexis and I know how important the Blackler's Santa was to Liverpool at Christmas time. In particular how many childhood imaginations he will have stimulated.

"By helping put him back on public display we hope he will not only bring back many happy memories, but also to now stimulate visitors to return to the Museum every Christmas."
Peter Blazey said:
"Seeing Blackler's Santa go back on display at the Museum of Liverpool 59 years after I made it for the wonderful Blackler's store is a proud moment. I hope a new generation of Liverpool children will love it and it will continue to bring festive cheer."
A flat wooden painted Santa, based on a Norman Rockwell illustration, which decorated the exterior of the building on the corner of Elliot Street and Great Charlotte Street and was made by Peter when he was a young apprentice, was also donated to the Museum by the artist in 2013.
Both Santas form part the Museum of Liverpool's collection of objects connected to Blackler's, including badges, photographs and the cherished Blackler's rocking horse, 'Blackie', on display in The People's Republic gallery.
Santa Stats:
• Height - 18ft / just over five metres
• Chest - circumference 16ft / nearly five metres
• Waist - a little less than five metres (before Christmas lunch)
• Boot size - Size 45
• Head, hands and boots – made of plaster and a little Christmas magic
• Body - cane on a plywood frame
www.liverpoolmuseums.org.uk/giantsanta
Notes to Editors
Museum of Liverpool
The Museum of Liverpool is one of the country's most visited museums outside of London. It is the largest newly-built national museum in Britain for more than a century, demonstrating Liverpool's unique contribution to the world. The first national museum devoted to the history of a regional city, it showcases popular culture while tackling social, historical and contemporary issues. It has attracted more than four million visitors since opening in July 2011. The prestigious Council of Europe Museum Prize for 2013 was awarded to the Museum for its commitment to human rights as well as its work with children and families from all backgrounds.
The Museum has received generous support from several major funders, and grants from trusts and foundations, corporate support and individual donations. Major funders include the Northwest Regional Development Agency (NWDA), The European Regional Development Fund (ERDF), the Heritage Lottery Fund (HLF), the Department for Culture Media and Sport (DCMS),Garfield Weston Foundation and the Clore Duffield Foundation.
The Northwest Regional Development Agency (NWDA) was responsible for the sustainable economic development and regeneration of England's Northwest and had five key priorities: Business, Skills and Education, People and Jobs, Infrastructure and Quality of Life.
The European Development Fund (ERDF) is making a real difference to people and businesses in the North West. With €755 million to invest between 2007 and 2013, ERDF is enhancing the competitiveness of the region's economy by supporting growth in enterprise and employment. ERDF in the North West is managed by the Department for Communities and Local Government – for further information visit www.communities.gov.uk/erdf.
Using money raised through the National Lottery, the Heritage Lottery Fund (HLF) sustains and transforms a wide range of heritage for present and future generations to take part in, learn from and enjoy. From museums, parks and historic places to archaeology, natural environment and cultural traditions, we invest in every part of our diverse heritage. HLF has supported more than 30,000 projects allocating £4.5billion across the UK.
www.hlf.org.uk
About National Museums Liverpool
National Museums Liverpool comprises eight venues, including some of the most visited museums in England outside of London. Our collections are among the most important and varied in Europe and contain everything from Impressionist paintings and rare beetles to a lifejacket from the Titanic. We attract more than 2.8 million visitors every year. Our venues are the Museum of Liverpool, World Museum, the Walker Art Gallery, Merseyside Maritime Museum, International Slavery Museum, Border Force National Museum, Sudley House and the Lady Lever Art Gallery.