Ronnie Colwell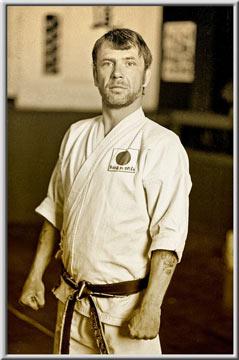 New display reveals Liverpool warrior
A formidable suit of samurai armour joins a new display of items related to Ronnie Colwell, founder of the internationally-acclaimed Liverpool Shotokan Karate Club (LSKC), at the Museum of Liverpool from 28 January 2016.
A leading international figure in global martial arts, Toxteth-born Ronnie spent a lifetime studying the martial systems of Japan, bringing his expertise and his own unique style to a new audience.
On display alongside the armour is a wooden banner called a Bushido, a Japanese word for 'the way of the warrior'. The Bushido is a code of moral values that samurai warriors must live by, endorsing qualities such as courage, respect and loyalty. A man of enormous dedication, Ronnie was a member of the house of Hikari and this emblem can be seen on both the Bushido and the armour.
The display represents a life of accomplishment and features Ronnie's 10th Dan certificate. The highest accolade possible in his field, Ronnie was one of only three people in the UK to earn this honour, which was bestowed on him in 2011.
The display also includes medals from the South East Asian World Championships, 1959, where Ronnie was the first ever European competitor, and won several gold and silver medals. In addition there are items from his time as Head Coach for the Junior Olympics gold medal-winning Great Britain karate team from 1984.
Ronnie established the original LSKC in Tagus Street, Toxteth, in 1968, turning an old abandoned boy's mission into a world famous Dojo. After its closure in the 1980s, the club now has a new home at the Florence Institute, also in Toxteth. Today, the LSKC continues to be a place where everyone is welcome, maintaining Ronnie's desire to fight racism and social divide.
Assistant Curator of Urban History, Claire Hunter says:
"Ronnie's influence was felt both locally and internationally. Our Wondrous Place gallery celebrates Liverpool's creative and sporting heroes of which Ronnie was undoubtedly a great example. We're so pleased to be able to display objects which help illustrate Ronnie's inspiring life and career."
Andrew Colwell, Ronnie's son said:
"My dad would have been thrilled and very proud of this display – particularly so in his home city of Liverpool. He was an inspiration to hundreds of people over the years and a genuine pioneer in his profession, so to have his enduring legacy so generously displayed for many years to come, is a testament to the man himself and what he has achieved."
Ronnie died in 2015 but his legacy continues as one of the founding fathers of Ju-Jitsu and Shotokan Karate in the UK.
The display is part of Museum of Liverpool's Our City, Our Stories, a partnership programmewhich enables local people to represent their own interpretation of the Museum's themes and objects.
Notes to Editors
Museum of Liverpool
The Museum of Liverpool is one of the country's most visited museums outside of London. It is the largest newly-built national museum in Britain for more than a century, demonstrating Liverpool's unique contribution to the world. The first national museum devoted to the history of a regional city, it showcases popular culture while tackling social, historical and contemporary issues. It has attracted more than two million visitors since opening in July 2011. The prestigious Council of Europe Museum Prize for 2013 was awarded to the Museum for its commitment to human rights as well as its work with children and families from all backgrounds.
The Museum has received generous support from several major funders, and grants from trusts and foundations, corporate support and individual donations. Major funders include the Northwest Regional Development Agency (NWDA), The European Regional Development Fund (ERDF), the Heritage Lottery Fund (HLF), the Department for Culture Media and Sport (DCMS),Garfield Weston Foundation and the Clore Duffield Foundation.
The Northwest Regional Development Agency (NWDA) was responsible for the The Liverpool Shotokan Karate Club A team 1982 Courtesy of Andrew Colwell sustainable economic development and regeneration of England's Northwest and had five key priorities: Business, Skills and Education, People and Jobs, Infrastructure and Quality of Life.
The European Development Fund (ERDF) is making a real difference to people and businesses in the North West. With €755 million to invest between 2007 and 2013, ERDF is enhancing the competitiveness of the region's economy by supporting growth in enterprise and employment. ERDF in the North West is managed by the Department for Communities and Local Government.
Using money raised through the National Lottery, the Heritage Lottery Fund (HLF) sustains and transforms a wide range of heritage for present and future generations to take part in, learn from and enjoy. From museums, parks and historic places to archaeology, natural environment and cultural traditions, we invest in every part of our diverse heritage. HLF has supported more than 30,000 projects allocating £4.5billion across the UK. Find out more at: www.hlf.org.uk
About National Museums Liverpool
National Museums Liverpool comprises eight venues, including some of the most visited museums in England outside of London. Our collections are among the most important and varied in Europe and contain everything from Impressionist paintings and rare beetles to a lifejacket from the Titanic. We attract nearly 2.7 million visitors every year. Our venues are the Museum of Liverpool, World Museum, the Walker Art Gallery, Merseyside Maritime Museum, International Slavery Museum, Border Force National Museum, Sudley House and the Lady Lever Art Gallery.