Rossetti revealed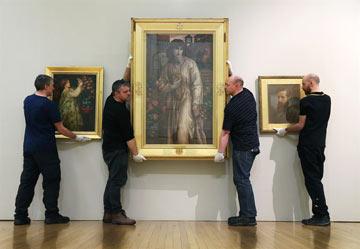 Pre-Raphaelite beauty stars in first public display
135 years after it was painted, a little known Pre-Raphaelite treasure goes on public display for the first time in Pre-Raphaelites: Beauty and Rebellion, which runs at the Walker Art Gallery from 12 February to 5 June 2016.
The Salutation of Beatrice (1881/2) by Dante Gabrielle Rossetti represents a familiar theme to the artist. His muse Jane Morris is cast as Beatrice Portinari, the subject of medieval poet Dante Alighieri's unrequited love. The figure of Beatrice dominates the foreground with her beguiling expression and the trademark of Pre-Raphaelite beauty, an abundance of tumbling auburn locks.
Over Beatrice's shoulder the forlorn Dante can be seen comforted under Love's wings and beyond, the arches of medieval Italy.
The painting illustrates the lines from the second sonnet in Dante's Vita Nuova (New Life) and lines from the poem can be found on the frame.
The fascinating oil paintings belonged to Rossetti's friend and major patron Frederick Leyland, a Liverpool-born ship owner and art collector. It is accompanied by Monna Rosa (1867) a portrait of Leyland's wife, which has not been on public display for more than 140 years and a coloured chalk portrait by Rossetti of Leyland (made in 1870) which has also never been previously exhibited.
All three works, still in the possession of Leyland's descendants, will be displayed together for the first time at the Walker and underpin a major theme of the exhibition, an exploration of the roles of the collectors to the Pre-Raphaelite Brotherhood. Alongside Leyland, collectors such as John Miller and George and Julia Rae enabled these revolutionary painters to change the face of British art in the 19thcentury.
Ann Bukantas, Head of Fine Art at National Museums Liverpool, said:
"The Salutation of Beatrice is a significant addition to the exhibition. For an art movement as enduringly popular as the Pre-Raphaelites it is rare to uncover paintings such as this which are not well documented.

"In subject matter and style it is typical of Rossetti and we know our visitors will relish the chance to get a close look at the painting for the first time.

"We are thrilled to be showing these three works together for the first time. As arguably Rossetti's most significant patron, this focus on work Leyland commissioned and bought helps us understand the dynamics of their relationship."
National Museums Liverpool is grateful to Guy Schwinge of Duke's Auctioneers for his role in securing these exciting loans.
Pre-Raphaelites: Beauty and Rebellion features more than 120 paintings by leading Pre-Raphaelite artists.
National Museums Liverpool has worked with one of the world's leading Pre-Raphaelite experts, Christopher Newall, to produce an exhibition which reveals, through some of the most enduring and popular works of the period, how the northern art scene rivalled London in Victorian England.
Tickets for Pre-Raphaelites: Beauty and Rebellion are available to purchase online, priced at £7 for adults and £5 for concessions, or on the day at the Walker Art Gallery. The exhibition is free to anyone aged 18 and under and discounted tickets are available for existing members of National Museums Liverpool and other selected groups.
New members can enjoy their first entry into the exhibition for free. For further information, and to purchase tickets or become a member of National Museums Liverpool, visit: www.liverpoolmuseums.org.uk/preraphaelites
A catalogue will accompany the exhibition.
#preraphaelites
Free entry
Open daily 10am-5pm @walkergallery
Walker Art Gallery
William Brown Street, Liverpool, L3 8EL Facebook/walkerartgallery
www.liverpoolmuseums.org.uk/walker
Telephone 0151 478 4199
Notes to Editors
The development of the Pre-Raphaelites: Beauty and Rebellion exhibition was supported in part by a Jonathan Ruffer Curatorial Research Grant from the Art Fund.
The exhibition catalogue has been made possible by the generous support of: Sotheby's, Mr and Mrs Christopher Gridley, Mr Peter Woods and Mr Francis Ryan.
The provision of insurance for the exhibition is provided through the Government Indemnity Scheme, arranged by the Department for Culture, Media and Sport and Arts Council England.
About the Walker Art Gallery
The Walker Art Gallery has housed an internationally-renowned collection of paintings, sculpture and decorative art within its impressive, neo-classical walls for almost 140 years. From Medieval and Renaissance masterpieces to an outstanding collection of modern and contemporary works, it is one of Europe's finest galleries. Visitors can see paintings by 17th and 18th century masters including Poussin, Rembrandt and Gainsborough, before taking in the Walker's famed Pre-Raphaelite collection. The Impressionist works are not-to-be-missed, while some of the greatest British artists of the last century are represented in the contemporary galleries, from Lucian Freud to David Hockney. Younger visitors will love Big Art for Little Artists, a gallery designed to introduce children to art in a fun and interactive way.
About National Museums Liverpool
National Museums Liverpool comprises eight venues. Our collections are among the most important and varied in Europe and contain everything from Impressionist paintings and rare beetles to a lifejacket from the Titanic.
We attract almost 2.7 million visitors every year. Our venues are the International Slavery Museum, Lady Lever Art Gallery, Merseyside Maritime Museum, Museum of Liverpool, Sudley House, Border Force National Museum (Seized! The Border and Customs Uncovered), Walker Art Gallery and World Museum.