School children march to the Warriors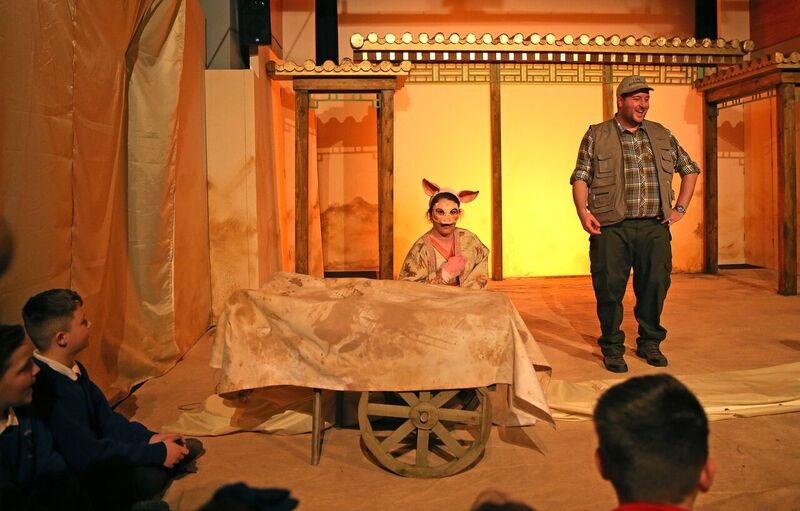 Exclusive access, exciting trails and enlightening workshops
Thousands of school children are invited to explore one of the world's most astonishing historical discoveries in the exhibition, China's First Emperor and the Terracotta Warriors at Liverpool's World Museum, running from 9 February until 28 October 2018.
Children will come face to face with formidable warriors discovered in China's First Emperor, Qin Shi Huang's burial site – a once in a life time opportunity.
School groups will have exclusive access to the exhibition at a special reduced rate before opening hours on selected dates between 21 February and 2 May.
For primary schools this unique experience can be enhanced by two thrilling workshops, especially devised for the exhibition by the Museum's Education team and Hope Street Ltd:
• Rise of the Warriors is a 30-minute play that transports its audience to Ancient China and is suitable for key stage one, but also available to key stage two pupils. Led by role players, children will travel back in time, escape being captured by the First Emperor and witness the wonders of his Terracotta Warriors coming to life.
• The Tiger of Qin is an archaeology workshop which will introduce key stage two pupils to the site where the Warriors were found. The group will become junior archaeologists, using hands-on investigation and their powers of deduction to consider what their discoveries reveal about this legendary man and his infamous army.
For more information on the various exhibition education offers: www.liverpoolmuseums.org.uk/terracottaeducation
Senior Education Manager, Jon Marrow said:
"This is a really remarkable opportunity for children who in years to come will remember this school trip. Our workshops and trails have been carefully designed to bring the warriors to life and give children a meaningful experience and an understanding and appreciation for the exceptional treasures of the exhibition."
Hope Street Ltd. Creative Director, Montserrat Gili said:
"Hope Street Ltd are thrilled to be part of this event which is of national significance and proud to have created a magical adventure for children. As a theatre director I have always been interested in what role the audience play, and in Rise of the Terracotta Warriors, the children are immersed in the adventure from the beginning by becoming characters in it. Thanks to a fantastic team of creatives, including original music and animation, and the participation of Pagoda Arts, we hope every child will have a memorable time."
The education programme has been generously supported by The Foyle Foundation, The Swire Charitable Trust and other partners.
Opening to the public from 9 February to 28 October 2018, China's First Emperor and the Terracotta Warriors features more than 180 spectacular artefacts from museums across Shaanxi Province, more than half of which have never been on show in the UK before.
Showcasing objects from one of the world's greatest archaeological discoveries, this unmissable exhibition spans almost 1,000 years of Chinese history; from the conflicts and chaos of the Warring States period, to the achievements and legacy of the Qin and Han dynasties.
World Museum's Terracotta Warriors exhibition will be a major part of Liverpool's 2018 celebrations, marking 10 years since the city held the title of European Capital of Culture 2008.
The exhibition is organised by National Museums Liverpool, United Kingdom and the Shaanxi Provincial Cultural Relics Bureau and Shaanxi History Museum (Shaanxi Cultural Heritage Promotion Centre), People's Republic of China.
For media enquiries please call 0151 478 4622 or email press@liverpoolmuseums.org.uk
Free entry
Open daily 10am-5pm Twitter @world_museum
World Museum, William Brown Street, Instagram @worldmuseum_
Liverpool, L3 8EN Facebook/worldmuseum
www.liverpoolmuseums.org.uk/worldmuseum #terracottawarriors
Telephone 0151 478 4393
Notes to Editors