Sea Galleries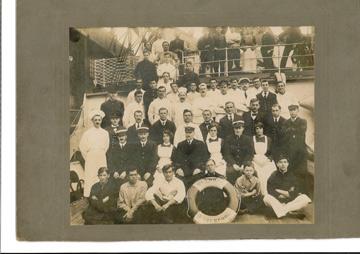 Plans for new galleries at Merseyside Maritime Museum
Merseyside Maritime Museum has been awarded funding as part of £4 million grants announced for English Museums and Galleries under DCMS/Wolfson Museums and Galleries Improvement Fund.
Grants totalling £4 million have been awarded to improve displays and facilities at museums and galleries across England, Matt Hancock, Minister of State for Digital and Culture, announced today.
The grants, jointly funded through a partnership between the Department for Culture, Media and Sport, and the Wolfson Foundation, will be used for renovation and improvement projects in 39 museums and galleries.
It will allow institutions across the country to increase access, improve displays and enhance public spaces.
The £200,000 award from DCMS/Wolfson Museums and Galleries Improvement Fund will go towards creating a major new gallery space on the second floor of Merseyside Maritime Museum, renovating and improving one of the oldest display areas in the Museum.
Matt Hancock, Minister for Digital and Culture, said:
"Our museums and galleries are among the best in the world and we should be rightly proud of these institutions.

"We want people to be able to enjoy world-leading culture wherever they live and whatever their background. These grants will make an important contribution toward increasing access to their wonderful collections and improving the visitor experience at museums right across the country.

"I applaud the Wolfson Foundation's generosity in once again matching the Government's investment pound for pound in this important work."
Paul Ramsbottom, CEO of the Wolfson Foundation, said:
"This is a wonderful example of how a charity and government can work fruitfully together in partnership and we are grateful to government for matching our funding. The awards demonstrate the richness and variety of the country's museum collections. From Egyptian mummies in Leicester to a Roman fort on Tyneside, this is a gloriously diverse set of projects - but all demonstrate excellence and all will improve the visitor experience.

"In announcing these awards I also want to pay tribute to Giles Waterfield. He was a brilliant advisor to the programme from its inception and sparkled at an expert panel meeting in the very week in which he tragically and unexpectedly died. We all owe him a great deal."
More than 250 objects will form the core of the new Sea Galleries, exploring the lives of Liverpool seafarers and their families, and telling the story of the city's unique maritime communities through engaging interpretation, personal stories and new research.
The renovations will allow the display of some of the Museum's most important items for the first time and tell stories that have previously gone unseen. This will include a dolls house made in 1881 for Emily Raven, the 5-year-old daughter of Captain Daniel Brocklebank of the ship Ravenswood. It was designed and made by the ship's carpenter during a voyage around the world and provides a vivid reminder that families often went to sea together and travelled around the world on trading expeditions.
As one of the world's largest ports, Liverpool's people were at the heart of the maritime merchant fleets that drove the city's prosperity. The new galleries will explore the dangers, joys, culture and community of seafaring life, through the fascinating stories of the crews, passengers and their loved ones.
Janet Dugdale, Director of Merseyside Maritime Museum said:
"We're absolutely delighted that Merseyside Maritime Museum has received this award of funding from DCMS/Wolfson Museums and Galleries Improvement Fund. The Museum celebrated its 30th birthday in 2016 and received more than 840,000 visitors as the leading attraction in Albert Dock, demonstrating the appeal that Liverpool's seafaring history continues to have for people coming to the city.

"This award will help enable us to change the oldest parts of the Museum and transform them into The Sea Galleries. This is the first step in our development plan for the Museum as we take a people-focussed, storytelling and contemporary approach to our relationship with the sea as a maritime nation."
Notes to Editors:
About Merseyside Maritime Museum
Albert Dock, Liverpool Waterfront, Liverpool, L3 4AQ
Open daily 10am-5pm
www.liverpoolmuseums.org.uk/maritime
Tel: 0151 478 4499
Free entry
Merseyside Maritime Museum was the first public building to open at Albert Dock 30 years ago in 1986, heralding the renaissance of Liverpool's iconic waterfront. Once a warehouse for high value goods like tea, silk, sugar and spirits, the Museum now explores Liverpool's maritime history through its large and varied collection. Highlights include a lifejacket from a Titanic survivor, beautiful ship models, maritime paintings, colourful posters from the golden age of liners and even some full-sized vessels. Two major exhibitions tell the stories and history behind the tragic sinkings of Lusitania and Titanic, and their links to Liverpool. Visitors can also learn what it's like to be a customs officer and captain a high speed cutter to stop smugglers in the hands-on gallery Seized! the Border and Customs uncovered.
Find us on Facebook: www.facebook.com/merseysidemaritimemuseum
Twitter: @merseymaritime
National Museums Liverpool
National Museums Liverpool comprises eight venues, including some of the most visited museums in England outside of London. Our collections are among the most important and varied in Europe and contain everything from Impressionist paintings and rare beetles to a lifejacket from the Titanic. We attract more than 2.8 million visitors annually. Our venues are the Museum of Liverpool, World Museum, the Walker Art Gallery, Merseyside Maritime Museum, International Slavery Museum, Seized! (Border Force National Museum), Sudley House and the Lady Lever Art Gallery.