'Sea' You Soon!
Revamped aquarium at World Museum readies to reopen for summer holidays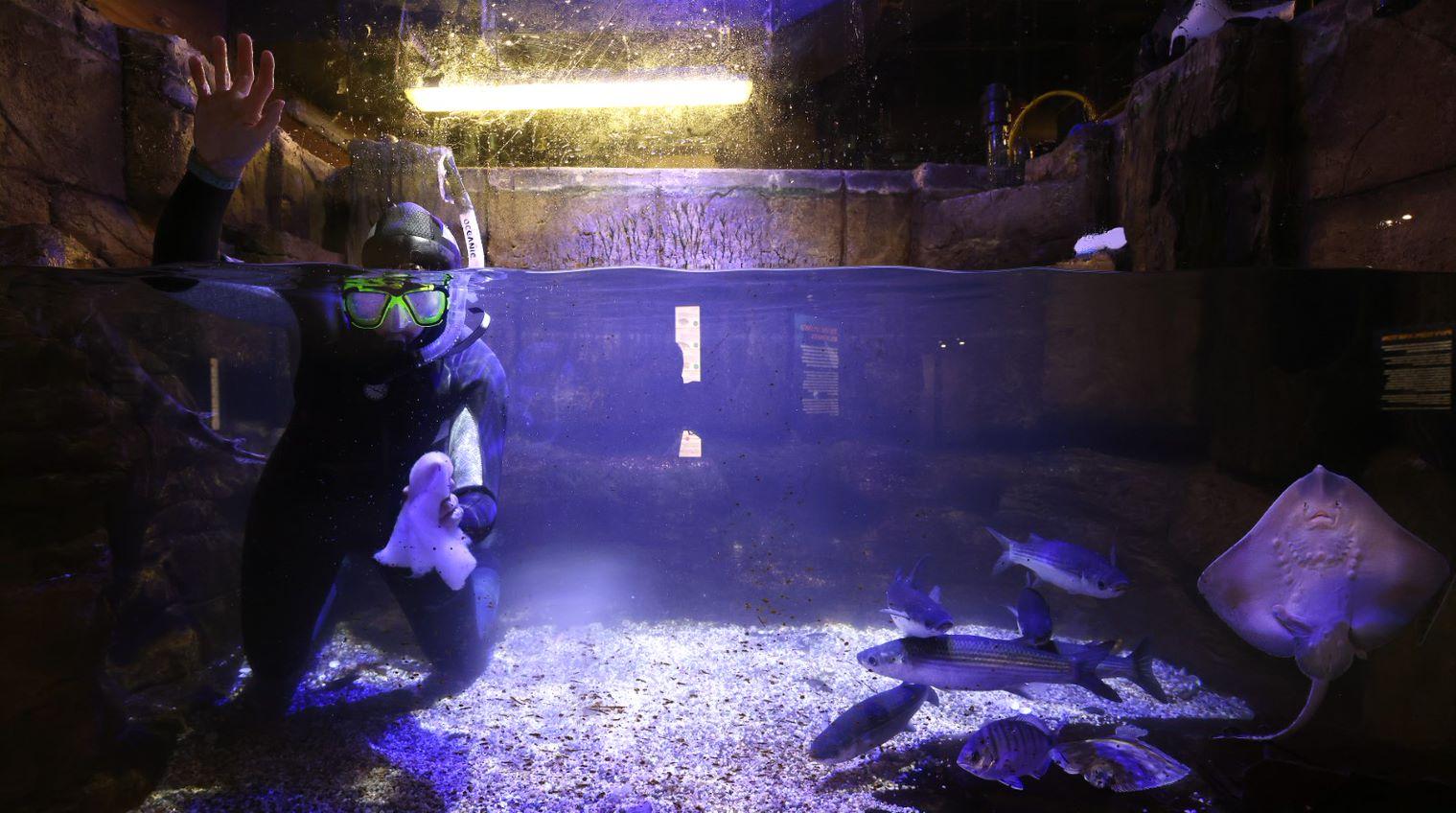 World Museum in Liverpool will reopen the doors to its new-look Aquarium next week on Tuesday 20 July.
Visitors can look forward to an Aquarium complete with bigger tanks, different species of fish and a new, common octopus called Polpo.
Members of the museum team released the fish into their new homes and cleaned the tanks this week, in preparation for the reopening of the Aquarium's doors in time for the summer holidays.
As well as octopus Polpo, visitors can expect to see hermit crabs, starfish, terrapins (which are rescued pets) and brightly-coloured wrasse from Liverpool's Irish Sea coast. Families will learn about what they might find rock-pooling locally and across the UK, as well as viewing firm visitor favourites, the 'Nemo' fish and the rays, skates and sharks who seem to be smiling.
The revamped space will include immersive/projected walls to enhance the visitor's experience and share messaging about conservation. Visitors will discover more about the world the animals live in and how to protect them, as the Museum emphasises its educational role around biodiversity.
Special details like viewing bubbles, which allow smaller visitors to see a very special, up-close view of the terrapins, have been kept.
Anne Fahy, Head of World Museum said: "The team has worked so hard – they've done a fantastic job. They've taken excellent care of our sea creatures and it all looks wonderful. I can't wait to welcome visitors into this refreshed and exciting space, perfect for exploration and learning about the underwater world, just in time for the Summer holidays."
Ben Mitchell, Learning and Participation Manager (Live Centres) at World Museum, along with Clare, is responsible for looking after the animals in the aquarium and bug house as well as running the Museum's education sessions. Ben said: "It's been a long and careful process from our side but what a great moment to see the fish released and happy in their new home. I really want the visitors to come in and share this experience now. People will discover what they might see out and about locally or in the UK as well as just being able to enjoy these beautiful and fascinating creatures up close. I love them of course. A lesser known side of my job is doing everything from medical treatments and health checks to water quality testing. I'm excited too for people to learn more about our sea life and how we can all do our bit to protect it."
The Aquarium is on Floor 1 of World Museum and will reopen at 10am on Tuesday 20 July. Opening hours are Tuesday to Saturday, 10am to 6pm. Entry is free.
liverpoolmuseums.org.uk/aquarium