Sean Scully: 1970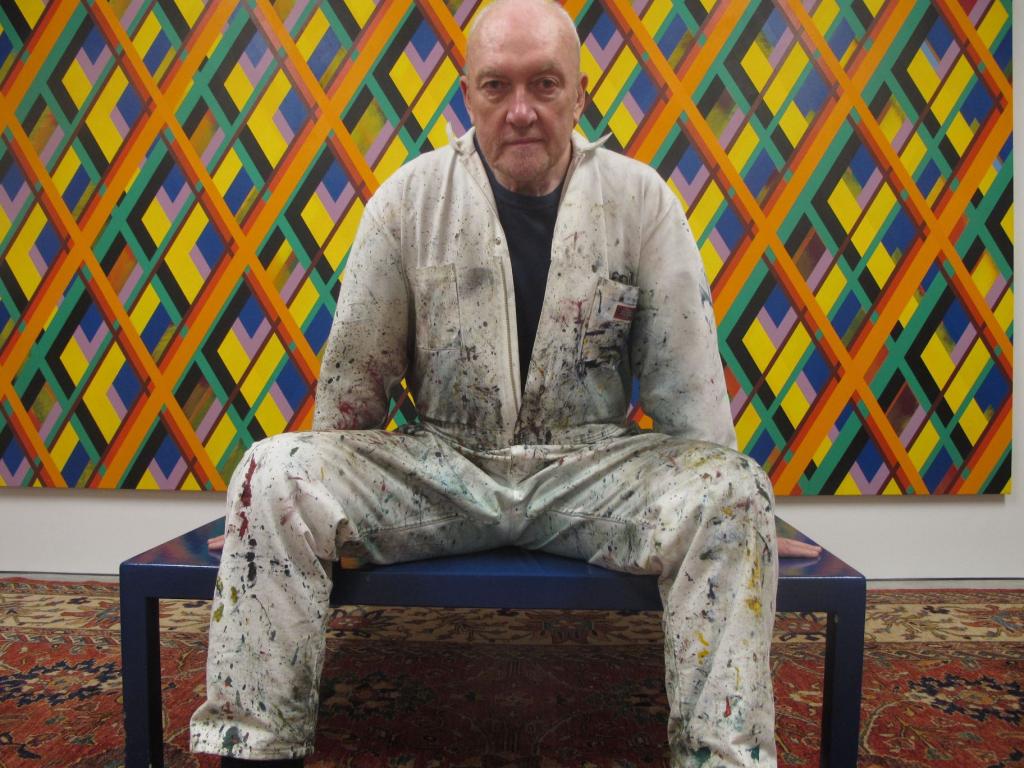 Master abstract painter returns to the Walker Art Gallery
An exhibition of paintings by Sean Scully, renowned globally as the master of post-minimalist abstraction, will be held at Liverpool's Walker Art Gallery from 14 July to 14 October 2018. Sean Scully:1970 opens in line with Liverpool Biennial and the John Moores Painting Prize, in which Scully was a prize winner in 1972 and 1974.
The exhibition presents Scully's paintings from 1969 to 1974. They demonstrate the remarkable confidence of his work at this earliest stage of his career. They also reveal the beginnings of the artist's continued fascination with stripes, and the spaces in between, which have come to define him.
Ann Bukantas, Head of Fine Art at National Museums Liverpool, said:
"Sean Scully helped to revolutionise abstract painting in the 1970s. It was a formative decade for him as an artist, and one in which he also developed a lasting connection with the Walker. We're particularly thrilled that Scully's Red Light will be included in the exhibition, 46 years after it was awarded a prize in the 1972 John Moores Painting Prize.

"The paintings in this new exhibition show the confidence and impact of the artist's early works. They still have an astonishing freshness and contemporary relevance, and it is fascinating to see his early sketches and the evolution of his future direction. We're delighted to be able to offer our visitors two exhibitions which together showcase the legacy of the John Moores Painting Prize and demonstrate the inspiring potential of the act of painting."
Scully was awarded prizes in the 8th and 9th John Moores Painting Prize exhibitions (1972 and 1974). This year, 2018, the Prize celebrates its 60th anniversary with an exhibition featuring 60 paintings and a first prize of £25,000.
Although Euan Uglow won the first prize in 1972 with his painting Nude, 12 regular vertical positions from the eye (on show in an adjoining room), juror Edward Lucie-Smith felt strongly that Scully's Red Light should win one of the smaller prizes of £100. He also gave the painting a prominent position in the exhibition. In 1974, a fourth prize was created specially for Scully's Subtraction Painting.
Born in Dublin, Ireland, in 1945, Scully moved to Newcastle in 1968 to study Fine Art at Newcastle University. It was during this time that he began to develop his technically flawless painting style, consisting of a complicated grid system of intersecting bands and lines. He was inspired by his surroundings, including the structure of the Tyne Bridge. Scully's artwork uses the shapes and forms of concrete geometry, infused with a lyrical emotion.
In addition to his paintings, the exhibition will present a selection of Scully's sketches from 1967-1969, which still provide the artist with inspiration today. Now in his seventies, Scully lives and works in New York, USA, and Bavaria, Germany. He has been twice shortlisted for the Turner Prize and his work is in the collection of almost every major art gallery around the world.
Sean Scully: 1970 has been made possible through the generosity of the artist. It has been organised in partnership with the artist by the Laing Art Gallery and Hatton Gallery, Tyne & Wear Archives & Museums, and the Walker Art Gallery, National Museums Liverpool. The exhibition, with Art Fund support, forms part of RA250 UK: Exhibitions and events around the UK to celebrate 250 years of the Royal Academy of Arts.
www.liverpoolmuseums.org.uk/seanscully
Free entry
Open daily 10am-5pm
William Brown Street, Liverpool, L3 8EL
Telephone 0151 478 4199
www.liverpoolmuseums.org.uk/walker
Follow the Walker Art Gallery online:
Twitter: www.twitter.com/walkergallery
Facebook: www.facebook.com/walkerartgallery
Instagram: www.instagram.com/walkerartgallery
Notes to Editors
About Sean Scully
Scully lives and works in New York, USA, and Bavaria, Germany. He has been twice shortlisted for the Turner Prize and his work is in the collection of virtually every major museum around the world. In 2014, he became the only Western artist to have had a career-length retrospective exhibition in China (Follow the Heart: The Art of Sean Scully 1964 - 2014 included over 100 paintings and travelled from Shanghai to Beijing). It was an unprecedented success, selected as the Exhibition of the Year by the Beijing News and the Global Times referred to it as 'a Sean Scully hurricane…blowing through China'. This led to a second wave of exhibitions across major museums and cities in China through 2016-17, and Scully was presented with the International Artist of the Year Award for his outstanding contribution to contemporary art.
In 2018, Scully has major solo exhibitions around the world, including the Multimedia Art Museum of Moscow, the State Museum of St Petersburg, Russia, the Staatliche Kunsthalle Karlsruhe, Germany, the De Pont Museum of Contemporary Art in Tilburg, Netherlands, and the Hirshhorn Museum and Sculpture Garden in Washington DC, USA, among others.
Sean Scully is represented by the Kerlin Gallery, Dublin, Ireland; Ingleby Gallery, Edinburgh, Scotland; Kewenig Galerie, Berlin, Germany; Blain|Southern London, London, UK and Cheim & Read, New York, USA. seanscullystudio.com
About the John Moores Painting Prize
The John Moores Painting Prize is the UK's longest-established painting prize. The competition is entered and judged anonymously and open to UK-based artists working with a painted medium.
The Prize is organised in partnership with the John Moores Liverpool Exhibition Trust and is supported by its exhibition partner Weightmans.
The 2018 shortlisted paintings are Quilt by Billy Crosby; King and Queen of Wands by Jacqui Hallum; The Thunderous Silence of Your Presence by Tom Howse; GIANTS by Joseph O'Rourke and The Divide, Beyond Reasoning by Shanti Panchal.
The 2018 judges are artists Monster Chetwynd, Lubaina Himid CBE, Bruce McLean and Liu Xiaodong, and curator Jenni Lomax
The full list of artists selected to exhibit paintings in the John Moore Painting Prize 2018 can be viewed here.
About the Walker Art Gallery
The Walker Art Gallery houses an internationally-renowned collection of paintings, sculpture and decorative art. It is one of Europe's finest galleries, with a collection that ranges from outstanding modern and contemporary works to Medieval and Renaissance masterpieces. Some of the greatest British artists of the last century are represented in the contemporary galleries, from Lucian Freud to David Hockney, while the Gallery's Impressionist collection is not to be missed. Visitors can also see paintings by 17th and 18th-century masters including Poussin, Rembrandt and Gainsborough, before taking in the Walker's famed Pre-Raphaelite collection. Younger visitors will love Big Art for Little Artists, a gallery designed to introduce children to art in a fun and interactive way. The Walker Art Gallery is an Arts Council Collection National Partner. Between April 2016 and March 2019, the Gallery will curate and host an exciting and innovative series of contemporary art exhibitions, drawn from the Arts Council Collection. www.liverpoolmuseums.org.uk/walker
About RA250
Museums and galleries across the UK will take part in a nationwide programme of talks, events and exhibitions to celebrate the 250th anniversary of the Royal Academy of Arts in 2018.
The Royal Academy is the world's foremost artist and architect-led institution. Since its foundation in 1768, the membership of Royal Academicians has included over 650 of Britain's most eminent artists and architects. With support from Art Fund, this far-reaching programme will celebrate Royal Academicians, past and present, foregrounding the impact they have had throughout the UK.
A full programme can be found by visiting roy.ac/RA250UK
Art Fund is the national fundraising charity for art. Independently funded by those who buy a National Art Pass and the generous support of many trusts, foundations, individuals and companies, Art Fund offers grants towards acquisitions, supports curatorial practice and facilitates the sharing of collections with wider audiences by supporting tours and exhibitions. Art Fund is proud to support RA250, helping to make the Royal Academy's 250th anniversary a truly national occasion.
About Liverpool Biennial 2018
Beautiful world, where are you?
14 July – 28 October
Free, various venues
Liverpool Biennial is the UK biennial of contemporary art. Taking place across the city in public spaces, galleries, museums and online, the Biennial commissions artists from around the world to make and present work in the context of Liverpool. The 10th edition Beautiful world, where are you? invites artists and audiences to reflect on a world of social, political and economic turmoil. Also showing as part of Liverpool Biennial 2018 are the John Moores Painting Prize, Bloomberg New Contemporaries, and the Biennial Fringe. Founded in 1998, Liverpool Biennial has commissioned over 300 new artworks and presented work by over 450 artists from around the world. www.biennial.com
About National Museums Liverpool
National Museums Liverpool comprises eight venues, including some of the most visited museums in England outside of London. Our collections are among the most important and varied in Europe and contain everything from Impressionist paintings and rare beetles to a lifejacket from the Titanic. We attract more than 3.3 million visitors every year. Our venues are the Museum of Liverpool, World Museum, the Walker Art Gallery, Merseyside Maritime Museum, International Slavery Museum, Border Force National Museum, Sudley House and the Lady Lever Art Gallery. National Museums Liverpool is regulated by the Department of Digital, Culture, Media and Sport (DCMS). Museums and galleries regulated by DCMS are exempt charities under Schedule 3 of the Charities Act 2011. Registered Office: World Museum, William Brown Street, Liverpool L3 8EN. www.liverpoolmuseums.org.uk