As seen on screen: art and cinema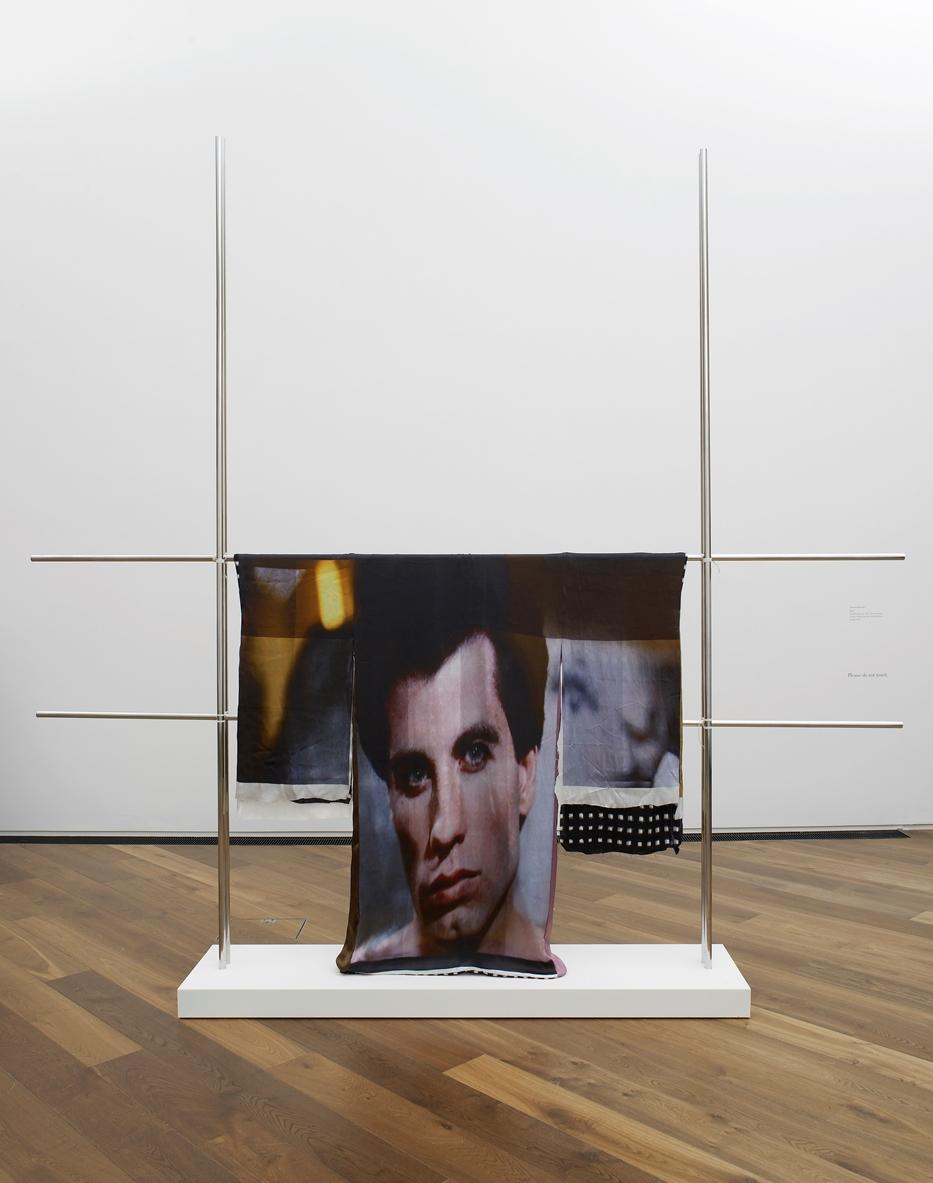 An Arts Council Collection National Partners exhibition at Walker Art Gallery
A new exhibition at Liverpool's Walker Art Gallery will explore the relationship between art and cinema, delving into the fascinating question of what inspires artists. As seen on screen: art and cinema (31 May to 18 August 2019) features work by artists including Fiona Banner, Anthea Hamilton, Hardeep Pandhal and Sam Taylor-Johnson.
The exhibition considers the influence of cinema on art across more than 20 artworks. The works represent a broad range of media, including screenprints, photography and film.
As seen on screen showcases Merseyside-born artist Fiona Banner's The Desert; a five metre-wide screenprint which retells the epic 1962 film Lawrence of Arabia. The large scale of the artwork brings to mind the experience of gazing up at a cinema screen.
Well-known film characters feature, as in Stuart Pearson Wright's Woman Surprised by a Werewolf, while iconic films are referenced in artworks such as A Nightmare on BAME Street by Hardeep Pandhal, and in Stefan Themerson's series of photographic stills from his 1932 film Europa.
Beth Lewis, Project Curator at the Walker Art Gallery, said:
"Art and cinema have influenced one another in countless different ways and we're looking forward to making some of those connections visible within the exhibition.

"From a kimono featuring an image of John Travolta starring in Saturday Night Fever, to a collage of stills from Alfred Hitchcock's Psycho, visitors will recognise references to some of the many iconic films that continue to inspire leading and emerging artists today."
Michelle Williams Gamaker's House of Women, a film in which actors audition for a re-make of the 1947 film Black Narcissus, also features. Both Banner and Williams Gamaker reimagine films to explore their impact.
Other works, including Red Snow (from Screen Portfolio) by artist and filmmaker Sam Taylor-Johnson, and Mario Rossi's The End/Untitled, series, offer new meanings to cinematic customs such as montage and end credits.
As seen on screen is the eighth and final show to be held at the Walker as part of the Arts Council Collection's National Partners Programme exhibition series (2016-2019), and features more than 20 artworks from the Arts Council Collection.
The Walker's Arts Council Collection National Partners exhibition programme has been enjoyed by almost half a million visitors between 2016 and 2019. The programme has enabled the Gallery to work with leading artists based in the North West, and to exhibit major works by artists such as Benedict Drew, Lubaina Himid and Mark Leckey.
In 2017, the Walker developed and exhibited the ground-breaking National Partners exhibition, Coming Out: Sexuality, Gender and Identity. The exhibition, which toured to Birmingham Museum and Art Gallery, was visited by more than 96,000 people across both galleries. The Gallery celebrated its busiest year on record in 2018/19, attracting more than 393,000 visitors.
liverpoolmuseums.org.uk/asseenonscreen
Notes to Editors
About the Walker Art Gallery
The Walker Art Gallery houses an internationally-renowned collection of paintings, sculpture and decorative art. It is one of Europe's finest galleries, with a collection that ranges from outstanding modern and contemporary works to Medieval and Renaissance masterpieces. Some of the greatest British artists of the last century are represented in the contemporary galleries, from Lucian Freud to David Hockney, while the Gallery's Impressionist collection is not to be missed. Visitors can also see paintings by 17th and 18th century masters including Poussin, Rembrandt and Gainsborough, before taking in the Walker's famed Pre-Raphaelite collection. Younger visitors will love Big Art for Little Artists, a gallery designed to introduce children to art in a fun and interactive way. The Walker Art Gallery is an Arts Council Collection National Partner. Between April 2016 and March 2019, the Gallery will curate and host an exciting and innovative series of contemporary art exhibitions, drawn from the Arts Council Collection. www.liverpoolmuseums.org.uk/walker
About National Museums Liverpool
National Museums Liverpool comprises eight venues, including some of the most visited museums in England outside of London. Our collections are among the most important and varied in Europe and contain everything from Impressionist paintings and rare beetles to a lifejacket from the Titanic. We attracted more than 4m visitors in 2018. Our venues are the Museum of Liverpool, World Museum, the Walker Art Gallery, Merseyside Maritime Museum, International Slavery Museum, Border Force National Museum, Sudley House and the Lady Lever Art Gallery. National Museums Liverpool is regulated by the Department of Digital, Culture, Media and Sport (DCMS). Museums and galleries regulated by DCMS are exempt charities under Schedule 3 of the Charities Act 2011. Registered Office: World Museum, William Brown Street, Liverpool L3 8EN. www.liverpoolmuseums.org.uk
About Arts Council Collection
The Arts Council Collection is a national loan collection of British art from 1946 to the present day. With more than 8,000 works and more than 1,000 loans made to over 100 venues a year, it is seen by millions of people in public spaces from galleries and museums to hospitals, libraries and universities. Representing one of the most important collections of British modern and contemporary art in the world, it includes work from Francis Bacon, Barbara Hepworth and Henry Moore to Lucian Freud, Antony Gormley and Grayson Perry. The Collection supports and promotes British artists by acquiring art at an early stage of their careers. The Arts Council Collection is managed by Southbank Centre, London and includes the Sculpture Centre located at Longside, Yorkshire Sculpture Park. www.artscouncilcollection.org.uk
About National Partners Programme
To mark the Arts Council Collection's 70th anniversary in 2017, Arts Council England invested in a network of four National Partner museums and galleries across England, Towner Art Gallery, Eastbourne, Birmingham Museums Trust, The Walker Art Gallery, National Museums Liverpool and the Collection's existing partner, Yorkshire Sculpture Park. The partners will provide a year-round home for art works within the Collection, hosting a special programme of at least 24 National Partner exhibitions between April 2016 and spring 2019.
About Arts Council England
Arts Council England champions, develops and invests in artistic and cultural experiences that enrich people's lives. We support a range of activities across the arts, museums and libraries – from theatre to digital art, reading to dance, music to literature, and crafts to collections. www.artscouncil.org.uk
About Southbank Centre
The Arts Council Collection is managed by Southbank Centre, London on behalf of Arts Council England. Southbank Centre is the UK's largest arts centre, occupying a 21-acre site that sits in the midst of London's most vibrant cultural quarter on the South Bank of the Thames. The site has an extraordinary creative and architectural history stretching back to the 1951 Festival of Britain. Southbank Centre is home to the Royal Festival Hall, Queen Elizabeth Hall, Purcell Room and the Hayward Gallery as well as The Poetry Library and the Arts Council Collection. The Arts Council Collection is managed by Southbank Centre, London on behalf of Arts Council England. www.southbankcentre.co.uk