In Seven Days…by Nicola Green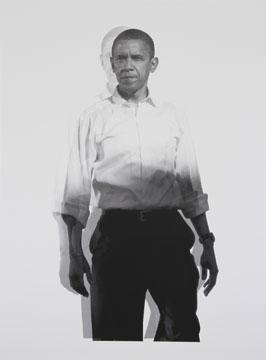 Iconic images of Obama's 2008 presidential campaign
As Obama is elected US president for a second term, the Walker Art Gallery is pleased to announce the first European display of seven stunning silkscreen prints, which tell the inspiring story of his 2008 presidential campaign.
In Seven Days…, a study by the artist Nicola Green of this historic event, which saw the election of the USA's first Black president, is on display until 14 April 2013.
The international significance of this story, its powerful inspiration to the world and future generations, is highlighted in Nicola's work.
Director of Art Galleries Sandra Penketh says: "There is a monumental story behind In Seven Days…, Nicola's work is a wonderful example of how art can not just record great events, but so beautifully capture the emotion and spirit of the time.
"We're really pleased to be the first gallery in Europe to show In Seven Days…. Liverpool has a global history which resonates with the themes of race and identity within the work."
With unprecedented access for a British artist, Nicola was able to immerse herself in Obama's campaign during six separate trips to the USA. Her literal visits, as well as the themes in this story, are distilled within seven iconic images, each a denouement of the many photographs, sketches, conversations and prints the artist completed during and after her journey.
In Seven Days… has a neutral political stance. Nicola says: "The work is a deconstruction of what hope really is; a reflection on what future generations can take from this moment in history."
There is also a deeply personal motive which drove this work. Nicola is the mother of boys of diverse heritage and was pregnant with her second child when Obama began his campaign. Nicola said: "It seemed natural and important to me that I should make a portrait of Obama, not least because when I looked at my sons I saw his face in theirs, saw their hope and their future."
The seven images have a formal order: Light is the first in the series and represents the beginning of the story; Struggle is the history of the campaign; Hope the characters involved; Change the main protagonist; Fear conveys the obstacles encountered; Sacrifice/Embrace an ambiguous resolution, and Peace a conclusive hope for the future.
Each of the seven images is accompanied by a selection of the ephemera (including Nicola's drawings and photographs) that informed the work. This research and preparatory material is just a tiny proportion of the work Nicola amassed, but gives some insight into the task of reducing this abundance of noise, crowds, speeches, propaganda and celebrity, to these minimal and coherent images.
Artist biography
Nicola Green graduated from Edinburgh College of Art, Scotland, in 1998 with a Distinction in Master of Fine Arts (MFA), following a First Class Honours Degree in Drawing and Painting (BA), winning the Andrew Grant Bequest Scholarship in 1997 and 1998 and a Department for Education Scholarship in 1996. Her work has been selected for renowned public collections including The Courtauld Institute of Art, London and the Metropolitan Museum of Art, New York. Nicola is a Trustee of the charity Paintings in Hospitals and a Patron of the Prince's Drawing School Drawing Clubs and is on the board of Edinburgh College of Art's alumni council. She is based in London with a studio at Bruce Castle Museum, a residency at John Jones, and a studio in Finsbury Park.
About National Museums Liverpool
National Museums Liverpool comprises eight venues. Our collections are among the most important and varied in Europe and contain everything from Impressionist paintings and rare beetles to a lifejacket from the Titanic. 
We attract more than three million visitors every year. Our venues are the International Slavery Museum, Lady Lever Art Gallery, Merseyside Maritime Museum, Museum of Liverpool, Sudley House, UK Border Agency National Museum, Walker Art Gallery and World Museum. 
One of the finest art galleries in Europe the Walker Art Gallery is home to renaissance masterpieces, Tudor portraits and one of the best collections of Victorian and Pre-Raphaelite art in the country. An outstanding collection of contemporary art includes work by David Hockney, Lucian Freud and Banksy.
Walker Art Gallery William Brown Street, Liverpool  Admission FREE
Open 10am-5pm every day   Information 0151 478 4199
Website liverpoolmuseums.org.uk/walker
Twitter
Facebook
www.facebook.com/walkerartgallery