Shortlist announced for the John Moores Painting Prize 2016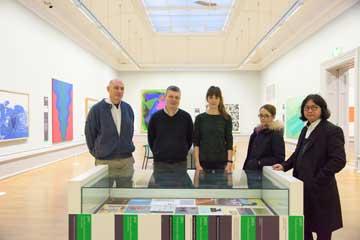 The names of the five artists shortlisted for the £25,000 first prize are revealed
The Walker Art Gallery has revealed the names of the five artists shortlisted for the prestigious John Moores Painting Prize 2016. Of the five artists, one will be awarded the £25,000 first prize, with the other shortlisted prizewinners each receiving £2,500.
The shortlisted paintings are:
Untitled, 2015, Talar Aghbashian (b.1981, Beirut) – The roughly modelled arm of a statue of an assassinated politician is depicted in Beirut-born Aghbashian's painting. Aghbashian projects photo print-outs onto heavily built up or sanded down canvases, constructing her work in layers.
Birthyard, 2015, Gabriella Boyd (b.1988, Glasgow) – Boyd's works focus on the merging of private and public spaces, fleeting interactions and moments of failed intimacy. Her work is often directed by formal considerations of colour and line, with figures emerging as part of this process.
Dissolver, 2015, Benjamin Jamie (b. 1978, Nottingham) – Exploring the boundaries between the grotesque and the saccharine, Jamie's paintings seek to turn the mundane into the unusual. Inspiration is drawn from a variety of sources, including studio detritus, fly-tipping and fast food.
One, The Side-ness of In-Out, 2015, Selma Parlour (b.1976, Johannesburg) – Parlour's paintings are rendered through soft films of transparent oil. In One, The Side-ness of In-Out, the horizon line disrupts our perception of whether the surrounding shapes are abstract or figurative.
Squint (19), 2015, Michael Simpson (b.1940, Dorset) – One of a continuing series of paintings. A leper squint is an aperture in a medieval church that allowed lepers and other undesirables a chance to look within in order to access the sermon.
The prizewinning paintings will be displayed at the Walker Art Gallery as part of the John Moores Painting Prize exhibition, which runs from 9 July to 27 November 2016 during Liverpool Biennial 2016. The exhibition will showcase 54 works in total, which have been selected from more than 2,500 entries. The overall winner will be announced on 7 July 2016.
Sandra Penketh, Director of Art Galleries at National Museums Liverpool, said:
"For almost 60 years, the John Moores Painting Prize has represented the thrilling diversity and remarkable talent that is so characteristic of contemporary British painting, and this year's vibrant and exciting mix of selected works is certainly no exception."
The entries have been judged anonymously by an esteemed panel of jury members, who represent an international cross-section of influential voices from the art world. The jury members are the artists Gillian Carnegie, Ansel Krut, Phoebe Unwin and Ding Yi, and the author and freelance curator Richard Davey.
Juror Richard Davey said:
"Beyond their obvious material connection as paintings, this year's shortlisted works may appear to have little in common: one is a geometric abstraction, three are figurative, and one hovers in a poetic space between figuration and abstraction.

"On closer inspection, however, we see that the paintings share a common ability to reveal fresh perspectives and new points of view, through the medium of paint. In doing so, they show us our reality and far more, broadening and transforming our individual outlooks."
During the run of the John Moores Painting Prize exhibition visitors will be invited to vote for their favourite painting to win the popular Visitors' Choice Award, sponsored by Rathbones. The winning artist will receive £2,016.
The John Moores Painting Prize exhibition will also showcase the five prizewinning works from the John Moores Painting Prize China 2016. Now in its fourth year, the prize aims to promote talent and bring greater global recognition to Chinese contemporary painting.
Established in 1957, the internationally-renowned John Moores Painting Prize, organised in partnership with the John Moores Liverpool Exhibition Trust, has championed contemporary British painting for almost 60 years – more than two decades longer than any other art prize of its scale.
Past winners of the prize include David Hockney (1967), Mary Martin (1969), Peter Doig (1993), Keith Coventry (2010) and Sarah Pickstone (2012). Sir Peter Blake, winner of the junior prize in 1961, is Patron of the prize. The winner of the prestigious first prize in 2014 was Rose Wylie with her striking work PV Windows and Floorboards.
The John Moores Painting Prize is organised in partnership with the John Moores Liverpool Exhibition Trust and is supported by its exhibition partner Weightmans. The exhibition will be accompanied by a fully-illustrated catalogue. All works featured in the exhibition will be available to purchase.
The exhibition is presented during Liverpool Biennial 2016, a festival of newly commissioned contemporary art from around the world. It takes place from 9 July until 16 October across the city in public spaces, galleries and online.
www.liverpoolmuseums.org.uk/johnmoores
@JMPaintingPrize #jm2016
Free entry
Open daily 10am-5pm
Walker Art Gallery
William Brown Street, Liverpool, L3 8EL
www.liverpoolmuseums.org.uk/walker
Telephone 0151 478 4199
@walkergallery
Facebook/walkerartgallery
Notes to Editors
The artists whose work will feature in the John Moores Painting Prize 2016 exhibition, in alphabetical order, are:
Aghbashian, Talar – Untitled
Barlow, Tristan – Truck Stop Swamp
Bielik, Karl – Sunday
Boyd, Gabriella – Birthyard
Brown, Julian – A Fairytale of Gdansk
Bungey, Nici – The Expiring Frog
Charnley, Bernard – When the stars threw down their spears
Cockburn, Julie – The Playground
Collins, James – Floyd
Cossey, Gemma – Halves II (Continuum)
Cove, Ben – Freeloader
Crowley, Graham – Blue Drift 4
Dick, William – Oldal II
Dwyer, Sarah – Potrero
Easton, Bella – Passageways
Fogarty, Róisín – Goofy Foot
Ginsborg, Michael – From Package to Picture
Goodden, Juliet – Kedleston Road
Goodger, Steph – Les Non-réclamés (The Unclaimed)
Hanlon, Christopher – Untitled
Hemmersbach, Linda – January
Hobson, Thom Trojanowski – It's a Circus Out There
Hoffecker, Ira – Camp Moschendorf II
Jamie, Benjamin – Dissolver
Jenner, Benjamin – Flicker 3
Kemp, Gareth – This Could be Eastern Europe
Kulkarni, Nicholas – Untitled
Lloyd-Jones, George – Round Tables (2)
Marra, Enzo – Invigilator (John Virtue)
Marshall, Lee – Midnight I
Mehta, Sneh – Him & Her
Middleton, Nicholas – Figures in an Arch
Milner, Nancy – Untitled
Minoprio, Frank – Field Myth
Moberly, Steve – If I called this painting 'List' would you read it as such?
Moloney, Donal – Cave Floor
Murphy, David – Long Ending (Green)
Murray, Ewan – Couple
Owen, Laurence – Ritual to the Westfield
Parlour, Selma – One, The Side-ness of In-Out
Payne, Mandy – No Ball Games Here
playpaint – Double Science Fiction
Rennie, Alex – Totem
Renshaw, Tim – Notebook Architecture
Sánchez, Lizi – I I I I I
Simpson, Michael – Squint (19)
Stark, John – Beasts of England II
Swann, Duncan – I choose the child
Syed, Shaan – Foster
Talbot, Emma – You Come To Me In A Dream
Warr, Julia – "Where do we come from? Where are we going?"
Webb, Richard Kenton – The Landscape as Discourse
Williams, Simon – A bout portant
Wood, Mary – Series 15 Cerulean 2
Artist Ben Cove (1974-2016) sadly passed away on 16 March 2016 following a short illness.
About the shortlisted artists
Talar Aghbashian - Born in Beirut in 1981, Talar Aghbashian attended the Lebanese University of Fine Arts 1999-2003, St Martins School of Art London 2007-08 and Birkbeck University London 2009-10. She received AGBU grant 2007 and the Benlian Trust grant 2008. Exhibitions include Salon D'Automne Musée Nicolas Sursock Beirut 2007, This Constant Cracking of the Surface Bargehouse London 2008, Spiritual Promises from Lost Prophets Cordy House London 2008, The Minuco Art Show '09 Coningsby Gallery London 2009, Treasured Objects Brunei Gallery SOAS London 2010, Odds Against Tomorrow Bearspace London 2012 and The Discerning Eye, Mall Galleries 2012 London. Recent solo shows include Blind Finds The Running Horse Beirut 2013, Site/Sight Carbon 12 Dubai 2015.
Gabriella Boyd - Born in 1988 in Glasgow, Gabriella Boyd studied at Glasgow School of Art 2007-11 (Chairman's Medal 2011) and is at the Royal Academy Schools London 2014-2017. Exhibitions include Saatchi New Sensations (special commendation) Victoria House London 2011, Catlin Art Prize 2012 Londonewcastle Project Space London, Beijing International Art Biennale Beijing 2012, The Yellow Wallpaper Cob Gallery London 2012, Go Figure Cob Gallery 2014, Whispers Ronchini Gallery London 2015, Premiums: Interim Projects Royal Academy London 2016, Gabriella Boyd & Marco Giordano (Glasgow International) House for an Art Lover Glasgow 2016. She exhibited a solo show, Strong Necks at High House Gallery Oxford in 2013. Gabriella also Illustrated Freud's 'Interpreting Dreams' Folio Society, in 2015.
Benjamin Jamie - Born in 1978 in Nottingham, Benjamin Jamie is based in London. He studied at the University of Gloucestershire 1999-2002 and on the Turps Art School Painters Studio Programme 2014-16. Recent group exhibitions, all London, include East London Painting Prize Strand East 2014, Teleology Husk Gallery 2014, Interim Show Turps Gallery 2015, Malvern Show No.4a, Malvern 2015, Summer Show Turps Gallery 2015, Pay No Attention To That Man Behind The Curtain Blain|Southern 2015, Flash Salon Bond House Gallery 2015, Turps Goes West Edel Assanti London 2015. Final Turps show Turps Gallery 2016.
Selma Parlour - Born in 1976 in Johannesburg, Selma Parlour attended De Montfort University Leicester 1995-8, University of Reading 1999-2002, Goldsmiths College London 2008-14. Exhibitions (London unless stated) include Bloomberg New Contemporaries 2011 S1Artspace Sheffield/ ICA, 270112 Abstractions LGLondon 2012, Creative Cities Collection Barbican 2012, Selma Parlour & Yelena Popova Horton Gallery New York 2012, The Shape of Things The Dot Project 2015, The Shapes We're In Bread & Jam 2015. Solos are Selma Parlour MOT International 2012, Paradoxes of the Flattened-out Cavity Dio Horia Mykonos 2015. Forthcoming: site-specific commission at The House of St Barnabas (from October 2016). Selma is included in Thames and Hudson's 100 Painters of Tomorrow.
Michael Simpson - Born in Dorset in 1940, Michael Simpson is based in Wiltshire. He attended Bournemouth College of Art 1958-60 and the Royal College of Art London 1960-3. Exhibitions include Tightrope Walk: Painted Images After Abstraction White Cube Bermondsey 2015, The Painting Show (British Council touring) CAC Vilnius 2016. Solos include Recent Paintings Serpentine Gallery London 1985, Bench Paintings 1992-1995 Arnolfini Gallery & Oriel 31 Newtown 1996, Bench Paintings, Recent Work 2005-2006 David Risley Gallery London 2007, The Leper Squint Paintings David Risley Gallery Copenhagen 2013, Study #6. Michael Simpson DRAF London 2014, Flat Surface Painting Spike Island Bristol 2016. Michael exhibited in the John Moores Painting Prize exhibitions in 1989, 1991 (prizewinner), 1993 and 2010.
About the John Moores Painting Prize
• The John Moores Painting Prize is the UK's longest-established painting prize. The competition is entered and judged anonymously and open to all UK-based artists working with paint. In 2014 there were 2,500 entries.
• The winner of the John Moores Painting Prize 2014, sponsored by David M Robinson, was Rose Wylie. The four prizewinners were Rae Hicks, Juliette Losq, Mandy Payne and Alessandro Raho.
• The 2014 judges were Tim Marlow, Director of Artistic Programmes at the Royal Academy, and artists Lynette Yiadom-Boakye, Zeng Fanzhi, Chantal Joffe and Tom Benson.
• Sir Peter Blake, winner of the junior prize in 1961, became the first Patron of the prize in 2011.
• The John Moores Painting Prize is organised in partnership with the John Moores Liverpool Exhibition Trust and is supported by its exhibition partner Weightmans.
About the jury members
Gillian Carnegie – (b.1971) British artist Gillian Carnegie was born in Suffolk and studied at Camberwell School of Art and the Royal College of Art, London. Shortlisted for the Turner Prize in 2005, her work has been presented at numerous solo exhibitions in London, New York and Cologne. Carnegie's paintings have also featured extensively in group exhibitions held across Europe and the USA.
Richard Davey – (b.1966) Born in Eastbourne, Richard Davey is an internationally published author and freelance curator. A member of the International Association of Art Critics, he has written and contributed towards numerous titles commissioned by the Royal Academy of Arts, including the exhibition catalogue for its Anselm Kiefer show in 2014 and the 2015 summer exhibition catalogue. Davey was ordained as a priest in 1994 and holds the position of Co-ordinating Chaplain at Nottingham Trent University.
Ansel Krut – (b.1959) Born in Cape Town, South Africa, Ansel Krut studied at the University of the Witwatersrand, Johannesburg and the Royal College of Art, London. He was awarded the Abbey Major Scholarship in Painting to attend the British School at Rome in 1986/7. Recent solo exhibitions of Krut's paintings have been held at Jerwood Gallery, East Sussex; Stuart Shave/Modern Art, London; Marlborough Chelsea, New York and KAdE Kunsthal, The Netherlands.
Phoebe Unwin – (b.1979) Phoebe Unwin was born in Cambridge and lives and works in London. She studied at Newcastle University and Slade School of Fine Art. In 2011 she won a Philip Leverhulme Prize. She has been shortlisted for the Max Mara Art Prize for Women: 6th Edition (2015-17) in association with the Whitechapel Gallery, London. Her work is in major collections across the UK and Europe and has featured in numerous exhibitions, including Distant People and Self-Soothing Objects; a new solo show at Wilkinson Gallery, London.
Ding Yi – (b.1962) Ding Yi was born and currently resides in Shanghai. He studied at Shanghai Arts & Crafts Institute and Shanghai University. His practice encompasses painting, sculpture, spatial installation and architecture. Ding Yi has exhibited extensively at various institutions and galleries across Asia, Europe and the USA. Since 2005, he has held the position of Vice Dean of the fine art department at Shanghai Institute of Visual Art.
About the Walker Art Gallery
The Walker Art Gallery has housed an internationally-renowned collection of paintings, sculpture and decorative art within its impressive, neo-classical walls for almost 140 years. From Medieval and Renaissance masterpieces to an outstanding collection of modern and contemporary works, it is one of Europe's finest galleries. Visitors can see paintings by 17th and 18th century masters including Poussin, Rembrandt and Gainsborough, before taking in the Walker's famed Pre-Raphaelite collection. The Impressionist works are not-to-be-missed, while some of the greatest British artists of the last century are represented in the contemporary galleries, from Lucian Freud to David Hockney. Younger visitors will love Big Art for Little Artists, a gallery designed to introduce children to art in a fun and interactive way.
About National Museums Liverpool
National Museums Liverpool comprises eight venues, including some of the most visited museums in England outside of London. Our collections are among the most important and varied in Europe and contain everything from Impressionist paintings and rare beetles to a lifejacket from the Titanic. We attract more than 2.8 million visitors every year. Our venues are the Museum of Liverpool, World Museum, the Walker Art Gallery, Merseyside Maritime Museum, International Slavery Museum, Border Force National Museum, Sudley House and the Lady Lever Art Gallery.
About Liverpool Biennial
Liverpool Biennial presents the largest festival of contemporary visual art in the UK. It takes place every two years across the city in public spaces, unused buildings, galleries and online. Liverpool Biennial 2016 is organised as a story narrated in several episodes: fictional worlds that draw from Liverpool's past, present and future. Also showing during the Biennial are the John Moores Painting Prize, Bloomberg New Contemporaries, and the Biennial Fringe. Liverpool Biennial is underpinned by a programme of research, education, residencies and commissions. Founded in 1998, Liverpool Biennial has commissioned over 268 new artworks and presented work by over 400 artists from around the world.
Liverpool Biennial 2016
9 July – 16 October
www.biennial.com
#Biennial2016