Shortlist for John Moores Painting Prize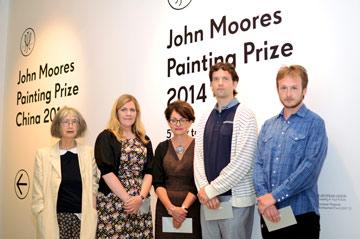 Shortlist for first prize revealed
Five artists have made the shortlist to one of British art's most prestigious awards.
The prizewinners of the John Moores Painting Prize 2014 are (in alphabetical order): Rae Hicks, Juliette Losq, Mandy Payne, Alessandro Raho and Rose Wylie.
The five are now in the running for the £25,000 first prize, sponsored by David M Robinson to be announced on 19 September 2014.
A major part of the Liverpool Biennial, the John Moores Painting Prize runs from 5 July to 30 November 2014. Fifty paintings (including the prizewinners) have been selected for exhibition from more than 2,500 entries.
The prizewinning works represent the nature of the John Moores to seek out the most outstanding in contemporary painting and do not conform to any particular style or theme. In fact the paintings are starkly different with only their medium in common:
'Sometimes I Forget That You're Gone' by Rae Hicks, a recent graduate of Goldsmiths (2012) and the youngest prizewinner (b.1988). An intriguing painting where the 'props' of the scene appear unassembled and awaiting their final destination.
'Vinculum' by Juliette Losq, winner of the Jerwood Drawing Prize in 2005. The large-scale image belies the traditional understated nature of watercolour. Built up through multiple layers the painting creates an optical illusion which immerses the viewer into its world.
'Brutal' by Mandy Payne is spray painted directly onto concrete. An almost symmetrical scene from Sheffield's Park Hill, a Grade II listed 1960s council estate, currently undergoing regeneration. Payne's rendition of one of Britain's largest examples of Brutalist architecture deals with the human memories and history indelibly weaved into it.
'Jessica' by Alessandro Raho, an artist with an international reputation. A painting of the artist's stepsister against a plain white background is typical of the way that Raho uses family and friends as models, drawing upon personal relationships to create a parallel world within his work.
'PV Windows and Floorboards' by 80 year old artist Rose Wylie. The lively painting features four seemingly disconnected figures. Working from direct observation and memory, her work is informed by a fascination with film and current events. Rose had a BP Spotlight exhibition at Tate Britain in May 2013.
Images of all five paintings available on request.
Dubbed the 'Oscars of the painting world', the Prize, organised in partnership with the John Moores Liverpool Exhibition Trust, has been keeping its finger on the pulse of contemporary painting for almost 60 years. Past winners include David Hockney (1967), Mary Martin (1969), Peter Doig (1993) and most recently, Sarah Pickstone (2012).
The 2014 judges are Tim Marlow, Director of Artistic Programmes at the Royal Academy and artists Lynette Yiadom-Boakye, Zeng Fanzhi, Chantal Joffe and Tom Benson.
Judge Tim Marlow said: "It's for the visitors to make their own minds up about the state of contemporary painting in Britain but based on my experience of judging the John Moores this year I'd say it was quietly confident, expansive, hard-won, self-critical, vital and engaging."
Judge Lynette Yiadom-Boakye said: "What was wonderful was seeing the range of different approaches to painting. It was a shame to have to choose only five prize winners."

Sandra Penketh, Director of Art Galleries said: "The quality of painting in this year's exhibition is very exciting. We are delighted to have such a strong exhibition of 50 works which reflect the climate of contemporary British painting. Among them the judges have selected five worthy works which will challenge, delight and intrigue visitors."
The John Moores Painting Prize is part of National Museums Liverpool's Modern Masters series, part funded by the European Union - the European Regional Development Fund (ERDF).
It is also supported by our exhibition partner Weightmans and sponsor Investec.
For a full list of exhibiting artists: www.liverpoolmuseums.org.uk/johnmoores
Twitter: @johnmoores2014 #jm2014
Facebook: www.facebook.com/johnmoorespaintingprize


The John Moores Painting Prize is the subject of a BBC 4 documentary, presented by writer and comedian Alexei Sayle. The programme, which examines the history of the Prize as well as its place within contemporary art, will be aired in September.


Notes to editors
John Moores Painting Prize facts:
The John Moores Painting Prize is the UK's biggest painting prize. The competition is entered anonymously and open to all UK-based artists working with paint.
Sir Peter Blake, winner of the junior award in 1961 became the first patron of the Prize in 2011.
The John Moores Painting Prize is organised in partnership with the John Moores Liverpool Exhibition Trust.
The John Moores Painting Prize is part of Liverpool Biennial, one of the UK's largest and most exciting contemporary visual arts events. The 8th Liverpool Biennial International Festival of Contemporary Art, will take place from Saturday 5 July – Sunday 26 October 2014.
The £2014 Visitors' Choice award, sponsored by Rathbones will be announced in November.
The five prize winners from the John Moores Painting Prize China 2014 will also be on display.

Other Liverpool Biennial displays at National Museums Liverpool:
The Walker Art Gallery is also host to Aztecs in Liverpool, a new two-screen video installation featuring still and moving images by Michael Nyman, from 5 July until 26 October 2014.
At World Museum Bloomberg New Contemporaries, runs from 20 September until 26 October 2014. The leading UK organisation for supporting emergent art practice from British art schools, this year's exhibition was selected by Marvin Gaye Chetwynd, Enrico David and Goshka Macuga. www.newcontemporaries.org.uk Twitter @newcontemps

ERDF in the Northwest:
ERDF is making a real difference to people and businesses in the North West. The current programme, which is worth €755 million, is enhancing the competitiveness of the region's economy by supporting growth in enterprise and employment.
ERDF in the North West is managed by the Department for Communities and Local Government – for further information visit https://www.gov.uk/erdf-programmes-progress-and-achievements


Liverpool Biennial 2014: The UK Biennial of Contemporary Art


Saturday 5 July – Sunday 26 October
International art that unfolds across Liverpool's spaces, places and galleries.

The 8th Liverpool Biennial exhibition explores art in everyday life and is curated by Mai Abu ElDahab and Anthony Huberman. It takes place across the city at venues including public spaces and galleries such as the Bluecoat, FACT and Tate Liverpool. Also featured in Liverpool Biennial 2014 are the John Moores Painting Prize, Bloomberg New Contemporaries, and shows at Open Eye Gallery and LJMU's Exhibition Research Centre. In addition, there will be work by artists and curators in solo and group exhibitions and performances throughout the city.


About National Museums Liverpool

National Museums Liverpool comprises eight venues. Our collections are among the most important and varied in Europe and contain everything from Impressionist paintings and rare beetles to a lifejacket from the Titanic.                                                          
We attract more than 2.7 million visitors every year. Our venues are the International Slavery Museum, Lady Lever Art Gallery,
Merseyside Maritime Museum, Museum of Liverpool, Sudley House, Border Force National Museum (Seized! The Border and Customs Uncovered), Walker Art Gallery and World Museum.

One of the finest art galleries in Europe, the Walker Art Gallery is home to renaissance masterpieces, Tudor portraits and one of the best collections of Victorian and Pre-Raphaelite art in the country. An outstanding display of contemporary art includes work by David Hockney, Lucian Freud and Bridget Riley.

Walker Art Gallery William Brown Street, Liverpool     Admission FREE
Open 10am-5pm every day                                           Information 0151 478 4199

Website liverpoolmuseums.org.uk/walker
Twitter www.twitter.com/walkergallery
Facebook www.facebook.com/walkerartgallery