Spider has museum team jumping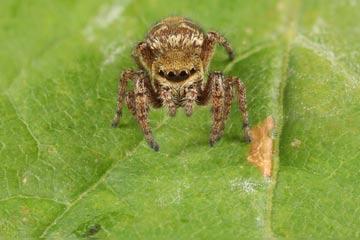 Tiny spider found for first time in Liverpool green space
A spider has been discovered in Liverpool by a member of the Entomology team at World Museum that has never been recorded in Britain before.
Tony Hunter, Assistant Curator of Entomology at World Museum, made the surprise discovery on a recent field trip to Liverpool's Festival Gardens, working as part of a team who were there undertaking a site-wide survey of all of its flora and fauna. Tony scooped up a pair of tiny spiders, and not immediately recognising the species, brought the pair back to World Museum where he identified them as as not being previously recorded in Britain.
Dendryphantes rudis, which doesn't have a common name, is no ordinary spider. It is a jumping spider that hunts by jumping and landing on top of its prey, and some species can jump more than 40 times their own body length! It is 5-6mm long, has 340 degree vision and as well as being able to jump forward, it can also jump backwards and sideways. Dendryphantes rudis pose absolutely no threat to humans.
Tony said:
"We were excited to discover a spider previously unknown on British soil, this species has been recorded in the Czech Republic, Germany, Poland and Switzerland. As an unintended visitor to Liverpool, it possibly arrived on plants or trees when the original gardens were being landscaped over 30 years ago.

The Museum works very closely with conservation organisations to help promote and protect wildlife. Now there is a very well established breeding colony of the jumping spider, we will continue to monitor it for further records. It's a very special and intriguing addition to our native fauna."
Both spiders have been preserved and will be incorporated in to World Museum's reference collections.
The Festival Gardens, which re-opened in 2012, are a landscaped urban green space managed by The Land Trust, with many natural areas. They have been restored from the original International Garden Festival site which opened 1984 until 1996. The Gardens helped to revitalise tourism to Liverpool, attracting more than 3 million visits in its first six months.
Notes to Editors
National Museums Liverpool
National Museums Liverpool comprises eight venues, including some of the most visited museums in England outside of London. Our collections are among the most important and varied in Europe and contain everything from Impressionist paintings and rare beetles to a lifejacket from the Titanic. We attract more than 2.8 million visitors annually. Our venues are the Museum of Liverpool, World Museum, the Walker Art Gallery, Merseyside Maritime Museum, International Slavery Museum, Seized! (UK Border Force National Museum), Sudley House and the Lady Lever Art Gallery.