Tales from the city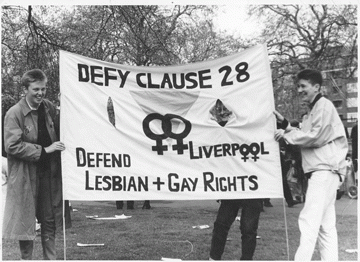 Stories, objects and memories from Liverpool's LGBT+ community
The Museum of Liverpool will mark the 50th anniversary of the 1967 Sexual Offences Act with a powerful exhibition exploring stories from the city's lesbian, gay, bisexual and trans (LGBT+) community from 1967 – 2017.
Tales from the city, opening on Friday 13 October, brings together – for the first time – often hidden voices, personal items, shared memories and official documents that reflect how the lives and experiences of Liverpool's LGBT+ community have changed during the last five decades.
Working with LGBT+ arts organisation Homotopia and other supporters, curators at the Museum of Liverpool have developed an exhibition which explores how social and legal changes and attitudes towards the LGBT+ community in the city have changed since 1967.
Individual stories will be told through a mixture of objects, costume, art, photography, film and oral history interviews. The exhibition also explores the impact of national events such as Section 28 (legislation which banned local authorities from producing and distributing material promoting homosexuality, or promoting the acceptability of homosexuality 'as a pretended family relationship'), civil partnerships, marriage, age of consent equality, and equal adoption rights.
Director of the Museum of Liverpool, Janet Dugdale said:
"Tales from the city explores important and largely untold Liverpool histories. It makes visible devastating cases of discrimination and prejudice but also celebrates the self-determination, resilience and creativity within Liverpool's LGBT+ community, which we are very proud to share.

"50 years on from 1967 Sexual Offences Act, the exhibition offers a reflection on the progress that has been made, while also remembering the continuing campaign for full equality."
Exhibition highlights include:
A collection of objects and interviews related to The Magic Clock; a pub which was close to Liverpool's Queen Square and part of an underground gay scene between 1940 and the 60s.
Artworks such as Wheel of Fortune by Yankel Feather and drag queen portraits by Liverpool artist, Ben Youdan.
An opportunity to watch and listen to the experiences of LGBT+ people living in the city. The voices span five decades and include a film of DJ Pete Price and Roger Merchant talking about gay aversion therapy. Pete underwent it in mid 1960s, while Roger, a gay man, was a nurse who assisted during therapy.
Section 28 protest material from Liverpool's LGBT+ community.
Liverpool Pride material; including a flyer from Liverpool's first Gay Pride Week in 1979, flyers from later Prides in the early 1990s and T-shirts, banners and promotional material from recent official Pride events in the 2000s.
Order of service from the UK's first same sex civil partnership on religious premises at Ullet Road Unitarian Church, Liverpool.
Brookside sign, accompanied by the story of the first pre-watershed lesbian kiss by writer, Shaun Duggan.
A selection of costumes including Holly Johnson's Vivienne Westwood suit, Lily Savage's snow leopard outfit and local trans artist and activist, Sophie Green's wedding dress.
Homotopia Artistic Director, Gary Everett said:
"The criminalisation of male homosexuals is a deeply shameful period of our social and political history. The 50th anniversary of decriminalisation of homosexuality is a moment for both celebration and reflection.

"The forthcoming Tales from the city exhibition is a timely and essential part of the anniversary celebrations and an opportunity to interrogate, reclaim and present our shared histories. The exhibition will further unlock creative energy, empowerment, and connectivity excavating a hidden and marginalised Queer Liverpool."
Tales from the city runs until late 2018.
www.liverpoolmuseums.org.uk/talesfromthecity
#LGBTtales
Notes to editors:
Museum of Liverpool
The Museum of Liverpool is one of the country's most visited museums outside of London. It is the largest newly-built national museum in Britain for more than a century, demonstrating Liverpool's unique contribution to the world. The first national museum devoted to the history of a regional city, it showcases popular culture while tackling social, historical and contemporary issues. It has attracted more than four million visitors since opening in July 2011. The prestigious Council of Europe Museum Prize for 2013 was awarded to the Museum for its commitment to human rights as well as its work with children and families from all backgrounds.
The Museum has received generous support from several major funders, and grants from trusts and foundations, corporate support and individual donations. Major funders include the Northwest Regional Development Agency (NWDA), The European Regional Development Fund (ERDF), the Heritage Lottery Fund (HLF), the Department for Culture Media and Sport (DCMS),Garfield Weston Foundation and the Clore Duffield Foundation.
The Northwest Regional Development Agency (NWDA) was responsible for the sustainable economic development and regeneration of England's Northwest and had five key priorities: Business, Skills and Education, People and Jobs, Infrastructure and Quality of Life.
The European Development Fund (ERDF) is making a real difference to people and businesses in the North West. With €755 million to invest between 2007 and 2013, ERDF is enhancing the competitiveness of the region's economy by supporting growth in enterprise and employment. ERDF in the North West is managed by the Department for Communities and Local Government – for further information visit www.communities.gov.uk/erdf.
Using money raised through the National Lottery, the Heritage Lottery Fund (HLF) sustains and transforms a wide range of heritage for present and future generations to take part in, learn from and enjoy. From museums, parks and historic places to archaeology, natural environment and cultural traditions, we invest in every part of our diverse heritage. HLF has supported more than 30,000 projects allocating £4.5billion across the UK.
About National Museums Liverpool
National Museums Liverpool comprises eight venues, including some of the most visited museums in England outside of London. Our collections are among the most important and varied in Europe and contain everything from Impressionist paintings and rare beetles to a lifejacket from the Titanic. We attract around three million visitors every year. Our venues are the Museum of Liverpool, World Museum, the Walker Art Gallery, Merseyside Maritime Museum, International Slavery Museum, Border Force National Museum, Sudley House and the Lady Lever Art Gallery.
Homotopia
Homotopia is a Liverpool based arts, heritage & social justice organisation making art, interventions and participation that inspires and unites communities. Every November it presents an annual festival of local, national and international LGBT + art & culture featuring an eclectic programme including theatrical world premieres, contemporary dance, visual art, debate, youth & community participation, heritage & film.
Programming trailblazers, new commissions, exhibitions and award winning social justice projects and education outreach work throughout the year.
Homotopia curated and presented a major exhibition in partnership with Museum of Liverpool on the life of Liverpool born trans pioneer Dr April Ashley MBE at the Museum of Liverpool which attracted 900,00 visitors and was extended twice due to popularity.
Homotopia is regularly funded by Arts Council England and Liverpool City Council. www.homotopia.net