Terracotta Warriors - Liverpool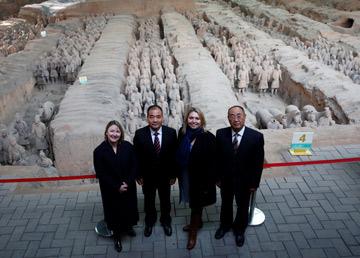 Exhibition to be staged at World Museum in 2018
liverpoolmuseums.org.uk/terracottawarriors
Images available on request
The Terracotta Warriors will be returning to the UK, it has been announced today by Secretary of State for Culture Media and Sport, Rt Hon Karen Bradley MP.
In an exhibition to be staged at Liverpool's World Museum in 2018, this will be the first time in more than 30 years that spectacular Class 1 National Cultural Treasures from the tomb of China's First Emperor, Qin Shihuangdi, will be brought to a museum in the UK outside London.
The announcement has been made during the Secretary of State's visit to the First Emperor's burial site and tomb complex near Xi'an, as part of the UK-China People to People Dialogue (P2P); a key pillar in the UK-China relationship, celebrating links between the two peoples.
Secretary of State for Culture, Media and Sport, Karen Bradley said:
"The Terracotta Army represents one of the most significant archaeological excavations of the 20th century, and I am delighted that a selection of the warriors will be coming to Liverpool, for the first time in 2018. I am sure that the exhibition will be very warmly received by the people of Merseyside and beyond as Britain welcomes back the Terracotta Warriors.

"The exhibition will also encourage an ongoing cultural exchange between China and Britain, further progressing the relationship between our two nations and strengthening lasting ties."
Planned for a run of more than six months, from February to October 2018, visitors to World Museum will be given a glimpse into the extraordinary story of Qin Shihuangdi, the First Emperor of China (221 to 206 BC). His vast burial site and tomb complex was discovered near Xi'an in North West China in 1974, and the story of the tomb's Terracotta Warriors will be displayed alongside important artefacts and research relating to the formative years of the Chinese nation, from the pre-unification Qin Kings (307 to 221 BC) to the First Emperor's legacy in the Han Dynasty (206BC to 220AD).
David Fleming, Director of National Museums Liverpool, said:
"We are hugely excited to have signed a Memorandum of Understanding to bring an exhibition of such international importance to World Museum, and to be working with Shaanxi Cultural Heritage Bureau in this valuable cultural exchange. Following the success of our Mayas exhibition in 2015, and the re-opening of our Ancient Egypt gallery in 2017, this is a significant time for World Museum and National Museums Liverpool. It is really important that we stay in healthy dialogue with our international colleagues."
This exhibition will be unprecedented in the UK, offering a new perspective on China's history. Spanning three periods of more than 500 years, it is set to include a number of objects that have never been on show in this country before.
David continues:
"An exhibition of this scale is sure to attract visitors from all over the UK and Europe, with an unmissable opportunity to see artefacts of great historical importance in the flesh. Liverpool has the oldest Chinese community in Europe, and we are proud to be strengthening the city's connections with other cultural organisations in China and creating an exhibition programme that continues to excite and inspire visitors from across the globe."
Since 1974, archaeologists have unearthed more than 8,000 life-sized Terracotta Warriors near Xi'an - each with individual clothing, hair and facial features – and have located more than 600 pits around the Emperor's mausoleum, covering an area of 22 square miles. New discoveries are continually coming to light, which indicate that Emperor Qin wished to take the entire universe with him into the afterlife.
The tradition of burial practice was continued by the Emperor's successors in the later Han Dynasty, who constructed vast underground chambers and passageways filled with food and drink as well as clay servants and animals; everything the Emperors would need to ensure they enjoyed a luxurious lifestyle for eternity in their underground palaces.
World Museum's 2018 exhibition will include material from museums and institutes from across Shaanxi Province - where the First Emperor and his ancestors came from - excavated over the last 40 years from the Imperial Mausoleum and selected tombs. These spectacular artefacts dating from 307 BC to the 2nd century AD, along with remarkable recent archaeological discoveries, not only shed light on the pursuit of immortality and how China's Emperors prepared for the afterlife, but also help us to understand more about everyday life in China over two thousand years ago.
World Museum's Terracotta Warriors exhibition will be a major part of Liverpool's 2018 celebrations, marking 10 years since the city held the title of European Capital of Culture 2008.
Ends
An announcement will be made when tickets go on sale in 2017. In the meantime, please sign up to our exhibitions and events e-newsletter to receive updates. You can also follow us on Facebook and Twitter to keep updated with any Terracotta Warriors news.
For press enquiries only, please contact Lucy Cattell – Communications Manager
e lucy.cattell@liverpoolmuseums.org.uk t 0151 478 4615
Free entry
Open daily 10am-5pm @World_Museum
World Museum, William Brown Street,
Liverpool, L3 8EN Facebook/worldmuseum
www.liverpoolmuseums.org.uk/wml
Telephone 0151 478 4393
Notes to editors
About World Museum
Experience the world at your fingertips at World Museum, where millions of years of the Earth's history are revealed through incredible exhibits and hands-on activities. Find out how humans have shaped the world we inhabit, from Africa to the Americas, Asia and Europe. Discover the wonders of the natural world at the Clore Natural History Centre, packed with more than 20,000 fascinating items from our collections to get your hands on, from a hippopotamus skull to a mammoth tooth. Visitors can also get up close to an array of creepy crawlies at the Bug House and explore underwater life in the Aquarium. Complete your visit by blasting off on a spectacular journey through space and time as the universe unfolds around you in the Planetarium. An exciting expansion project is currently underway in World Museum's Ancient Egypt gallery, which houses the Museum's collection; one of the finest in Europe. The new galleries are due to re-open in April 2017. World Museum was awarded a VisitEngland Gold Accolade for excellence in 2015.
About National Museums Liverpool
National Museums Liverpool comprises eight venues, including some of the most visited museums in England outside of London. Our collections are among the most important and varied in Europe and contain everything from Impressionist paintings and rare beetles to a lifejacket from the Titanic. We attract more than 2.8 million visitors every year. Our venues are the Museum of Liverpool, World Museum, the Walker Art Gallery, Merseyside Maritime Museum, International Slavery Museum, Border Force National Museum, Sudley House and the Lady Lever Art Gallery. www.liverpoolmuseums.org.uk
About the UK-China High Level People to People Dialogue (P2P)
The P2P is one of the UK's three major Ministerial dialogues with China, along with the Economic and Financial Dialogue and Strategic Dialogue. The Dialogue is a key pillar in the UK-China relationship, celebrating links between the two peoples. It covers eight policy strands: education, science, health, tourism, sport, culture and creative industries, youth, regional cooperation, bringing together key themes of creativity, social equity and women's equality.
The P2P is chaired by Secretary of State for Health, Jeremy Hunt on the UK side and Vice Premier Madame Liu Yandong on the Chinese side. The UK official delegation in 2016 includes Secretary of State for Education and Minister for Women and Equalities, Justine Greening; Secretary of State for Culture, Media and Sport, Karen Bradley; Northern Ireland First Minister, Arlene Foster; and the Department for Business, Energy & Industrial Strategy's Chief Scientific Advisor, Professor John Loughhead.