From There to Here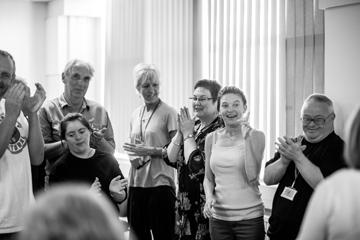 The hidden history of People with Learning Difficulties in Merseyside
The Museum of Liverpool is to host a brand new exhibition starting in May, exploring how people with learning difficulties have been excluded from history.
From There to Here: The hidden history of People with Learning Difficulties in Merseyside opens on 2 May until 13 July.
Part of a two-year project called People Like Us, which has been funded by the Heritage Lottery Fund, the exhibition seeks to recognise the changing family, social and cultural history of people with learning difficulties in Merseyside over the past 100 years.
Developed by performing and creative arts company Wicked Fish in partnership with the Museum of Liverpool, the exhibition also highlights the lives of people who were segregated from society during their own lifetimes, using information found in historic public records.
Di Christian, Creative Director of Wicked Fish said: "The People Like Us project gave us a fantastic opportunity to look back through history to create a community archive in order to share the untold stories of people with learning difficulties in our area."
Using 'my first day at school' as the starting point of the project, participants from Wicked Fish and Moving On With Life and Learning (MOWLL), an organisation dedicated to promoting social inclusion for people with learning difficulties, were able to include their own stories to ensure that they leave their mark on history.
Di continues: "Participants took part in many different activities in order to develop their research and work for the project, and were photographed throughout by local photographer Mark McNulty. Mark's photos, which are featured in the exhibition, show participants learning to use new technologies, delivering live radio shows and taking part in drama workshops."
The exhibition also features personal stories from participants, oral history interviews and highlights of the radio shows, along with a selection of specially commissioned artwork inspired by those involved in the project.
Kay Jones, Curator at the Museum of Liverpool said: "This is a powerful and fascinating exhibition celebrating the diverse lives of local people with learning difficulties, today and in the past. Wicked Fish are making history by ensuring that for the first time their voices are heard."
Visitors to the exhibition can also experience short performances presented by actors from Wicked Fish, inspired by the lives of people with learning difficulties from Merseyside, whose stories have been uncovered by the company.
Many of the people featured in the exhibition from the late 19th and early 20th century attended local schools and institutions in Liverpool such as Chatham Place, Fontenoy Street and Orwell Road. The Royal Albert Institution for the Care, Training and Education of Idiots and Imbeciles in Lancaster served the seven northern English counties. Accommodating more than 1000 patients by the late 1960s, it finally closed in 1996.
Notes to editors:
Museum of Liverpool
The Museum of Liverpool is one of the country's most visited museums outside of London. It is the largest newly-built national museum in Britain for more than a century, demonstrating Liverpool's unique contribution to the world. The first national museum devoted to the history of a regional city, it showcases popular culture while tackling social, historical and contemporary issues. It has attracted more than two million visitors since opening in July 2011. The prestigious Council of Europe Museum Prize for 2013 was awarded to the Museum for its commitment to human rights as well as its work with children and families from all backgrounds.
The Museum has received generous support from several major funders, and grants from trusts and foundations, corporate support and individual donations. Major funders include the Northwest Regional Development Agency (NWDA), The European Regional Development Fund (ERDF), the Heritage Lottery Fund (HLF), the Department for Culture Media and Sport (DCMS),Garfield Weston Foundation and the Clore Duffield Foundation.

The Northwest Regional Development Agency (NWDA) was responsible for the sustainable economic development and regeneration of England's Northwest and had five key priorities: Business, Skills and Education, People and Jobs, Infrastructure and Quality of Life.

The European Development Fund (ERDF) is making a real difference to people and businesses in the North West. With €755 million to invest between 2007 and 2013, ERDF is enhancing the competitiveness of the region's economy by supporting growth in enterprise and employment. ERDF in the North West is managed by the Department for Communities and Local Government – for further information visit www.communities.gov.uk/erdf.

Using money raised through the National Lottery, the Heritage Lottery Fund (HLF) sustains and transforms a wide range of heritage for present and future generations to take part in, learn from and enjoy. From museums, parks and historic places to archaeology, natural environment and cultural traditions, we invest in every part of our diverse heritage.  HLF has supported more than 36,000 projects allocating £6billion across the UK.  www.hlf.org.uk 
About National Museums Liverpool
National Museums Liverpool comprises eight venues, including some of the most visited museums in England outside of London. Our collections are among the most important and varied in Europe and contain everything from Impressionist paintings and rare beetles to a lifejacket from the Titanic. We attract more than 2.7 million visitors every year. Our venues are the Museum of Liverpool,  World Museum, the Walker Art Gallery, Merseyside Maritime Museum, International Slavery Museum, Border Force National Museum, Sudley House and the Lady Lever Art Gallery.