Transformation: One man's cross-dressing wardrobe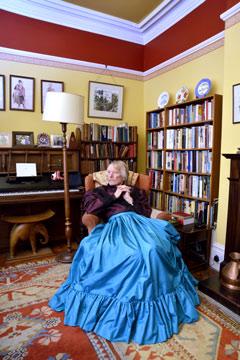 Sudley House displays Liverpool man's unique costume collection
An array of garments from Liverpool costume collector Peter Farrer's cross-dressing wardrobe goes on display at Sudley House on Friday 31 March until March 2018.
Previously on show at the Walker Art Gallery, Transformation: One Man's Cross-dressing Wardrobe moves to Sudley House for a bigger, more in-depth exhibition, with more of Peter's costume collection on display.
The exhibition is the UK's first to showcase a cross-dressing wardrobe belonging to one person.
Born in Surrey in 1926, Peter Farrer lived in Liverpool for many years. Sadly, he passed away earlier this year, aged 90. He was married twice and leaves a son and three step-sons. Peter's fascination with women's clothing started at a young age and he began cross-dressing from the age of 14.
Pauline Rushton, Curator of Costumes and Textiles at National Museums Liverpool, said:
"Peter's vast costume collection contains some truly wonderful pieces. His life-long passion for taffeta is reflected in a fabulous selection of evening dresses from the 1930s to the 1980s.

"New dresses from Peter's collection will be going on display at Sudley House. These are four examples of vintage garments, including a 1930s bridesmaid's dress, and a two-part outfit designed for Peter by Kentucky Woman, a white rayon satin blouse and red moiré taffeta crinoline skirt. The skirt is typical of the type of garment that Peter particularly liked, with a strong colour, lots of fabric and a style borrowed from Victorian times.

"Peter's motivation for collecting vintage clothing was two-fold. While he took enjoyment from wearing the larger garments in private, he also had a great appreciation for the design, fabrics and decoration of the vintage pieces that he was unable to wear.

"We're thrilled to be able to showcase a selection of these outfits at Sudley House; part of a collection that he bequeathed to National Museums Liverpool as a fantastic legacy, and the exhibition will be a celebration of his life."
Peter's father was a schoolmaster and clergyman and the family lived in a number of different locations while Peter was growing up. After leaving school Peter served in the Army for three years before studying at the University of Oxford. Upon graduating, he joined the Civil Service as a tax inspector, a job he held throughout his working life.
Describing his experience of cross-dressing, Peter said:
"Dressing in a taffeta frock did not make me want to be a girl, but it certainly made me understand how much pleasure girls and women get from their party frocks, and intensified my interest in fashion and in the history of costume."
During the early years of his collecting, Peter ordered women's clothing and underwear by mail order. He also shopped in department stores, where he felt no pressure to explain that the garments were for him.
In 2000, Peter began to purchase taffeta dresses, skirts and blouses from the Brighton-based company, Kentucky Woman. Founded by Sandi Hall in 1990, the company specialised in making bespoke garments in period styles, often for members of the transgender and cross-dressing communities.
Sandi Hall recalls:
"I started getting discreet enquiries from male clients for made-to-measure dresses, frocks, skirts, period costumes and even ball gowns. I had a small private studio, which was invaluable as I could see these clients on a confidential basis. This was a period in time when transgender people lacked the freedom they enjoy today."
Peter was one of Sandi's early customers and she helped to create dresses, made in his size and to his particular taste. He selected the colours and fabrics and collaborated with Sandi on the designs. Many of these garments feature in the exhibition.
www.liverpoolmuseums.org.uk/transformation
Free entry
Open daily
10am-5pm
Sudley House Mossley Hill Road, Liverpool
Telephone 0151 478 4016
www.liverpoolmuseums.org.uk/sudley
@sudleyhouse
Facebook/SudleyHouse
Notes to Editors
About Sudley House
In Sudley House visitors can see the only surviving Victorian merchant art collections in Britain still hanging in its original location. It is also one of a few period homes in the country decorated in Victorian style, still with many of its original features. Located in the leafy suburbs of south Liverpool, Sudley is the former home of Victorian shipping merchant George Holt, whose passion for art saw him adding some world renowned works to his collection, which can still be seen today. Works on display include paintings by major Pre-Raphaelite artists such as Rossetti, Holman Hunt and Millais, along with paintings by Landseer, Turner, and a group of 18th-century portraits by Gainsborough, Reynolds, Romney and Leighton.
About National Museums Liverpool
National Museums Liverpool comprises eight venues, including some of the most visited museums in England outside of London. Our collections are among the most important and varied in Europe and contain everything from Impressionist paintings and rare beetles to a lifejacket from the Titanic. We attract around 3 million visitors every year. Our venues are the Museum of Liverpool, World Museum, the Walker Art Gallery, Merseyside Maritime Museum, International Slavery Museum, Border Force National Museum, Sudley House and the Lady Lever Art Gallery. www.liverpoolmuseums.org.uk